SLCM strengthens its partnership
28/04/2022
542

3 minutes read
Serra Lopes, Cortes Martins has announced the promotion of three new partners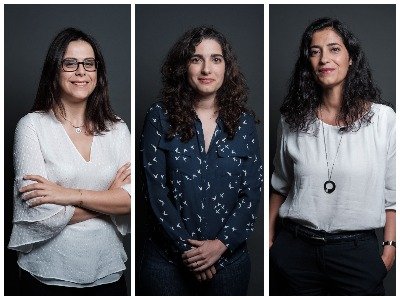 SLCM (Serra Lopes, Cortes Martins // Advogados) has reinforced its team of partners. The firm, which celebrated its 60th anniversary last year, continues its commitment to talent, now counting on three new partners. Alexandra Martins (pictured left) is from the Corporate, Mergers & Acquisitions area, Diana Simão Lourenço (pictured centre) from the Litigation, Arbitration & Restructuring & Insolvency area and Marisa Mirador (pictured right) from the Public Law and Urban Planning areas.
Alexandra Martins has at SLCM her entire career, since 2007. She has experience in national and international transactions, particularly in sectors such as consumer goods and agri-food, health, telecommunications, media, concessions and infrastructure.
Diana Simão Lourenço has also been at SLCM her entire career, since 2007, with a special focus on civil and commercial litigation, with clients from different sectors, including financial and banking institutions, national, multinational and public companies.
Marisa Mirador joined SLCM in 2017 and develops her professional activity in the areas of Spatial Planning, Urban Planning and Construction, Public Procurement, Administrative Litigation and Arbitration, Environmental Law and General Administrative Law. She advises both public entities and national and international companies. from different sectors, namely real estate and tourism, environment, energy and concessions.
According to Luís Cortes Martins, managing partner of SLCM, "these promotions reflect the recognition of the talent, merit and dedication of these professionals and their alignment with our project. It is also a bet on the future and based on people who have proven themselves and are recognised in the market. At SLCM we have a team of talented lawyers to whom we owe the creation of conditions so that they can grow and evolve in society. The integration of these three lawyers is a move that reflects our ambition to assert our value proposition in the market even more solidly, based on the provision of excellent, differentiating legal services, and in close proximity to our clients."