Cuatrecasas opens a new office in Sevilla
05/04/2022
115

2 minutes read
Cuatrecasas opens a new office in Sevilla, a modern 1,400 square metres' building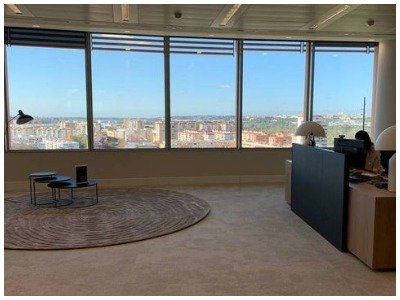 Cuatrecasas' new office is on the ninth floor of Torre Sevilla, the capital's first skyscraper and the seventh tallest building in Spain.
Due to the transport strike, the opening will be carried out in several stages. At the moment, the office is open for the reception of clients, but the firm's teams will move into the city on April 18th.
The reason for this change of plans is the delay in the arrival of the furniture for the new office. An incident, however, that will be resolved in two weeks, after which the new headquarters will be fully operational and with the necessary lustre to host the firm's next Partners' Meeting, on April 28th. This will be the first meeting face-to-face between the firm's partners after pandemia covid-19.
The new Cuatrecasas facilities stand out for their collaborative workspaces, as well as for being an eminently digital environment, with a technological development that allows for greater agility, information security and productivity. Torre Sevilla is also characterised by its connectivity, sustainability and high level of comfort.