First quarter of M&A at law firms
07/04/2022
166

2 minutes read
During the first quarter of M&A, Del Val's (Allen) and Mateo's (GA_P) positions were threatened by Arza (Linklaters) and Zueco (Squire)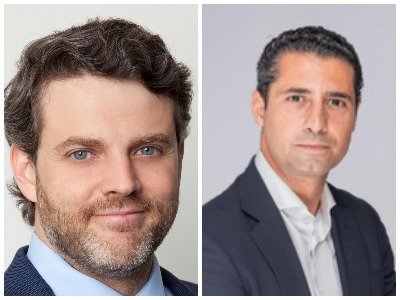 During 2021, Íñigo del Val (pictured left) (Allen & Overy) and Álvaro Mateo (pictured right) (Gómez-Acebo & Pombo), were number one lawyers in the M&A rankings by value and number of transactions. Now, both are defending their position against Esteban Arza and Teresa Zueco.
The TTR platform's report shows that Del Val has closed two transactions for a total amount of 1,675 million euros, while Mateo has advised on nine deals for 323 million.
After them are two professionals who are looking to become the new leaders: Esteban Arza, Linklaters' brand new partner, who from January to March closed two deals worth 1.65 billion euros, and Teresa Zueco, managing partner of Squire Patton Boggs, with six transactions worth 28.89 million euros.
Following them, Iván Delgado of Pérez-Llorca (1.6 billion) and Iñaki Frías of DWF-RCD (five deals).
Juanjo Corral, of Baker McKenzie, also ranked sixth (1,094.69 million), followed by Luis Alonso, partner in charge of Corporate/M&A at Clifford Chance (1,220.39 million) and María José Descalzo, from Latham & Watkins (1,017 million).