Winners of Iberian Lawyer IP & TMT Awards 2021 Portugal announced
07/09/2021
75

8 minutes read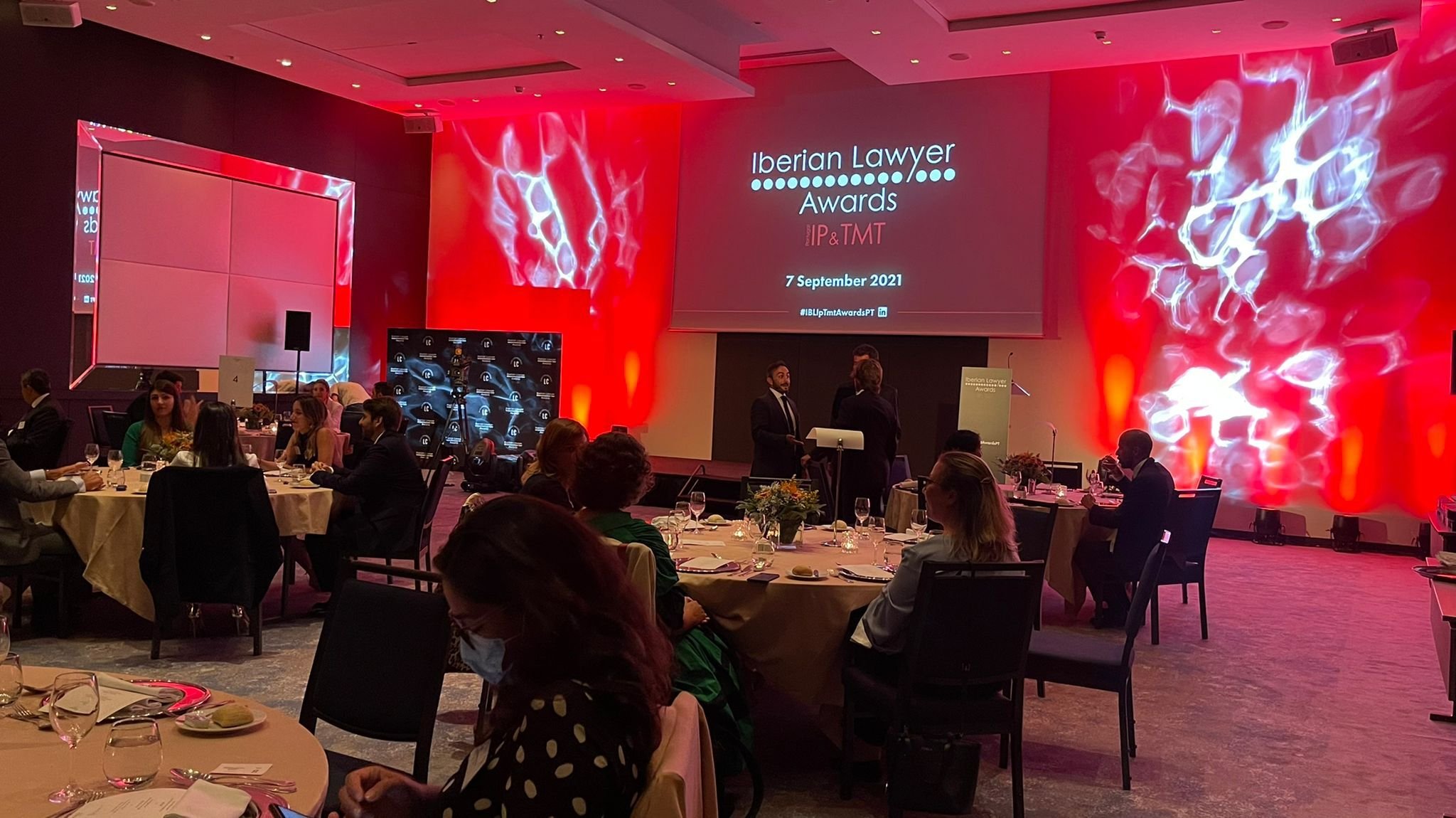 The winners of the I Iberian Lawyer 2021 IP & TMT Awards Portugal were announced tonight during a gala night held at the Intercontinental Lisbon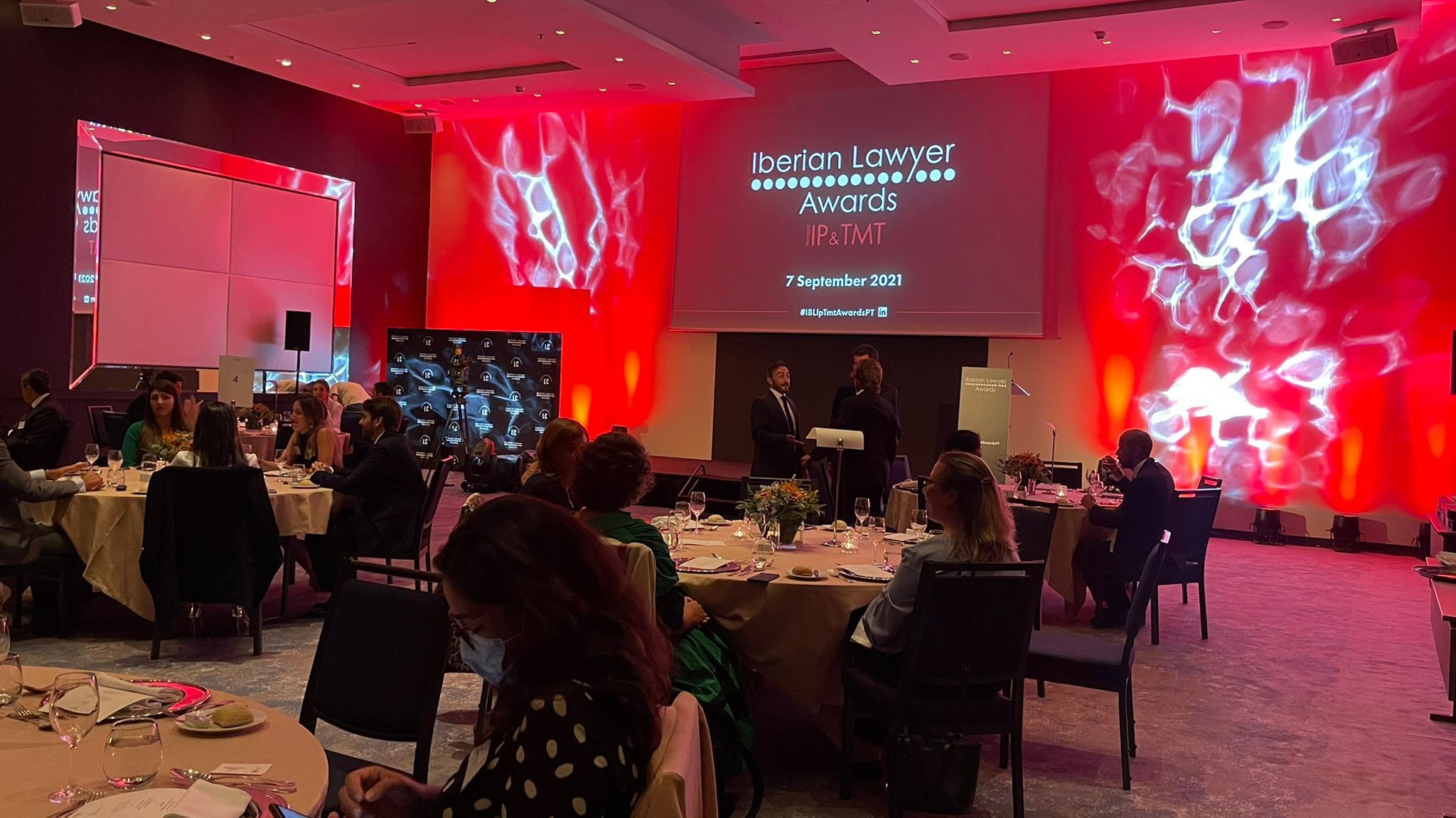 The Iberian Lawyer IP & TMT Awards aim to highlight the excellence of the legal market in the field of Intellectual Property protection, Telecommunications and Media. In an increasingly competitive market, Intellectual Property also understood as the product of investments in research and development, both by institutions and by companies, is nowadays a competitive and systemic factor with a strong impact on the growth of a company and of the industrial system of which it is part.
The creation of trademarks and patents, their affirmation through the construction of reputation policies and their protection are therefore strategic assets of advanced societies and as such must be protected. Another increasingly important area of communication and information is the whole world of media, the internet and telecommunications (TMT).
The winners of this first edition, selected by a prestigious jury, were announced tonight, during the gala night presented by Iberian Legal Group Brazil & Portugal country manager, Carlos Montagnini, and Iberian Lawyer Portugal editor, Michael Heron.
The winners are the following:
LAWYER OF THE YEAR
Carina Branco – pbbr
LAW FIRM OF THE YEAR
VdA
LAWYER OF THE YEAR – IP
João Paulo Mioludo – SRS Advogados
LAW FIRM OF THE YEAR – IP
VdA
BEST PRACTICE – Outstanding Achievement Award
José Luís Arnaut – CMS Portugal
LAWYER OF THE YEAR TMT
Magda Cocco – VdA
LAW FIRM OF THE YEAR TMT
VdA
LAWYER OF THE YEAR – TRADEMARKS AND PATENTS
António Andrade – Abreu Advogados
LAW FIRM OF THE YEAR – TRADEMARKS AND PATENTS
CMS Portugal
LAWYER OF THE YEAR – LIFE SCIENCES
António Magalhães Cardoso – VdA
LAW FIRM OF THE YEAR – LIFE SCIENCES
Sérvulo & Associados
LAWYER OF THE YEAR – LITIGATION
Eduardo Castro Marques – Cerejeira Namora, Marinho Falcão
LAW FIRM OF THE YEAR – LITIGATION
Morais Leitão
LAWYER OF THE YEAR – DIGITAL TECH
Domingo Cruz – CCA Law Firm
LAW FIRM OF THE YEAR – DIGITAL TECH
Cerejeira Namora, Marinho Falcão
LAWYER OF THE YEAR – MEDIA
Ana Bastos – Antas da Cunha – ECIJA
LAW FIRM OF THE YEAR – MEDIA
PLMJ
LAWYER OF THE YEAR – INFORMATION TECHNOLOGY
Luis Neto Galvão – SRS Advogados
LAW FIRM OF THE YEAR – INFORMATION TECHNOLOGY
Antas da Cunha – ECIJA
LAWYER OF THE YEAR – DESIGN
João Travassos – Travassos & Albuquerque
LAW FIRM OF THE YEAR – DESIGN
Abreu Advogados
LAWYER OF THE YEAR – FASHION
João Fraga de Castro – João Fraga de Castro & Associados
LAW FIRM OF THE YEAR – FASHION
Abreu Advogados
LAWYER OF THE YEAR – COPYRIGHT
Tito Rendas – CCA Law Firm
LAW FIRM OF THE YEAR – COPYRIGHT
SRS Advogados
LAWYER OF THE YEAR – ADVERTISING
Inês Arruda – Vasconcelos Arruda & Associados
LAW FIRM OF THE YEAR – ADVERTISING
CCA Law firm
LAWYER OF THE YEAR – FOOD
Marta Salgado Areias – PLMJ
LAW FIRM OF THE YEAR – FOOD
PLMJ
LAWYER OF THE YEAR – CRIMINAL IP
Gonçalo Machado Borges – Morais Leitão
LAW FIRM OF THE YEAR – CRIMINAL IP
PLMJ
LAWYER OF THE YEAR – SPORT
João Carlos Assunção – VdA
LAW FIRM OF THE YEAR – SPORT
Morais Leitão
LAWYER OF THE YEAR – TELECOMMUNICATIONS
Octávio Castelo Paulo – SRS Advogados
LAW FIRM OF THE YEAR – TELECOMMUNICATIONS
Morais Leitão
LAWYER OF THE YEAR – PRIVACY
Martim Bouza Serrano – CCA Law firm
LAW FIRM OF THE YEAR – PRIVACY
Antas da Cunha – ECIJA
LAWYER OF THE YEAR – ART
Lidia Neves – Miranda & Associados
LAW FIRM OF THE YEAR – ART
PLMJ
LAWYER OF THE YEAR – E-SPORTS
Tiago Bessa – VdA
LAW FIRM OF THE YEAR – E-SPORTS
CCA Law firm