More global firms could open in Mexico with M&A on the rise
07/10/2015
71

5 minutes read
With the strong flow of energy and telecoms deals set to continue for the next three years, speculation mounts that more global players could set up shop in the country
It is anticipated that more global law firms could open in Mexico with the country´s M&A activity expected to remain strong until at least 2018. Mexico's energy and telecom sectors are viewed as the main drivers of deals following the sweeping reforms approved last year that threw both markets open to foreign investment. Private investors can now participate in oil and gas production for the first time since the sector was nationalised in 1938, while in the telecoms market, investors can now acquire up to 100 per cent of fixed-line carriers.
AT&T's $1.9bn acquisition of Nextel Mexico from NII Holdings in April this year may be a sign of things to come, while mergers and the creation of joint ventures in the energy sector are looking likely after the takeover in May of Colombia's Pacific Rubiales by Mexican conglomerate Alfa and Canada's Harbour Energy. This deal has been taken as a sign that companies are seeking to consolidate and bid for Mexico's oil and gas fields.
Baker & McKenzie partner Jorge Ruiz says: "Largely due to the reforms, we are at the beginning of a period of very strong M&A activity that will last to at least 2018." He adds: "We are seeing Mexican companies seeking to unite with some of the many foreign companies that are coming into the country to participate in the first round of tenders." Ruiz also envisages acquisition activity in the midstream sector as Mexico strives to expand its natural gas pipeline network.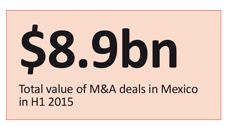 Welcoming the world
The need for experienced lawyers on the ground in Mexico could lead to global firms opening offices in the country, as evidenced by Mayer Brown opening its doors in Mexico City in July. Mayer Brown partner Francisco Méndez says the new office will mean the firm is better placed to respond to the keen interest exhibited by all oil and gas companies in Mexico to bid in the first round of auctions, which are now underway. "The whole world is here," Méndez says, referring to the oil and gas companies vying for a piece of the action. But while law firms may come and set up shop to be closer to their clients, a long-term presence in the country is also very important to demonstrate experience in the local market, according to Ruiz. Yet, with the opening up of the energy sector taking longer than expected, many firms will hold back and wait to see how the market develops, according to Daniel del Río, a partner at Basham, Ringe y Correa in Mexico City. "We've seen two types, the firms in London and New York that are not interested in opening in Mexico, and the larger, global firms that will be interested in moving here," he says. "But there have been successful and unsuccessful cases, and because the energy reform is taking longer to bear fruit than expected, it's more of a long-term plan."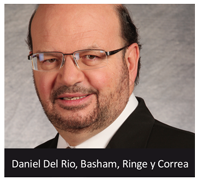 The anticipated surge in investment and M&A deals may not be immediate as investors await for acceptable terms. "Attractive fiscal terms are key for success and Mexico's hydrocarbons commission must take that into consideration," says Méndez. Fiscal reforms that were approved last year – and which had the effect of raising taxes – have acted as a brake on investment and economic growth, according to Del Río.
But Del Río is optimistic that the energy reform will spur M&A activity. "There is much interest among companies that are looking to create alliances and invest," he observes. "The expectation is good and there is much opportunity for growth in M&A." Ruiz shares these sentiments and believes that Mexican energy companies are looking to join forces – not only in the oil and gas sector, but also in the electricity generation market.  But he adds: "While there are a lot of fronts opening and Mexico has become very attractive, there are still few players in the sector."