López-Ibor partner joins Ceca Magán along with two lawyers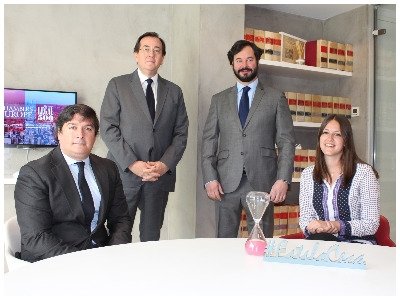 Ceca Magán Abogados has hired Alejandro Alonso Dregi along with his team of lawyers Jose Ramón Lora and Victoria Alonso, who join from López-Ibor. to reinforce its Corporate and Commercial Law area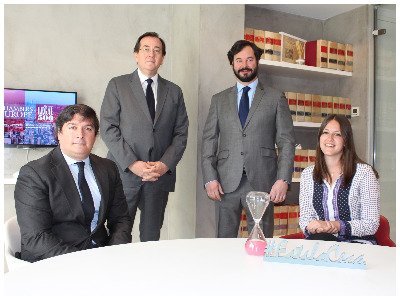 According to the law firm, this is its first major signing of 2021. Dregi joins an area that in recent years has been experiencing extraordinary growth and on which the firm is undoubtedly continuing to invest and which includes partners Jose Luis Martinez Andreo and Jose María Pastrana.
Alejandro Alonso Dregi (pictured second left), a Law graduate from Universidad de Barcelona, with a Master´s degree in European Law from Université libre de Bruxelles, specialises in Commercial Law and has more than 30 years of experience advising national and international companies on Corporate matters and has participated in numerous M&A transactions, being a professional recognised globally by a prestigious legal directory. In his extensive career, he was one of the founding partners of Dentons Spain.
The new partner combines his professional career with teaching at the Instituto de Estudios Bursátiles (IEB), and is also a member of the Academic Council of the Master´s degree in European Law at the Universidad Carlos III de Madrid. He was a member of the Governing Board of the Madrid Bar Association. He is secretary-general vice-president of the Spanish-French Chamber of Commerce.
Alejandro joins the firm with his own team of lawyers from López-Ibor Abogados, where he was a Commercial partner: Jose Ramón Lora (pictured first left), who has been his right-hand man for the last 14 years, and Victoria Alonso (pictured first right), both of whom will reinforce the Madrid Corporate team currently comprised of 15 experienced lawyers.
On his hiring, Alejandro stated: "Joining #EstiloCeca is for me a new professional challenge in which I value the extraordinary dynamism of the firm, its good work, and the seriousness and excellence with which it approaches the work and all the decisions that affect the group of people who make up Ceca Magán." He added: "I fervently believe that today more than ever, law firms have to focus and orientate their entire strategy on client service."
Esteban Ceca Gómez – Arevalillo (pictured second right), managing partner of the firm, said: "Alejandro fulfils two fundamental pillars for us today: he always brings high value-added to the market and is an expert in the international arena."