Linklaters announces promotions in Spain and Portugal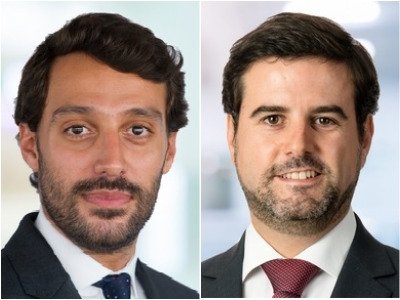 Linklaters has announced the election of 35 new partners drawn from 15 jurisdictions, including Francisco Sainz-Trápaga in Madrid and Diogo Plantier Santos in Lisbon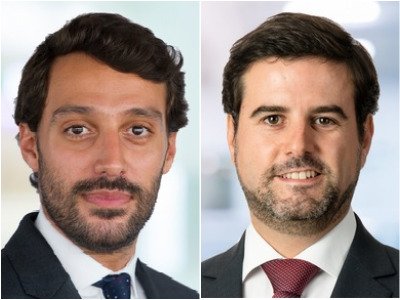 The promotions take effect from 1 May 2021. Of the new partner elections, 63% are based outside of the UK, reflecting the global nature of the firm, and women represent 40% of the new partners.
Francisco Sainz-Trápaga (pictured left) has been promoted to Banking partner from the managing associate role in the Madrid office. He joined the firm as a junior associate in 2009. He undertook a six-month client secondment to Barclays in 2012 and was promoted to managing associate in 2016. Francisco also did a nine-month secondment in our New York office. He specialises in advising public and private companies, Private Equity funds, investment funds and financial institutions on domestic and cross-border transactions, including Acquisition, investment grade, leveraged, Real Estate, Refinancing and Restructuring deals and has recently had a significant focus on R&I work. He is a Law & Economics graduate from Universidad Autónoma de Madrid.
Diogo Plantier Santos (pictured right), counsel and head of the Lisbon office Real Estate área, has been promoted to partner. Diogo joined the firm as an associate in 2004, was promoted to managing associate in 2012 and to counsel in 2016. During his time at the firm, he has undertaken a secondment to Webber Wentzel in Johannesburg. Diogo heads the Lisbon Real Estate practice and has worked on some of the most complex and high-profile deals in Portugal and in Lusophone Africa countries, particularly Angola and Mozambique. He is the vice-chairman of the ICC Portugal Commission on Commercial Law and Practice and coordinated the Portuguese translation of the FIDIC Construction Contracts. Diogo graduated in Law from Universidade de Lisboa and holds a postgraduate degree in Banking, Securities and Insurance Law from Universidade de Coimbra.
The Magic Circle firm has also announced, also effective May 1, the election of 41 new counsel across 14 jurisdictions and 13 practice areas. Over 40% of the new counsel are women. The promotions to counsel (in the picture below, from left to right) include Corporate managing associate José María López and Financial Regulation managing associate Bárbara González from Madrid, and Dispute Resolution managing associate Manuel de Abreu Castelo Branco from Lisbon.