KWM advises Capza on acquisition in Aercal
21/02/2022
115

2 minutes read
King & Wood Mallesons has advised Capza on the acquisition of a majority stake in Aercal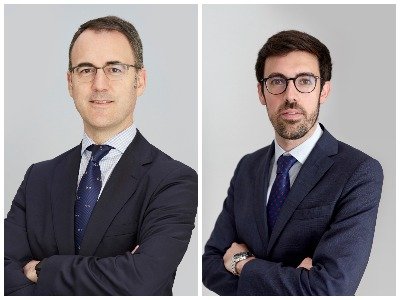 King & Wood Mallesons has advised the French Private Equity company Capza on the acquisition of a majority stake in the business group Aercal, a Spanish leading manufacturer of metal parts for the construction of aircrafts' fuselage. KWM has also advised Capza on the financing of this transaction, valued at approximately €30 million.
Aercal, a company based in Seville (Spain), has a track record of over 25 years and it is a pioneer in Spain in the production of metal parts for the aerospace and defense sector. The company collaborates with the main companies in the sector, including Airbus, Bombardier, Alestis Aerospace and Aernova.
Roberto Pomares (pictured left), Corporate partner at King & Wood Mallesons in Spain, and senior associate Gonzalo Fernández (pictured right) have coordinated the legal team involved in this deal. Other relevant professionals were Joaquín Sales (Finance) and the lawyers Laura Moreira (Corporate); María Redondo (Finance) and Lorenzo Cañás (Finance).
This transaction means the fourth equity investment of Capza in Spain. Previously, King & Wood Mallesons advised the French company on its investments in Clínicas Dorsia Group, its investment in the online training company IMF International Business School and in its investment and subsequent divestment of Ivnosys, a digital certificate management and electronic signature company.