J+Legal advises Avenidas Invertidas on corporate restructuring
07/04/2022
90

2 minutes read
J+Legal has advised Avenidas Invertidas on a corporate restructuring and carrying out a share capital increase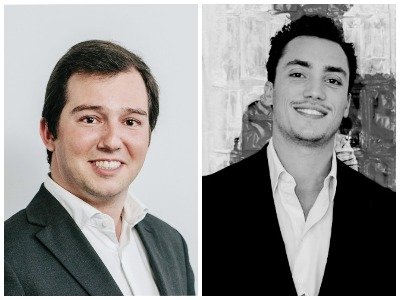 J+Legal has advised Avenidas Invertidas, a startup wholly owned with 100% Portuguese capital, on a corporate restructuring operation and carrying out a share capital increase by Khola, Lda., an institutional investor company.
The operation was carried out by J+Next, a department specialised in advising startups, and was led by senior associate Lourenço Côrte Real (pictured eft) and associate João Leite Carvalho (pictured right) from J+Legal.
Avenidas Invertidas is a company that operates in the passenger transport sector (tourism and casual) and last mile goods, offering a range of services of various types, including the availability of specialised drivers, organisation of private and group tours, of passengers and goods, personal purchases on demand, retail distribution, concierge, among others.
"The corporate restructuring operation and capital increase of the start-up Avenidas made it possible to set its enterprise value at 2.7 million euros, which includes the amount of Avenidas' net financial debt. This operation also allowed the founders of Avenidas (Manuel Salema Reis, Bento Viegas Louro and Bernardo Ribeiro da Cunha) to maintain, on the one hand, the management and control of the operations and, on the other hand, to ensure the financing of the upgrade of the technological platforms to support logistics operations and the increase and electrification of its fleet," said a spokesperson from the firm.