Iberian talents
18/12/2020
48

6 minutes read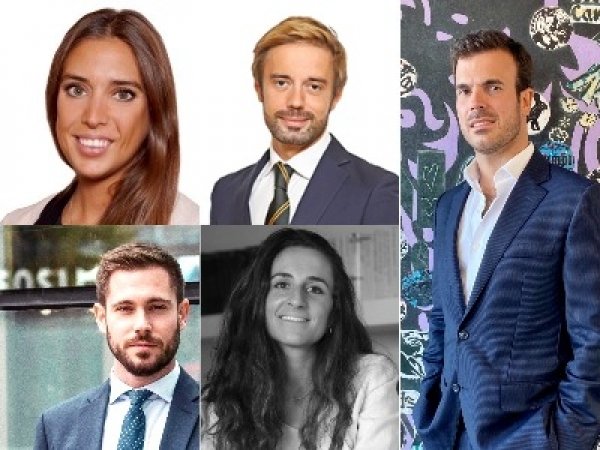 In June, Iberian Lawyer opened this section, through which we have been able to get to know better some names destined to be references in the legal profession in Spain and Portugal. They are so not only because of their expertise in their respective areas, but also and perhaps mainly because of the values they put into practice in their day-to-day work, demonstrating their commitment to the profession and their desire to continuously improve and evolve. They are also known for the charisma that characterises them. All of them are already beginning to be valued in the legal market, and at Iberian Lawyer we will closely follow them to applaud their -surely- future successes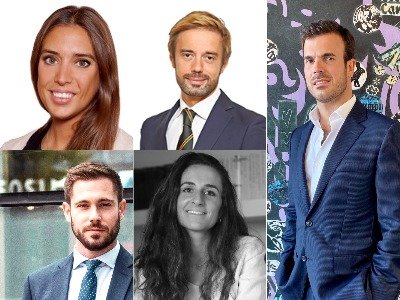 TECHNOLOGY, MEDIA AND TELECOMMUNICATIONS
Andrés Pérez Ruiz, (pictured bottom left) an expert lawyer in Privacy and New Technologies Law, opened this section in June. He was then working at Metricson, where he had spent more than five years as a lawyer in the Privacy and Intellectual Property area. Since July, he has been a lawyer in the Technology area at Ramón y Cajal Abogados. He also teaches at various business centres and is the founder of the portal todojuristas.com, which this year alone has managed to get more than 500,000 visits and has tens of thousands of followers on social networks. His commitment is clear and unmistakable and involves identifying not only with the client's problems but also their objectives, becoming one of the team and considering the client's achievements as their own.
"I believe that the future of our profession lies in specialisation in economic or industrial sectors and not so much in areas of law or legal areas. We lawyers must put the client ar the centre of the equation once and for all, just as other sectors of activity do", Andrés stated.
INTELLECTUAL PROPERTY AND ENTERTAINMENT
In the July-August special, we met Natalia Tamames (pictured bottom centre). After working for some big firms, at that time, Natalia was advising musicians and creators, although that same month (July) she started working at Andersen Spain as IP, IT & Culture senior lawyer. She also teaches at UNIR (International University of La Rioja) and is artistically involved in Sofar Sounds and Fever. All of this is spiced up with her personal project as a solo singer. In her interview, Natalia defended the idea that lawyers should have interests and presence beyond the sphere of their profession.
"Yes, clients demand hyper specialisation; but they also seek to be able to add lawyers -people- to their personal and professional project who know how to ground the words of a manual or a sentence in each one´s everyday life and particular problems", Natalia stated.
COMMERCIAL AND CORPORATE
In September, we spoke with Marco Silva Garrinhas (pictured top centre), Commercial, Corporate and Mergers & Acquisitionssenior associate at SRS Advogados, about the series of existing clichés in the legal profession and its practice in the early years of the career. There, Garrinhas showed himself as a foresighted, classic type of lawyer, more focused on prevention and office work than the apparently more feverish environment of litigation. The idea of the calm and meticulous lawyer that we usually associate with older lawyers, but that, in reality, is outlined at a much younger age.
"Essentially, I have always been more interested in working in the pre-litigation phase and advising on the best procedures to anticipate and avoid potential conflicts", Marco stated.
CONSTRUCTION AND ARBITRATION
Claudia Fernández López-Areal, (pictured upper left) a lawyer in the Construction Advisory & Disputes (CAD) department of Pinsent Masons Madrid, who was awarded the best team in the area in the last Iberian Lawyer Forty Under 40 Awards, was our unstoppable young lady of the month in October. She talked to us about one of the sectors with the greatest projection in the market, assuring that the construction sector is a good niche for specialising in Spain as it is a sector that is going to grow in a large number of firms over the next few years.
"Spain is a very active country as far as construction is concerned, and I think that little by little we are seeing that some law firms are following our line of having a department or team specialised in construction to respond to these needs", Claudia stated.
DISPUTE RESOLUTION
In November we got to know Tiago Geraldo (pictured right) better, who is currently the head associate of the Litigation department at Morais Leitão. In addition to his teaching and research fervour, what most drew our attention was Geraldo's energetic personality. He confesses feeling impelled to take a stand for what he believes in, this being a characteristic of his personality that made him better understand how the Law works and made him see that the role of a litigator is the one that best fits his spirited legal personality.
"The enthusiasm of being a trial lawyer derives mainly from allowing me to take an active stance and to verbalise it, to defend it, helping to show the right way, helping to do justice. I have always felt that there is a certain courage in undertaking such work", Tiago stated.
To read the article in full please download issue N.100 here.