Iberian Lawyer hosts Legaltech Connect Portugal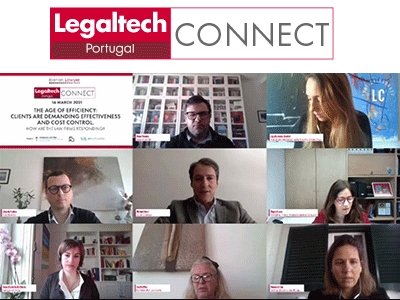 The event was held fully on-line and included the participation of prestigious in-house and law firm practitioners from Portugal and Italy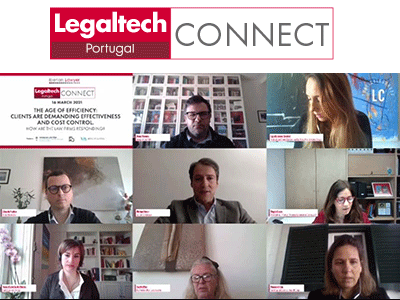 Iberian Lawyer hosted the event – Legaltech Connect Portugal, which was titled: The age of efficiency: clients are demanding effectiveness and cost control. How are law firms responding?
It was presented by LC Publishing Group managing director Aldo Scaringella, moderated by Portugal journalist Michael Heron and in partnership with the law firms Morais Leitão, Galvão Teles, Soares da Silva & Associados | Morais Leitão, PLMJ and VdA "Vieira de Almeida".
The maximum capacity on-line audience in attendance were fully engaged with the discussion which counted on the following speakers:
• Bruno Ferreira, managing partner PLMJ (pictured top centre)
• Eduardo Paulino, partner Morais Leitão, Galvão Teles, Soares da Silva & Associados | Morais Leitão (pictured middle left)
• Lígia Gutierrez Setúbal, team lead, legal counsel | compliance and data privacy officer OutSystems Portugal (pictured top right)
• Magda Cocco, partner and head of practice of information communication & technology VdA Vieira de Almeida (pictured middle right)
• Mariana Abreu, head of legal and compliance Banco BNI Europa (pictured bottom right)
• Teresa Carvalho de Oliveira, head of legal Axians Portugal (pictured bottom left)
• Sandra Mori, data protection officer Europe The Coca-Cola Company (pictured middle bottom)
The debate focused on the in-house attendees and their experience of external counsel as well as the technology that has helped them manage their legal work more efficiently.
The private practice lawyers discussed the tools they use, their views on Legaltech in general and how technology can help with the delivery of legal services, as well as the future of the profession.