Iberian Lawyer InspiraLaw 2022 gala night
09/03/2022
122

2 minutes read
Iberian Lawyer held its InspiraLaw "Diversity & Inclusion" gala night 2022, which counted on outstanding participation from the Legal market of Spain and Portugal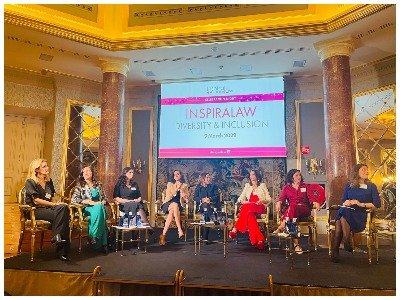 Once again and for the sixth consecutive time, 50 women in the Spanish and Portuguese legal profession were recognised for their work and career during a celebration held at the Wellington Hotel in Madrid, that brought together important figures from the in-house world and the private sector.
Iberian Lawyer selected the list of winners, announced in the March issue, after receiving hundreds of nominations. The list features, in the 2022 edition, women who have stood out, inspiring colleagues and clients, but also women who have spearheaded disruptive initiatives focused on diversity and inclusion.
The gala included a panel discussion entitled "Gender diversity in the legal profession, where are we", moderated by Ilaria Iaquinta, Managing Editor, Iberian Lawyer & LC Publishing Group, with the participation of:
Clara Cerdan Molina, General Counsel Europe, Africa, South America, China, Ferroglobe, Lola Conde, Santander Legal Coo, Banco Santander, Rosa Espín, co-CEO, Ambar, Paula Gomes Freire, Managing Partner, VdA, Leonor Pissarra, Country Chief Legal Officer, Novartis Farma Portugal, Inês Sequeira Mendes, Managing Partner, Abreu Advogados, María Tomillo, Regulatory Partner, Simmons & Simmons, Jimena Urretavizcaya, Partner at the Banking & Finance Department, A&O, who discussed various topics around gender diversity in the sector.
The InspiraLaw 2022 event was supported by leading Spanish and Portuguese law firms. We have never been more proud of our selection, but in our eyes, all the nominated women are winners, congratulations to all of them!
You can find the list of the 2022 InspiraLaw women here.