Iberian Lawyer April issue online
04/04/2022
87

2 minutes read
The April issue of Iberian Lawyer is now available for free download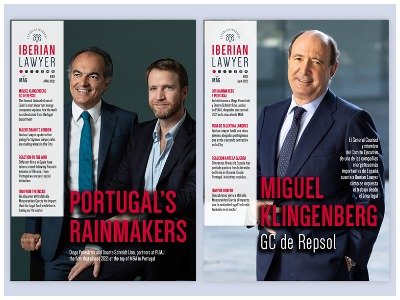 In this issue we focus on how the Spanish and Potuguese market reacted to the Kremlin invasion, in our Russia-Ukraine War reaction piece. Despite re-structuring and re-financing dominating M&A deals, there is some cause for optimism. The ongoing energy crisis will, however, inevitably dominate discussions in the coming months. From Portugal, we hear from the co-heads of PLMJ's successful M&A practice, Diogo Perestrelo and Duarte Schmidt Lino, that came out on top in 2021 and look set to continue their domination of high value deals. We also interview the GCs at Repsol and IBM Portugal respectively. The migration of Portuguese talent to London at associate level looks set to continue, and Iberian Lawyer tracked down five up and coming lawyers making an impact in the City.
Our valued collaborations by Women in a Legal World, World Compliance Association and The Coach Approach complete this issue, along with some fantastic international content from MAG and the Latin American Lawyer.
The magazine is now available in English and Spanish.
To download your free copy (issue number 113) please click here.