Gamesa, Pfizer, Zurich and Seat recognised at Iberian Lawyer Gold Awards
20/10/2016
95

5 minutes read
ANA Aeroportos de Portugal,  JT International Iberia and Andrade Gutiérrez among other winners at Madrid ceremony recognising legal and compliance professionals
Iberian Lawyer Gold Awards on the news ( see Diario Expansión)
Lawyers and compliance professionals from Pfizer, Zurich Insurance and Seat were among the winners at the recent 2016 Iberian Lawyer Gold Awards.
The Gold Awards recognise excellence among legal and compliance professionals working for Spanish and Portuguese businesses at home and abroad or as part of the Iberian operations of an international business.
The award ceremony was held at the Museo Lázaro Galdiano in Madrid on 20 October. A total of 200 guests were in attendance.
Victory for Pfizer
Pfizer's Cecilia Álvarez Rigaudias was winner of the compliance lawyer of the year award, whose work creating an alternative system for transferring personal data to the US in light of the European Court of Justice ruling relating to 'safe harbour', particularly impressed the judges. Meanwhile, Zurich Insurance won the compliance team of the year (Portugal) award. Judges commended the Zurich team – led by Nuno Moraes Bastos – for its work providing training for the insurance and finance industry on regulatory changes such as Solvency II.
Seat rewarded
The compliance team of the year award (Spain) went to Seat, whose team is led by Sandra Olivera. Meanwhile, JT International Iberia won the legal team (Spain) award. ANA Aeroportos de Portugal won the legal team (Portugal) award – judges rewarded the team – led by Francisco José Lourenço Sebastian – partly for its work agreeing out of court settlements that mitigated the company's global risk exposure and resulted in savings for the company of €10.6 million.
Andrade Gutiérrez top in Africa
The corporate lawyer of the year award was won by Azora's María Luisa Vara, while Francisco Javier Ramírez Arbúes of ING Bank won the TMT lawyer of the year prize. The projects & infrastructure lawyer of the year award went to Javier Cabezudo Pueyo of Gamesa Corporación Tecnológica. The global team of the year (focus Africa) award was won by Andrade Gutiérrez Europe, Asia and Africa – the team was led by Rui Andrade.
The global team of the year (focus Latin America) award was won by Iridium Concesiones de Infraestructuras (ACS Group), whose team was led by Gabriela Regojo Balboa. The ceremony was preceded by Law2Biz, a think-tank discussion involving general counsel, compliance officers and leading lawyers from law firms.
Click here to see more photos of the event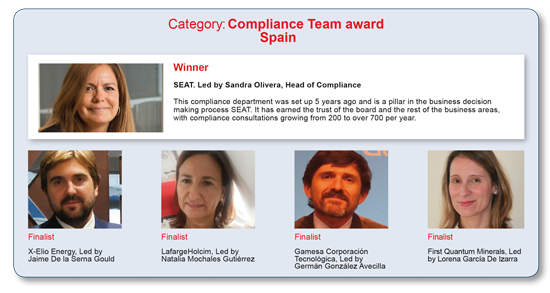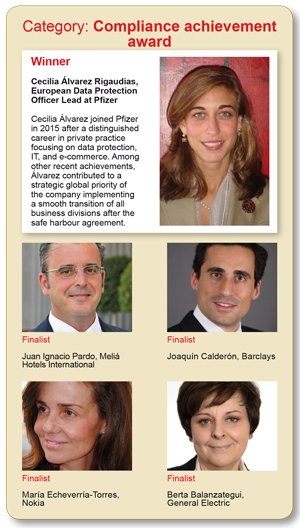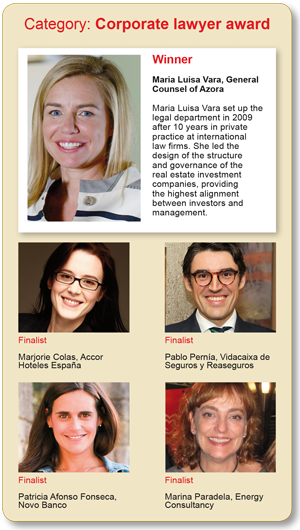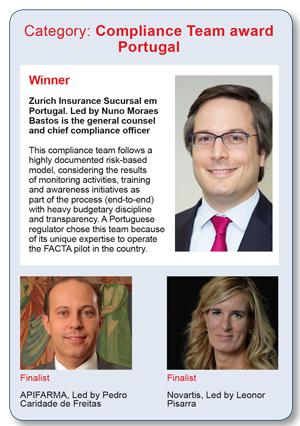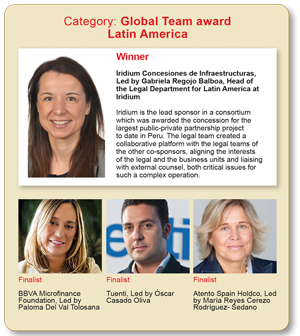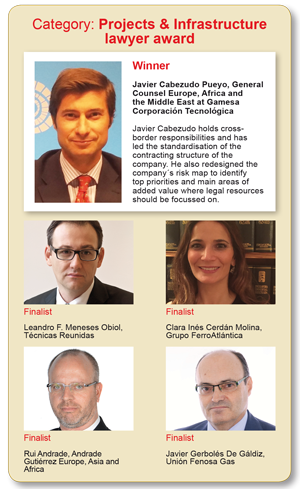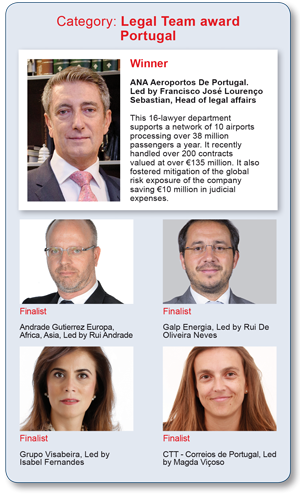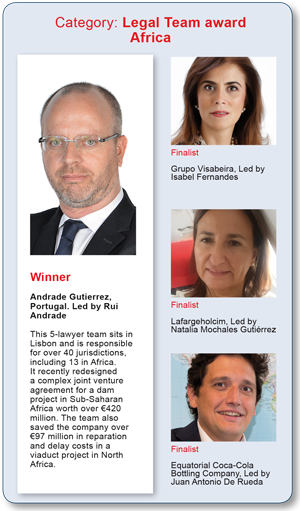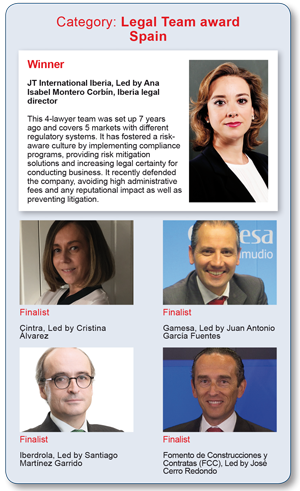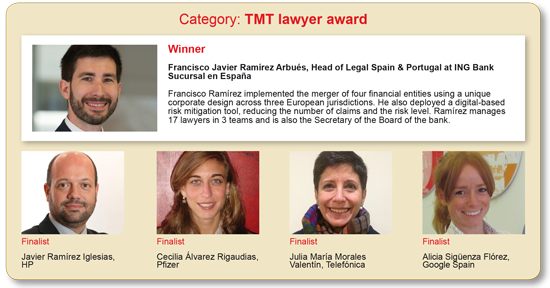 Iberian Lawyer Gold Awards on the news ( see Diario Expansión)