Day 3 of Legalcommunity Week 2021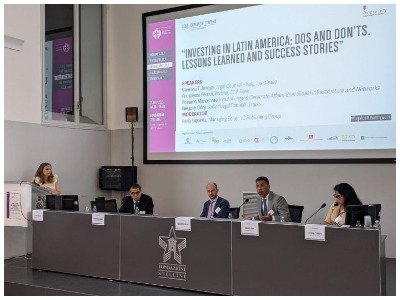 The third day has been full of events that animated the city of Milan and the community of professionals of the Italian Legal market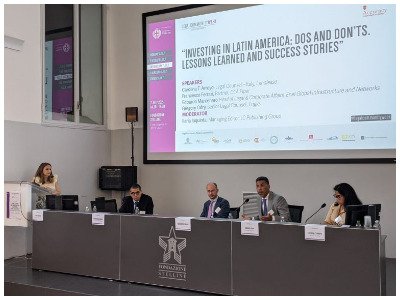 The day opened at 9 at the Stelline Foundation, with the conference "Private Equity: A Positive Look Ahead". The event was divided into three segments.
The first part, focusing on "Post-pandemic Private Equity Trends", with Stefano Sciolla and Cataldo Piccarreta, both partners of Latham & Watkins, who moderated a panel composing of Giorgio De Palma, partner of CVC Capital Partners; Francesco Pascalizi, partner and head of the Permira Milan office; Filippo Penatti, managing director of The Carlyle Group; and Giuseppe Pipitone vice president of Goldman Sachs Investment Banking Division in London.
The second part, focusing on the sector's "Financing Trends", was moderated by Latham & Watkins partners Marcello Bragliani and Jeffrey H. Lawlis, with guest speakers Luca Buccelli, head of Italy of Tikehau Capital, Filippo Jacazio, head financial sponsor solutions Italy of Unicredit; Elena Lodola, head of leveraged finance capital markets of BNP Paribas; Diego Napolitano, head of leveraged & acquisition finance of IMI Corporate & Investment Banking Division; Sergio Tengattini, managing director and head of financial sponsor coverage and leveraged finance Italy of Société Générale Corporate & Investment Banking.
The third and final segment before the lunch break saw Latham & Watkins partners Giancarlo D'Ambrosio, Giorgia Lugli and Giovanni B. Sandicchi present and comment on the Private Equity Market Study 2020 conducted by the law firm.
Also taking place at the same time, starting at 11 am and as always from the Stelline Foundation, the round table "NRRP: The New Italy – Projects and Procedures to Build the Future" was held. Four speakers alternated under the moderation of Nicola Di Molfetta, editor-in-chief of Legalcommunity and MAG: Vincenzo Amendola, Secretary of State for European Affairs; Sergio De Felice, section president of the Council of State; Marco Monaco, head of Administrative & European Public Law Department of NCTM; and Giancarlo Senatore, president & CEO of PwC Public sector.
In the afternoon, starting at 2 pm, another conference was held at the Stelline Foundation, this time on the theme "Latam's Energy and Construction Industries: Trick or T (h) reat?" – Focus on Brazil, Mexico and Peru ". After the greetings of Aldo Scaringella, managing director of LC Publishing Group, Stefano Modenesi, partner and location head litigation and regulatory of DLA Piper and Giovanni Foti, partner of Accuracy, the event started with the "Doing Business in the Latin America Region: Trick or T (h) reat? ", Moderated by Ilaria Iaquinta, managing editor of LC Publishing Group, and with the contributions of Sara Gandolfi, journalist of Corriere della Sera, Antonella Mori, head of the Latin America Program of ISPI and of Bocconi University, and Michele Pala, director for Latin America and the Caribbean of the Ministry for Foreign Affairs and International Cooperation.
Followed by the segment about "Investing in Latin America: Dos and Dont's. Lessons Learned and Success Stories", again moderated by Ilaria Iaquinta, attended by the speakers Carolina T. Arroyo, Lendlease Legal counsel – Italy; Francesco Ferrari, partner of DLA Piper; Edoardo Marcenario, head of Legal & Corporate Affairs at Enel Global Infrastructure and Networks; and Gregory Odry, Engie's senior Legal counsel.
After a coffee break, it was the turn of the third and final segment, entitled: "Is International Arbitration an Efficient Tool to Enhance Foreign Investments in The Region? The Users' View (the Counsel, the Arbitrator, the Expert and the Investor's Perspective)". This session was moderated by Federica Bocci, international arbitration counsel and arbitrator – lead lawyer of DLA Piper, it brought together the testimonies of Ricardo Ampuero Llerena, independent counsel; Gerardo Lozano, senior partner of DLA Piper; Maria Irene Perruccio, Legal and corporate affairs department and Legal department international of Webuild; and Eduard Saura, Accuracy managing partner Spain.
The day ended with two "talks and cocktails" at 6 pm, from the headquarters of the Legance law firm, Nicola Di Molfetta moderated a discussion between Giuseppe Castagna, CEO of Banco BPM, and Filippo Troisi, senior partner of Legance. At 6:30 pm, from Palazzo Clerici, the "talk and cocktail" entitled "The New Normal in The Workplace: Are You Ready?" with a speech by Aldo Bottini, partner of the Toffoletto De Luca Tamajo studio.
In the picture, from left to right: Ilaria Iaquinta, Edoardo Marcenario, Francesco Ferrari, Gregory Odry and Carolina T. Arroyo.