CECA MAGÁN strengthens labour area
05/04/2022
123

2 minutes read
CECA MAGÁN Abogados has hired Àlex Santacana to lead the Labour team of the Barcelona office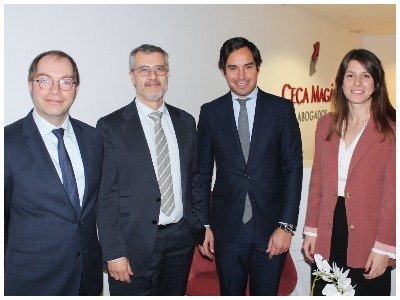 Àlex Santacana has joined CECA MAGÁN with part of his team from Roca Junyent. He is now a partner in the Labour area of ​​the Barcelona office, joining the workforce currently made up of more than 40 labour professionals nationwide, along with part of his team: Albert Toledo, as director of the labour area and Rut Villalonga, as associate.
A specialist in collective negotiations and labor litigation processes, Santacana has carried out more than 100 processes of employment regulation files throughout his career, among them that of the now defunct Democratic Union of Catalonia stands out. Likewise, he is recognised for his work designing internal policies for companies and complex mandates such as the negotiation of agreements or the implementation of equality plans.
Graduated in Law from the Autonomous University of Barcelona, ​​he has extensive experience in labor matters and labor relations in the banking, automotive and retail sectors, having served in the past as a lawyer for the labor consultancy of the former "La Caixa."
For Enrique Ceca, managing partner of the labour area of ​​CECA MAGÁN: "I have always considered Àlex one of the best labour professionals in Spain. Being able to count on him in our team is a real luxury. His signing allows us to underpin the level of technical and human quality that we seek in our firm."
In statements by Àlex Santacana, who will lead the Labour team of the Barcelona office, "this new stage represents a professional challenge for me as I join one of the leading labor consultancy firms in this country with excellent professionals and great growth in the last decade."
Pictured from left to right: Albert Toledo, Àlex Santacana, Enrique Ceca and Rut Villalonga.