Carrau Corporación reinforces its Public Law department
Carrau Corporación has incorporated Concha Serna Sánchez de Mora as director of its Public Law Department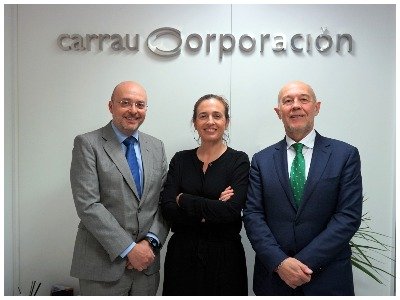 Carrau Corporación has incorporated Concha Serna Sánchez de Mora (pictured center) as director of its Public Law Department. The lawyer, an expert in Public and Building law, until now had her own office specialising in these areas, which is now part of the firm Carrau Corporación.
A spokesperson from the firm said: "Public procurement and work for the administration has become a fundamental tool throughout the European Union to face the economic recovery after the impact of the pandemic".
Concha Serna Sánchez de Mora will be in charge of directing and promoting the firm's Public Law Area, at a time when the bulk of European Union aid for Spain will be channelled through the administrations.
Concha Serna Sánchez de Mora is a lawyer and has specific training in areas such as the legal regime of Public Administrations, Public Sector Contracting, Urban Planning, Environmental Law and also in Strategic Management of projects financed with European funds. At the head of her own law firm, she has worked for large construction and public services companies and also for public bodies, providing legal advice and reviewing projects.
"It is a magnificent opportunity to join a major organisation such as Carrau Corporación, with a large, top-level team, which will allow us to have a much greater capacity to focus and work," said Concha Serna Sánchez de Mora, on his joining the law firm.
Carrau Corporación has six partners, who lead its different areas: Héctor Paricio, Joaquín Fuertes, Rafael Rel, Ignacio Soler, Luis Vidal and José Ángel Viñes.