Andersen Spain integrates Andersen Portugal into its structure
15/02/2022
96

3 minutes read
The incorporation involves the addition of José Mota Soares, head of the Lisbon office, and Gonçalo Cid, head of Tax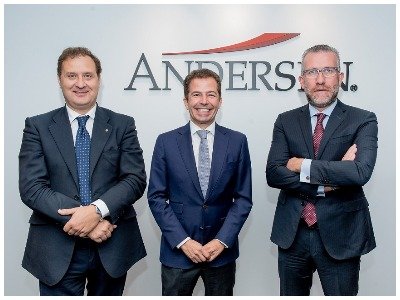 Andersen in Spain has integrated the Portuguese firm headquartered in Lisbon into its structure, increasing its team and capabilities and establishing a new pillar in its expansion strategy, based on the synergies between the two countries to better serve clients.
The integration fulfils one of the objectives of Andersen's 2021-2023 Strategic Plan, which considers the concerns of the team and clients regarding the link between Spain and Portugal and materialises a new boost to comprehensive advice to national and international clients with interests in Iberia. The Lisbon office specifically offers a reinforced comprehensive service, with capabilities in all areas of law and a solvent team that has already been working with the Spanish team on joint projects.
"The Lisbon team is fully integrated into the Spanish company, given that one of the firm's objectives was to have an office with direct management, avoiding partnerships or mixed integrations", explained José Vicente Morote and Íñigo Rodríguez-Sastre, co-managing partners of Andersen in Spain, while stressing that "with this transaction and the firm's latest moves, such as the integration of DA Lawyers last July and CHR Legal in January, the Strategic Plan designed for three years has reached a very high level of development in the first year."
According to Morote and Rodríguez-Sastre, the integration of Portugal is "a turning point in the management and organisation of the firm, which goes from inter-office coordination to a total union, opening a new avenue for growth with a comprehensive and top-quality service throughout the Iberian Peninsula".
"We have been involved in several of the most important corporate transactions in the legal sector in the Iberian Peninsula this year with the firm objective of continuing our expansion plan and positioning ourselves among the top 10 law firms operating in Spain in the short term," said the co-managing partners of Andersen.
For his part, the managing partner of the Lisbon office, José Mota Soares, highlighted "the good relationship between the Lisbon and Andersen Spain teams and how easy it will be to work fully integrated, as this improves the cohesion of the team and the homogeneity in the way of working." He also stressed that Andersen's project in the Iberian Peninsula is "exciting and both parties share the vision of the business, the idea of growth and the development of practices", something that, he added, "is based on Andersen's values and the 'one firm' principle that governs the international firm".
Photo: Íñigo Rodríguez-Sastre, José Mota Soares and José Vicente Morote.