AGM Abogados incorporates new partner
09/03/2022
86

2 minutes read
AGM Abogados has incorporated Ignacio Ruiz Carrasco as partner of the Fiscal and Tax area in Madrid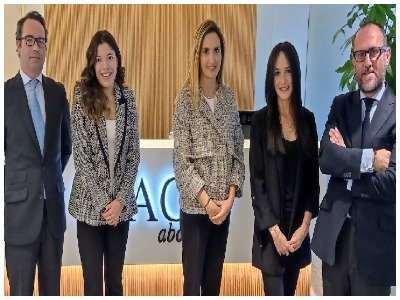 AGM Abogados has announced the incorporation of Ignacio Ruiz Carrasco (pictured left) to its team as partner of the Fiscal and Tax area of the firm in Madrid.
Ignacio has a long professional career advising listed and large Spanish and international business groups. During his career, he has specialised in the restructuring of family and business assets, tax procedures, as well as tax compliance. He has experience in sectors such as real estate, automotive, railway, medical, aesthetic, pharmaceutical, audiovisual and renewable energies.
He has worked for the last 5 years as a Director in the Tax area of Grant Thornton, being previously responsible for the Tax Department of UHY International. Ignacio has also accumulated experience after working in firms such as Garrido Abogados, Salans and Ernst & Young.
Ignacio is accompanied by three more people, all of them also from Grant Thornton, who will join the Legal Tax/Accounting department: Cristina Moratalla Plaza as head, Andrea Gonzalo Rodríguez as lawyer and Anay Vega Moncayo as tax advisor.
The new partner and his team join the Tax team of the AGM Abogados Madrid office, which, together with the Barcelona team led by Partner Leonardo Cárdenas Armesto, will strengthen the Tax area of the firm, in line with the objectives proposed for 2022 of consolidating the AGM Madrid office.
Ignacio holds a Law Degree from the Complutense University of Madrid, a Master's Degree in Business Tax Consultancy (IE Law School LLM) and a Master's Degree in Stock Exchange and Financial Markets (I.E.B.). In addition, he has more than 12 years' experience in tax advice and planning, as well as in defending taxpayers before the Tax Authorities, Economic-Administrative Courts and the Courts of Justice.