2020 Transactional Ranking: Rowing against the COVID-19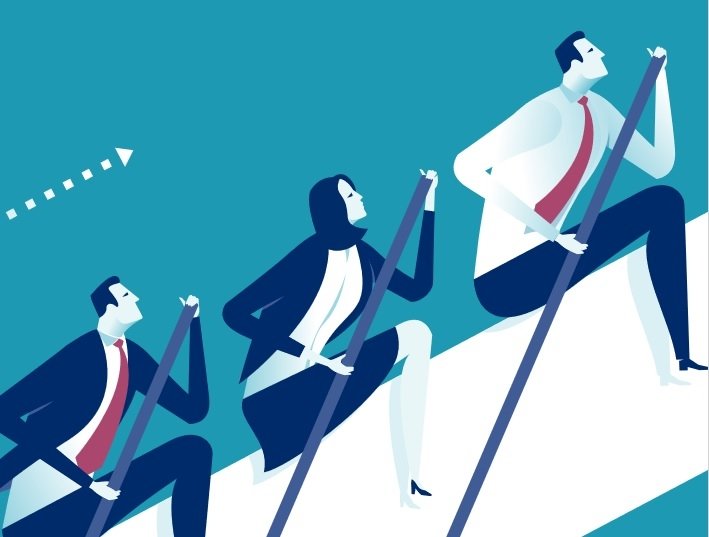 Clifford Chance and Morais Leitão lead the top ten firms in Spain and Portugal, respectively, in the 2020 transactional ranking made by Iberian Lawyer with data provided by the TTR platform, recorded from January 1 to November 30. The main transaction to date is the merger between 02 (Telefónica) and Virgin Media (Liberty Global), which according to TTR was worth €22.6 billion. Allen & Overy, Clifford Chance, Garrigues and Linklaters lead the Best Dealmakers table in Spain while VdA, CS Associados, Morais Leitão and Cuatrecasas Portugal are the leaders in this category in Portugal.
BOTH IN SPAIN AND PORTUGAL TRANSACTION ACTIVITY IS DOWN 23 PER CENT COMPARED TO 2019, BUT AGGREGATE DEAL VALUE IS UP AROUND 37 PER CENT IN BOTH COUNTRIES
SPANISH LAW FIRMS BY DEALS VALUE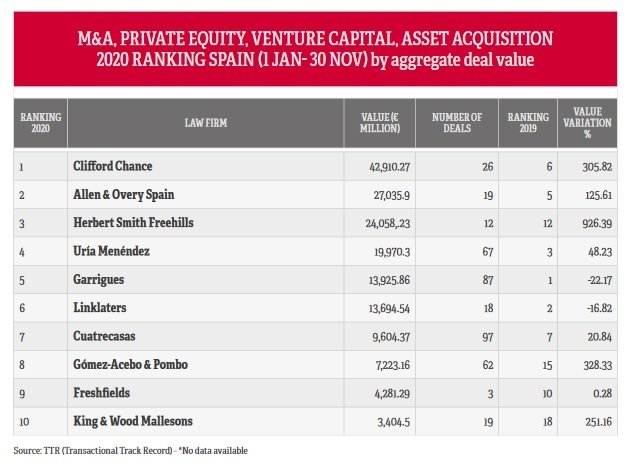 Clifford Chance leads the M&A, Private Equity, Venture Capital and Asset Acquisition transaction table (1 Jan-30 Nov), with 26 transactions with a total value of nearly €43 billion, representing a positive change of more than 300 per cent from 2019, moving up from last year's sixth position. Next in the top ten in Spain are Allen & Overy, Herbert Smith Freehills, Uría Menéndez, Garrigues, Linklaters, Cuatrecasas, Gómez-Acebo & Pombo, Freshfields and King & Wood Mallesons. Particularly striking is the rise of Herbert Smith Freehills who, from twelfth position last year, has risen to third in 2020 with a positive variation of over 926 per cent, and twelve transactions recorded for a value of over €24 billion. Deal volume in Spain is down 23 per cent to the close of November 2020 compared to 2019, while aggregate transaction value is up 37 per cent, according to TTR data.
THE SUM OF THE DEALS REGISTERED BY TTR OF THE TOP TEN FIRMS IN TERMS OF DEAL VALUE ON THE SPANISH LEGAL MARKET, SHORTLY BEFORE CLOSING 2020, EXCEEDS €166 BILLION
SPANISH BEST DEALMAKERS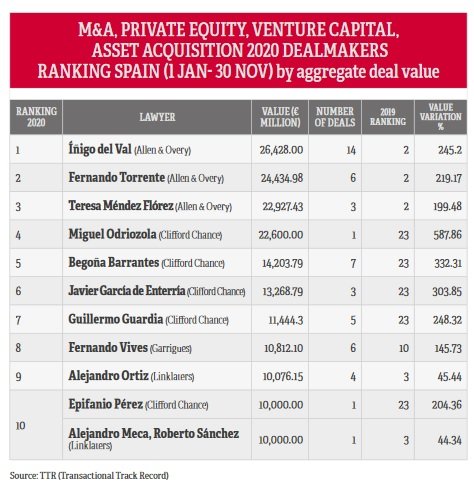 As we already anticipated in Iberian Lawyer in September, the lawyers of Allen & Overy continue to lead, two months later, the Best Dealmakers table in Spain. As then, we find partner Íñigo del Val in the first place, followed by senior partner Fernando Torrente and counsel Teresa Méndez, registering amounts ranging from around €23 billion corresponding to the three deals registered by Teresa to more than €26 billion registered from del Val ́s 14 deals. Clifford Chance partner Miguel Odriozola and counsel Begoña Barrantes, partners Javier García de Enterría and Guillermo Guardia give way to Garrigues executive president Fernando Vives, Alejandro Ortiz from Linklaters, Epifanio Pérez from Clifford Chance, and Alejandro Meca and Roberto Sánchez from Linklaters, who complete the top ten.
THE TOTAL DEAL VALUE RECORDED BY THE TOP TEN SPANISH DEALMAKERS IN TTR SO FAR IN 2020 EXCEEDED €166 BILLION
PORTUGUESE LAW FIRMS BY DEALS VALUE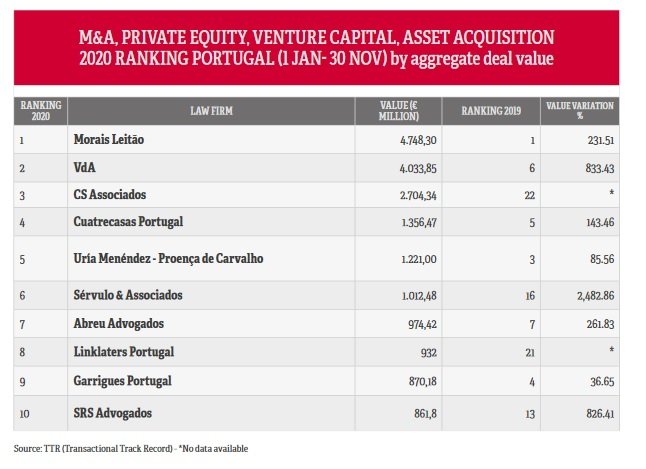 In the case of Portugal, maintaining its leadership since last year, we find Morais Leitão, with a positive variation of more than 231 per cent, and operations that meant a total value of more than €4.7 billion. VdA, which recorded a very significant rise from sixth position, is ranked second, with a positive variation of more than 833 per cent. Next is CS Associados, Cuatrecasas Portugal, Uría Menéndez – Proença de Carvalho, Sérvulo & Associados, Abreu Advogados, Linklaters Portugal, Garrigues Portugal and SRS Advogados. Sérvulo & Associados' performance rose dramatically, with a positive variation of more than 2,482 per cent, from sixteenth position in 2019 to fifth in the current financial year. SRS Advogados also recorded a significant rise in positions from 12th in 2019 to 10th this year, with a variation of more than 826 per cent. Transaction volume in Portugal is down 23 per cent YTD over the same 11-month period in 2019, according to TTR data, while aggregate deal value has increased by 36 per cent.
THE TOTAL DEAL VALUE REGISTERED IN TTR BY THE TOP TEN PORTUGAL-BASED FIRMS EXCEEDED €18.7 BILLION UP TO NOVEMBER 30
PORTUGUESE BEST DEALMAKERS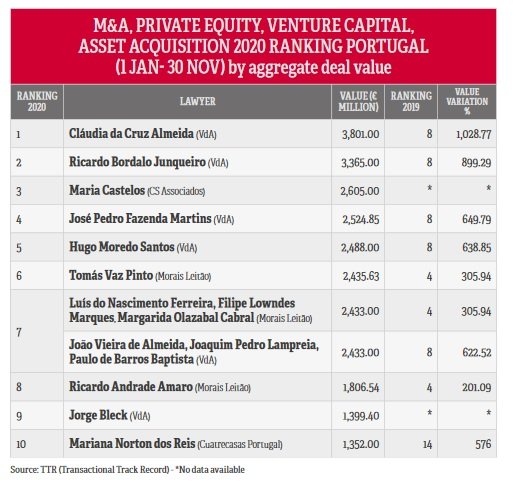 The same case occurs among the Best Dealmakers in Portugal, with Cláudia da Cruz Almeida from VdA leading the table at a global level as she did in the Top Women Dealmakersranking published by Iberian Lawyer last November, with TTR data recorded up to the end of October. It seems that 2020 has been a good year from a transactional point of view for both Cláudia and VdA, as the M&A partner has risen from eighth position in 2019 to the leadership this year, registering a positive variation of over one thousand per cent. Her fellow partner Ricardo Bordalo Junqueiro, also follows with a very positive variation, confirming what was said. He is followed by Maria Castelos, from CS Associados, José Pedro Fazenda Martins and Hugo Moredo Santos, both from VdA, Tomás Vaz Pintoand from Morais Leitão in sixth position. Luís do Nascimento Ferreira, Filipe Lowndes Marques and Margarida Olazabal Cabral, all from Morais Leitão, and João Vieira de Almeida, Joaquim Pedro Lampreia and Paulo de Barros Baptista, all from VdA, share the seventh place in the table. Ricardo Andrade Amaro, from Morais Leitão, Jorge Bleck from VdA and Mariana Norton dos Reis, from Cuatrecasas Portugal, complete the table.
To read the article in full, including the 2020 Top Ten Iberian Deals please download issue N.100 here.