Winners of IP & TMT Spain Awards announced
08/10/2021
69

8 minutes read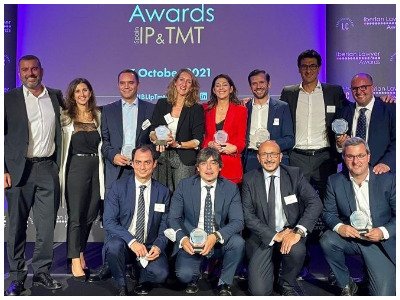 Iberian Lawyer IP & TMT Awards recognised this Thursday, at the Four Seasons, the excellence of the Spanish Legal market in the field of Intellectual Property protection, Telecommunications, Media and Technology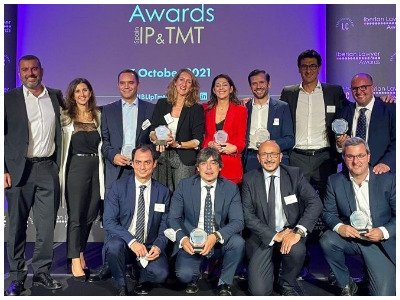 The gala night, presented by founder and general director of LC Publishing Group, Aldo Saringella, was celebrated at the Four Seasons hotel. Previously, the round table titled "IP&TMT: A market full of challenges and opportunities. Sustainability & added values: mandatory goals for the new times" took place, conducted by Iberian Lawyer chief editor, Desiré Vidal, which counted on the participation of Cristina Hernández Tielas, senior Legal counsel Iberia, British American Tobacco – South Europe Area, David Riopérez, Corporate and M&A counsel de Gómez-Acebo & Pombo, Carlos Menor Gómez, Legal director & Compliance officer at Renault Iberia, Ignacio Mendoza Legal Director of HEINEKEN Spain and AleJandro Touriño, managing partner of ECIJA.
The creation of trademarks and patents, their affirmation through the construction of reputation policies and their protection are therefore strategic assets of advanced societies and as such must be protected. Another increasingly important area of communication and information is the whole world of Technology, Media and Telecommunications (TMT).
The Jury members are a selected group of general counsel and head of Legal in the field of IP and TMT.
You can find more information about the categories here. Finalists were announced last June, and you can have access to the list here.
The winners were:
LAWYER OF THE YEAR
Alejandro Touriño – ECIJA
LAW FIRM OF THE YEAR
Gómez-Acebo & Pombo
LAWYER OF THE YEAR – IP
Gonzalo Ulloa Suelves – Gómez-Acebo & Pombo
LAW FIRM OF THE YEAR – IP
Pons IP
LAWYER OF THE YEAR TMT
Alejandro Touriño – ECIJA
LAW FIRM OF THE YEAR TMT
ECIJA
LAWYER OF THE YEAR LIFE SCIENCES
Eduardo Castillo – Pérez-Llorca
LAW FIRM OF THE YEAR LIFE SCIENCES
Eversheds Sutherland
LAWYER OF THE YEAR TELECOMMUNICATIONS
Paloma Bru – Pinsent Masons
LAW FIRM OF THE YEAR TELECOMMUNICATIONS
Ramón y Cajal Abogados
LAWYER OF THE YEAR CRIMINAL IP
Juan Palomino – Pérez-Llorca
LAW FIRM OF THE YEAR CRIMINAL IP
Pérez-Llorca
LAWYER OF THE YEAR FOOD
Antonio de Mariano – Ramón y Cajal Abogados
LAW FIRM OF THE YEAR FOOD
Gómez-Acebo & Pombo
LAWYER OF THE YEAR DIGITAL-TECH
Paloma Bru – Pinsent Masons
LAW FIRM OF THE YEAR DIGITAL-TECH
ECIJA
LAWYER OF THE YEAR FASHION
Sofía Martínez-Almeida – Gómez-Acebo & Pombo
LAW FIRM OF THE YEAR FASHION
Pons IP
LAWYER OF THE YEAR MEDIA
Alejandro Touriño – ECIJA
LAW FIRM OF THE YEAR MEDIA
Pinsent Masons
LAWYER OF THE YEAR COPYRIGHT
Vicente Arias Máiz – Eversheds Sutherland
LAW FIRM OF THE YEAR COPYRIGHT
Eversheds Sutherland
LAWYER OF THE YEAR TRADEMARKS AND PATENTS
Sofía Martínez-Almeida – Gómez-Acebo & Pombo
LAW FIRM OF THE YEAR – TRADEMARKS AND PATENTS
Pons IP
LAWYER OF THE YEAR ADVERTISING
Viente Arias Máiz
LAW FIRM OF THE YEAR ADVERTISING
ECIJA
LAWYER OF THE YEAR LITIGATION
Félix J. Montero – Pérez-Llorca
LAW FIRM OF THE YEAR LITIGATION
Pérez-Llorca
LAWYER OF THE YEAR INFORMATION TECHNOLOGY
Andrés Ruiz – Ramón y Cajal Abogados
LAW FIRM OF THE YEAR INFORMATION TECHNOLOGY
Pinsent Masons
LAWYER OF THE YEAR PRIVACY
Noemí Brito Izquierdo – Ceca Magán
LAW FIRM OF THE YEAR PRIVACY
Ramón y Cajal Abogados
LAWYER OF THE YEAR E-SPORTS
Andy Ramos Gil de la Haza – Pérez-Llorca
LAW FIRM OF THE YEAR E-SPORTS
ECIJA
LAW FIRM OF THE YEAR SPORT
Ramón y Cajal Abogados
LAW FIRM OF THE YEAR DESIGN
PONS IP