Winners of Iberian Lawyer 2021 Gold Awards announced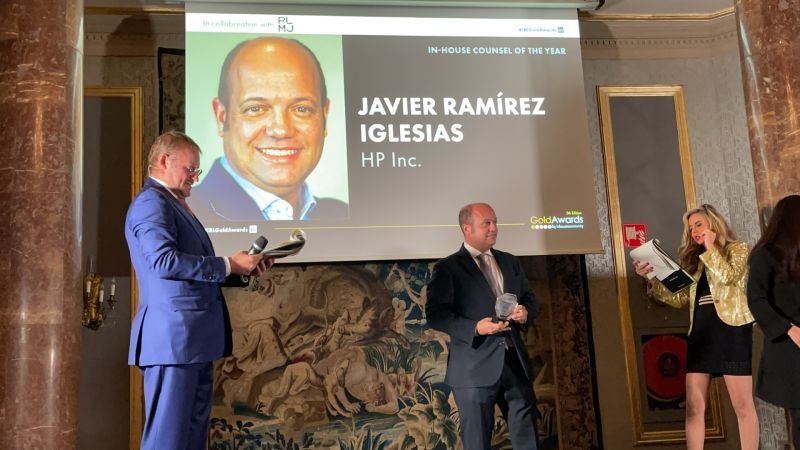 The winners of the Iberian Lawyer 2021 Gold Awards were announced during the gala ceremony held at the Wellington hotel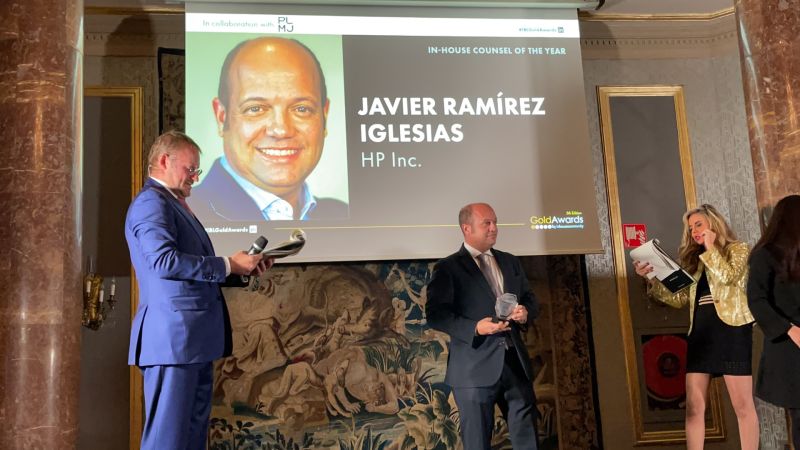 In their V Edition, the Gold Awards recognised, once again, the excellence amongst in-house & Compliance professionals in Spain and Portugal. On this occasion, the Gold Awards were celebrated after the Legalday, which counted on three roundtables and general counsel of relevant companies from Spain and Portugal as prestigious law firms from both countries.
Aldo Scaringella, LC Publishing Group founder and owner, stated that: "The work carried out by Legal Counsel and their in-house teams have a vital role to play in the development of business in any sector. For this reason, today at Iberian Lawyer, we want to recognise their work with the presentation of the Gold Awards."
The Gold Awards have been granted, taking into account the most important sectors of activity in the economy. In this edition, a total of 38 awards were presented, distinguishing in each category the best legal team and the most outstanding lawyer of the year.
The winners were the following:
IN-HOUSE COUNSEL OF THE YEAR
Javier Ramírez Iglesias – HP Inc.
IN-HOUSE TEAM OF THE YEAR
OUIGO España
IN-HOUSE TEAM OF THE YEAR INNOVATION
Endesa
IN-HOUSE COUNSEL OF THE YEAR BANKING & FINANCE
Patrícia Afonso Fonseca – Novo Banco
IN-HOUSE TEAM OF THE YEAR BANKING & FINANCE
Banco Santander
IN-HOUSE TEAM OF THE YEAR DIVERSITY & INCLUSION
British American Tobacco
IN-HOUSE COUNSEL OF THE YEAR AUTOMOTIVE & TRANSPORT
Carlos Menor Gómez – Renault Iberia
IN-HOUSE TEAM OF THE YEAR AUTOMOTIVE & TRANSPORT
Mercedes Benz España
IN-HOUSE COUNSEL OF THE YEAR COMPLIANCE
Silvia Madrid – UniCredit
IN-HOUSE COUNSEL OF THE YEAR PHARMA, HEALTHCARE & LIFESCIENCE
Jorge Muñoz – Gilead Sciences
IN-HOUSE TEAM OF THE YEAR PHARMA, HEALTHCARE & LIFESCIENCE
Novartis España
IN-HOUSE COUNSEL OF THE YEAR ENERGY & RENEWABLES
Clara Cerdán Molina – Ferroglobe
IN-HOUSE TEAM OF THE YEAR ENERGY & RENEWABLES
Cepsa
THOUGHT LEADERSHIP
Teresa Mínguez Díaz – Porsche Ibérica
IN-HOUSE COUNSEL OF THE YEAR CONSTRUCTION, PROJECTS & INFRASTRUCTURE
Leonor Sampaio Santos – José de Mello SGPS
IN-HOUSE TEAM OF THE YEAR CONSTRUCTION, PROJECTS & INFRASTRUCTURE
Aena
IN-HOUSE COUNSEL OF THE YEAR CONSUMER GOODS & MANUFACTURING
Jorge Cuervo Vela – Cosentino Group
IN-HOUSE TEAM OF THE YEAR CONSUMER GOODS & MANUFACTURING
Fluidra
IN-HOUSE COUNSEL OF THE YEAR HOSPITALITY & HÔTELLERIE
Mariano Pérez de Cáceres – Meliá Hotels International
IN-HOUSE COUNSEL OF THE YEAR FOOD & BEVERAGE
Ignacio Mendoza – The HEINEKEN Company
IN-HOUSE TEAM OF THE YEAR FOOD & BEVERAGE
Danone Iberia
IN-HOUSE COUNSEL OF THE YEAR INTERNATIONAL COMMITMENT
Luís Graça Rodrigues – Indra Sistemas
IN-HOUSE COUNSEL OF THE YEAR RETAIL & E-COMMERCE
Sagrario Fernández Barbé – DIA Group
IN-HOUSE TEAM OF THE YEAR RETAIL & E-COMMERCE
Amazon
IN-HOUSE COUNSEL OF THE YEAR TELECOMMUNICATIONS & MEDIA
Carlos López Martín De Blas – Secuoya Grupo De Comunicación
IN-HOUSE TEAM OF THE YEAR TELECOMMUNICATIONS & MEDIA
LaLiga
IN-HOUSE COUNSEL OF THE YEAR TECHNOLOGY
Mafalda Mascarenhas Garcia – IBM
IN-HOUSE TEAM OF THE YEAR TECHNOLOGY
Nokia
IN-HOUSE COUNSEL OF THE YEAR TRAVEL & TOURISM
Stéphanie Sá Silva – TAP Air Portugal
IN-HOUSE TEAM OF THE YEAR TRAVEL & TOURISM
Accor
IN-HOUSE COUNSEL OF THE YEAR INSURANCE
Isabel Lage – Fidelidade
IN-HOUSE TEAM OF THE YEAR INSURANCE
BNP Paribas Cardif
IN-HOUSE COUNSEL OF THE YEAR FASHION & LUXURY
Carlos Sanz Mallo – El Corte Inglés
IN-HOUSE TEAM OF THE YEAR FASHION & LUXURY
Camper
IN-HOUSE COUNSEL OF THE YEAR REAL ESTATE
Ana Suárez Garnelo – Haya Real Estate
IN-HOUSE TEAM OF THE YEAR REAL ESTATE
Idealista
IN-HOUSE COUNSEL OF THE YEAR SERVICES & CONSULTANCY
Javier Folguera – Hispasat
IN-HOUSE TEAM OF THE YEAR SERVICES & CONSULTANCY
Accenture