TMT annual report 2017: Treasure chest
The introduction of new EU rules on data protection means it will be boom time for TMT lawyers in the next year
Next year will be a big one for technology, media and telecommunication (TMT) lawyers. The introduction of the European Union's General Data Protection Regulation (GDPR) is widely expected to generate a flurry of instructions for law firms as clients seek to ensure they comply with the new rules. But that's not all; there is also speculation that the GDPR could also lead to consumer groups and trade unions bringing class actions on behalf of customers and employees against organisations that have breached data protection regulations. Meanwhile, artificial intelligence (AI) will also create data protection issues that clients will need lawyers to resolve. Similarly, clients in a range of sectors will also be seeking clarification from their legal advisers as to whether the nature of their business means they are technically classed as a telecoms company and therefore subject to an extra raft of regulations.
Psychological profiling
Artificial intelligence (AI) will generate new opportunities for lawyers to advise on data protection matters, says RCD – Rousaud Costas Duran partner Eduardo Nebot. "Some artificial intelligence projects are developing consumer data based on individuals' psychological profile, adding empathy to AI tools," he says. Nebot adds that clients with "disruptive business models" need advice from lawyers on how to ensure that they are compliant with regulations. New regulations on crowdfunding are another opportunity for lawyers, he says.
Meanwhile, AI as applied in the field of robotics – especially in the consultancy sector – also creates the issue of how to deal with failures in AI and this is also an opportunity for lawyers, says Baker McKenzie partner Raul Rubio. He adds that, with regard to consultancy services, clients often "expect to receive the service in the traditional way and are not always willing to assume risk [when using the service]".
The widespread deployment of networks of "connected vehicles and machines" is a trend that is generating increased demand for TMT-related legal advice, says DLA Piper partner Diego Ramos. "These deployments have to be conscious of the sophisticated data protection and e-commerce issues attached to them, as well as the positive interaction with other apparently unrelated businesses such as those in the leisure, entertainment and food sectors." Ramos also says there are differences in consumer attitudes towards the use of such data, depending on where the consumers are from. "Typically, American consumers may want their information processed, but European consumers want greater privacy," he explains. Ramos adds that because of the GDPR – which comes into force next year – manufacturers' products must protect privacy "by design and by default".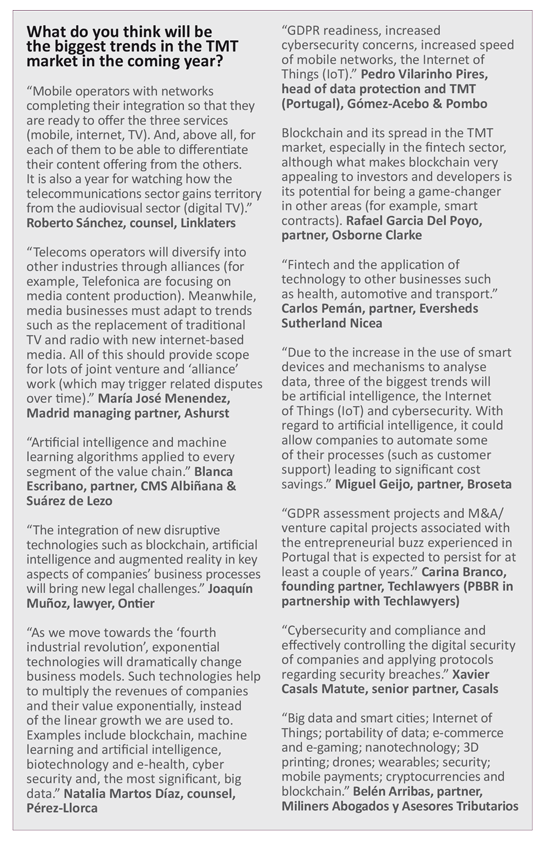 There are also a number of TMT-related employment issues that clients have to deal with, explains Ramón y Cajal partner Norman Heckh. "For example, with company cars, employers may expect to know what the employee is doing with the car, but this could clash with the employee's expectations regarding privacy," he says. Rubio adds that car manufacturers who monitor the activity of the consumers driving their cars could technically be classed as telecommunications companies [which involves needing to comply with an additional layer of regulations]. This is an issue facing clients in a range of sectors – one partner points out that clients often ask their lawyers for clarification on whether their use of technology means they are classed as a "telecoms operator". However, this is not always an easy question to answer, according to Heckh, who says that there are a number of different types of telecoms operators and the issue needs to be "studied in detail".
Alejandro Touriño, managing partner at Ecija, says the GDPR is a big opportunity for law firms as it is something all clients will have to go through. He adds: "Technology is impacting on all industries, particularly sectors such as pharmaceuticals and insurance." Touriño says that, potentially, the GDPR could result in consumer bodies starting class actions against organisations that misuse consumers' data. Other lawyers argue that trade unions could start class actions on behalf of employees that have had their data misused by their employers.
Uría Menéndez counsel Leticia López-Lapuente says that technology-related issues are increasingly having a significant impact on M&A transactions in that such issues can result in potential deals sometimes being stopped. "For example, there may be software that the selling company wants to retain" she explains.
All areas of the law now have a technological component, says Blanca Escribano, partner at CMS Albiñana & Suárez de Lezo. She adds: "Real estate lawyers, for example, have to know technology, and lawyers also have to know how competition works digitally." López-Lapuente says it is surprising how little universities focus on the technological aspects of the law. She adds that this can be a disadvantage for future lawyers "since all of them will need to deal with legal issues in digital environments" and that, consequently, the legal profession could perhaps do more to help universities understand its importance. López-Lapuente says that, in future, lawyers will "have to learn programming and how algorithms work". She also says that TMT lawyers are often "working to raise awareness" of TMT issues among other lawyers at their firms.
Falling behind
Some TMT lawyers say clients often only contact them at a very late stage, for example when they have developed a new product and they want to check that it is compliant. Paola Riveros, associate at RCD – Rousaud Costas Duran, says: "Technology goes faster than the law – the changes happen so fast, you can't regulate them, you have to be aware that there are grey areas of the law and you must be able to cover them appropriately." She adds that for major technology companies, competition issues are a major concern: "Fines are high and tech companies also need to know about competition law." Other lawyers say that while in-house counsel may be aware of TMT-related issues affecting their organisation, unless they have a lot of technological expertise, it can be hard for them to address them. "When it comes to monitoring what is going on, in-house lawyers often need external help," one lawyer says.
The level of TMT-related knowledge within legal teams is increasing, says Heckh. One managing partner says that some in-house teams now have lawyers that are focused on TMT issues. However, despite this trend, another partner argues that companies can no longer rely on "one in-house lawyer for all their legal needs and the need for external counsel remains". He adds that external lawyers can also "help with benchmarking" in the sense that they have knowledge of wider industry trends.
The GDPR will significantly boost revenue for law firms in the coming year, lawyers say. However, while they expect TMT work to increase, they also believe that competition in the market is fierce and consequently, in the words of one partner: "pricing is an issue". Another partner adds: "Certain SMEs and some big companies are delaying GDPR implementation as they don't think they are as affected as other companies; they want to wait and see how others have started with the work." Meanwhile, some clients are budgeting to implement GDPR in 2018, says one managing partner. Escribano says some clients are delaying the implementation of GDPR because they are "waiting for the tools to become available".
Lawyers also say the legal arms of the 'Big Four' auditors are hiring a lot of lawyers who specialise in data protection. One partner says: "The 'Big Four' are hiring many lawyers and getting very good clients."
While data protection is the main challenge facing clients, there are also considerable opportunities for law firms in the area of intellectual property, which is developing as technology advances, says Heckh. He adds that there are also opportunities in the online gaming sector.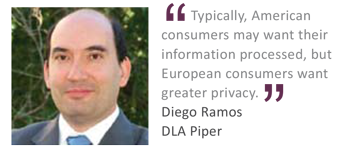 Portugal: Football rights
The acquisition of football broadcasting rights by telecoms companies has generated a large volume of work for law firms in Portugal, according to MLGTS managing associate Gonçalo Machado Borges. "Access to content, such as the broadcast of sporting events (football in particular) is a key concern for telecoms operators, given their interest in ensuring attractive, varied and competitive pay-tv offers to their subscribers," he adds. "In the last 18 months, we have been representing one of the main telecoms and pay-tv operators in Portugal on the acquisition of TV and new media broadcasting rights from 19 professional football clubs (including SL Benfica and Sporting CP) and in the subsequent negotiation, with the other pay-tv operators in Portugal, of a highly complex rights and costs sharing agreement." Machado Borges adds that MLGTS has also been advising on the modelling and negotiation of subscription and shareholder agreements in relation to the shareholding structure of Sport TV, which has significantly altered – with Vodafone and MEO (part of the Altice Group) both acquiring a stake, alongside existing shareholders NOS and Olivedesportos.
PLMJ partner Daniel Reis says projects related to the GDPR represent the biggest opportunity for TMT lawyers in Portugal. He adds that both big and small businesses are requesting advice in relation to "audits, gap analysis, training and general preparation for the new rules." Reis says that the GDPR is one of the biggest challenges facing clients as they are "running against the clock" as the regulation will come into force in May 2018.
The reshaping of the Portuguese TMT market is likely to generate a steady flow of transactions that will keep law firms busy, says Uría Menéndez-Proença de Carvalho partner Francisco Brito e Abreu. "The acquisition of Media Capital, the owner of TVI, by Altice (announced in July) and Impresa's intention to divest its publishing business in order to focus on its audio-visual and digital businesses, which was made public in August, are very good examples of this trend," he adds. Brito e Abreu continues: "Data protection and privacy issues, as well as regulatory issues relating to matters such as telecom OTT (over-the-top) services, are also expected to continue to contribute to the development of Portuguese law firms' TMT practices."
Ricardo Bordalo Junqueiro, partner at Cuatrecasas, says one of the major developments in the TMT market this year was the public consultation and subsequent decision on the regulation of markets for wholesale local access provided at a fixed location (market 3a) and for wholesale central access at a fixed location for mass-market products (market 3b). He adds that the result was that Portuguese communications regulator Anacom "decided not to regulate Altice's optical fibre network, notwithstanding the opposition from the European Commission and the BEREC [Body of European Regulators of Electronic Communications]."
The GDPR replaces the Data Protection Directive from 1995, and even though the GDPR rules are not completely new, the key difference now is the size of the penalties, according to CCA Ontier partner Filipe Mayer. He adds that, in some cases the fines could be as high as €20m or 4 per cent of the offending company's total worldwide annual turnover, whichever is higher. "This has raised awareness among companies and is, therefore, a huge opportunity for law firms," Mayer says. In addition, the liberalisation of online gambling is another significant opportunity, according to Mayer.
Other potential growth areas for law firms include cryptocurrencies and blockchain, according to Ricardo Rodrigues Lopes, partner at Caiado Guerreiro. He adds: "As such, tech finance may be the biggest opportunity for law firms, as it will require the specific cumulative expertise of TMT, finance and securities lawyers." Rodrigues Lopes continues: "Potential clients will remain internet/software service providers, in particular companies that are involved in big data, or which handle big volumes of data, as well as financial and insurance companies."
Keeping pace with what is a fast-changing industry is the biggest challenge clients in the TMT sector are facing, according to Manuel Esteves de Albuquerque, senior associate at Raposo Bernardo. He adds: "At the same time, new products and services are developed pretty much everywhere, which generate masses of information as well as opportunities that are not easy to follow-up." Esteves de Albuquerque says that "going global" is a huge opportunity for clients, but also a major challenge. "But despite all these challenges TMT companies face, they have huge market opportunities and potential financing partners interested in financing good projects."