Staff at all levels must buy into companies' compliance programmes
01/09/2016
420

4 minutes read
Communication between directors and employees – as well as good training – is vital when creating a culture of compliance
A good culture of corporate compliance must be generated among all levels of a company's organisation and encompass all executives and employees to ensure adequate risk management and avoid serious economic damage to a company, attendees at an Iberian Lawyer event in Barcelona heard.
Participants in the event – hosted by Grant Thornton – were told that in order to create the ideal culture of compliance, excellent communication between directors and employees is essential. In addition, it is also vital to have good training, as well as ensuring obligations are made clear to all concerned – particularly during times of change, such as corporate restructuring or mergers, or when incorporating new technology or practices.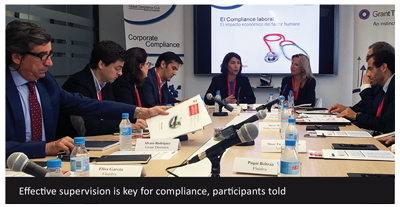 Lead from the top
Carmen Rabanal Solé, a compliance lawyer at Seat, said that when a company seeks to implement a culture of compliance – especially in mid to large-sized companies with a large number of employees that form part of a production process – a good communication strategy is of the utmost importance. "We have seen that a plan will have much more resonance when the communication or the request for compliance comes from top management," she said. In terms of cultivating such a culture, Rabanal Solé said online courses are the most commonly used way of training and monitoring employees.
The profile of labour lawyers has increased considerably due to the issue of compliance, Grant Thornton partner Aurora Sanz said. She added that there are three key channels for compliance in relation to labour issues – they are whistleblowing, disciplinary proceedings and regular checks.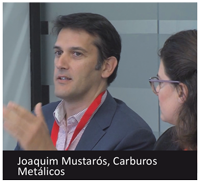 Compliance protects businesses
Employees need to be made aware that a compliance programme is a safety system for them, according to Xavier Mas Viñallonga, head of legal and compliance at Spanish retailer Media-Saturn Iberia. "The anti-corruption law is the threat, and companies have to give a more positive message to employees that compliance is protection, and create a compliance culture rather than talking about individual responsibilities," he said. Mas Viñallonga added that new employees could attend a weekly compliance meeting, for example, during which their responsibilities would be explained.
Similarly, María Llosent, a human resources and legal director at chemicals company UQUIFA, stressed the importance of the positive message that must be transmitted by companies when creating a culture of compliance among employees. A company that builds a positive culture of compliance will have a better chance of succeeding.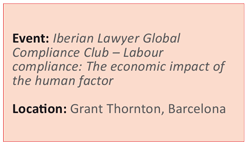 Good supervision is key
Irrespective of the level of management or the size of the company, one of the biggest challenges, and something that can make a huge difference, is the quality of supervision, which is key to achieving compliance, according to Joaquim Mustarós, legal affairs manager at Carburos Metálicos. "In terms of the evaluation of performance and the orientation of employees, that [supervision] is where 80 per cent of the success of compliance within an organisation will be achieved," he said.
Mustarós added that, as companies open up and employees are granted more freedom to work from home or adopt a more flexible schedule, there is a greater emphasis on individual responsibility and much more personalised solutions need to be sought to better combine work, personal life and a company's interests." However, Llosent said it is important for companies to take employees' personal choices and preferences into account. She added that this is vital in terms of retaining talent as companies need to "make sure that people want to remain with you – if you treat everybody the same way, you will end up with nobody".