Shaping the future – PLMJ
30/12/2015
46

9 minutes read
Portugal's largest law firm, PLMJ, is redesigning its lockstep so there is a greater focus on profitability and cost efficiency, but  looking further ahead, the firm is determined to influence the way in which artificial intelligence affects the legal profession
PLMJ managing partner Luís Pais Antunes is preparing for a legal market revolution. "In the next five to ten years, there will be a big change in the provision of legal services," he says. "A lot of the tasks some lawyers now perform will be done by machines in future." Pais Antunes expects that, as a result, law firms will eventually become smaller in the sense that they will have fewer people carrying out more routine tasks, which will largely have become automated. "In future, we will be focusing on providing high value services – machines will be able to do some jobs in a more effective way, we are already seeing this issue in the field of medicine where skin diseases can now be identified without the need for human involvement."
However, Pais Antunes is adamant that PLMJ will not wait to be affected by major changes in the legal market, but will rather look to influence and shape the way legal services are changed by developments such as artificial intelligence (AI). Referring to AI initiatives such as IBM's Watson project and law firm Dentons' investment in ROSS intelligence, Pais Antunes says that he does not want the technology sector telling the legal sector how the future will look, rather he wants law firms to have an "involvement in the way these systems are configured".
More demanding lockstep
Continuing the theme of a changing legal market, Pais Antunes – who replaced Manuel Santos Vitor as PLMJ managing partner in July 2015 – is making a number of modifications to the structure of the firm. "We will be doing things differently and implementing new measures," he says. "We will be redesigning the lockstep and redefining lawyers' roles – there will be a bigger focus on profitability and cost efficiency." Elaborating on the reasons for the changes to the lockstep, Pais Antunes says: "There will be more partners next year and it will be a more balanced and more demanding lockstep."
It is Pais Antunes' belief that the key to law firms' success in the future will be increased specialisation, that is, firms offering specific services for specific markets. By way of example, PLMJ has set up a specialist service providing legal support for the development of real estate projects and the setting up of luxury retail stores in Lisbon, in particular in the "Avenida da Liberdade, Baixa and Chiado corridor". Pais Antunes also highlights another specialised service offered by the firm that provides advice to descendants of Sephardic Jews of Portuguese origin on how to obtain Portuguese citizenship – many Sephardic Jews were expelled from Portugal during the fifteenth and sixteenth centuries. "My personal wish is for law firms to become specialised in specific tasks," he says. "We should be more flexible because demand is flexible – we should avoid rigid structures."
Pais Antunes expects PLMJ will continue the growth trajectory it has been on in recent years. The firm's 2014 revenue totalled €36 million, up nine per cent from €33 million in 2013. But growth this year has been even more impressive – revenue was up 10 per cent year-on-year in the first 10 months of 2015. However, the mood has not always been so buoyant and Pais Antunes does acknowledge that there were some "difficult years" in the period 2010-13.
Unlike some of his counterparts at other law firms in Portugal, Pais Antunes thinks law firms should disclose revenue figures. "I'd prefer the public disclosure of figures – it's a question of transparency and awareness," he says. "If not, you have blurred images of the market, there is misinformation and some firms' figures are inflated."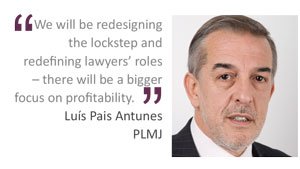 Increasing profitability
Pais Antunes is optimistic about PLMJ's prospects for the next 12 months. "My forecast is that we will go on growing, we are increasing turnover in all the markets in which we are present." Work for foreign clients is a key driver of growth at the firm. "Around a quarter of our revenue is generated through work for international clients," Pais Antunes says. However, growing profitability is generally more challenging than growing revenue. "We're working on increasing profitability," says Pais Antunes.  "It's a long ride but there are some signs that we are more profitable – the way we operate is becoming more innovative and we are using IT to provide specific offers to specific markets."
In an effort to better serve the foreign clients that are proving to be such a rich source of revenue for the firm, PLMJ has adopted a strategy of creating international desks. In April this year, the firm opened a representative office in London led by banking and finance partner Hugo Rosa Ferreira, though responsibility for the office is shared by several of the firm's lawyers. The London opening followed the launch of the Swiss desk in 2014 – initially, the Swiss desk focused on advising creditors on Banco Espírito Santo (BES)-related insolvency proceedings, but now its remit has widened to encompass non BES-related matters – the desk is coordinated by PLMJ partner Nuno Cunha Barnabé, who was recently admitted in the Swiss canton of Vaud as a lawyer authorised to practice in Switzerland.
"We have been surprised at the success of the Swiss desk," says Pais Antunes. "We currently have one Swiss-qualified lawyer, but it is possible we may expand the Swiss desk." In addition, PLMJ has a China desk (which was established in 2012 in partnership with Chinese law firm Dacheng and Macau firm DSL), a German desk that has been in operation for 10 years, an Italian desk, an Angola desk and a Mozambique desk. Meanwhile, in January this year, the firm created a Scandinavian desk headed by Peter Morawetz, a lawyer who was formerly a partner at Swedish law firm Vinge before he joined PLMJ as a consultant at the beginning of this year.
"Creating desks such as these is a good way to attract clients," says Pais Antunes. "It's a way to always have contact with international clients – we unite a group of lawyers dedicated to a specific market, for example the Italian desk has native Italian speakers." The firm also has plans to officially establish a French desk – the firm is already operating such a desk on an informal basis.
The firm has grown by around one fifth in terms of headcount over the last 12 months – PLMJ today has 275 lawyers, up from 229 in 2014, making it the biggest firm in Portugal in terms of headcount. The firm made a total of 20 lateral hires at all levels in 2015 – they included André Figueiredo –  previously of Clifford Chance, who joined as a partner to head up PLMJ's capital markets team – as well as of counsels Morawetz, Rui Soares Pereira (who specialises in arbitration), Pedro Caetano Nunes (financial litigation), Pedro Vale Gonçalves (intellectual property), and Madalena Perestrelo de Oliveira (capital markets). However, the firm also suffered a notable departure with M&A and capital markets partner Jorge Brito Pereira leaving to join Uría Menéndez.
Market consolidation
There is a view in the market that, in the past, PLMJ grew to such an extent that it became "too big" and was forced to reduce its numbers, but Pais Antunes disputes this. "We've always grown in the last 20 years, we've always increased our number of lawyers, every time lawyers have left, a larger number of lawyers have come in." However, he does acknowledge that there was a period of stabilisation where we had around 200 lawyers for some time." Pais Antunes says that, in theory, it would be possible to have bigger firms in Portugal – he cites the example of Holland as a relatively small European country that has some very large law firms – but he adds that, in a country the size of Portugal, there would be no reason to have, for example, 500 lawyers. That said, Pais Antunes is certain there will be "significant consolidation in the Portuguese legal market, though maybe not in 2016 because of the political situation". Furthermore, he does not rule out the possibility of PLMJ being part of this trend: "We are always open to good opportunities," he says. Pais Antunes says he is not certain what will happen in the coming year, but does say it is important that law firms are flexible. "What I'm talking about is always being ready to move to a new playing field in order to get the best opportunities."
Pais Antunes warns that Portuguese law firms must get ready for the entry of multidisciplinary practices (MDPs) into the market. "They [MDPs] are inevitable, whether that's in the next two, three, or five years, and the biggest firms have to prepare themselves," he says. "The key will be anticipating the move and being in a position to have some sort of association."