RSA promotes three senior lawyers to equity partner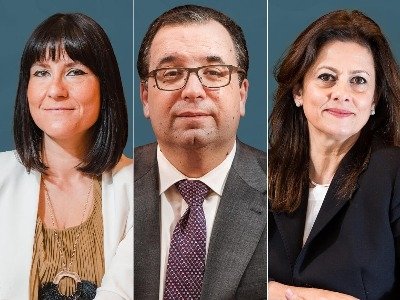 Raposo Subtil e Associados has promoted Rita Montalvão, Cristina Bogado Menezes and Pedro Gonçalves Paes to partner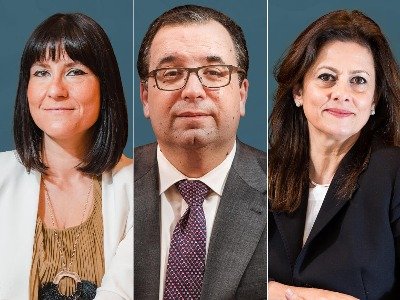 Raposo Subtil e Associados has promoted three senior lawyers to equity partner: Algarve, Coimbra and Porto offices coordinator Rita Montalvão (pictured left), RSA LP Brazil Banking and Insurance coordinator Cristina Bogado Menezes (pictured right), and RSA LP Angola and Mozambique offices and international area coordinator Pedro Gonçalves Paes (pictured centre).
Rita Montalvão is RSA partner since 2016, and coordinator of the Porto, Coimbra and Almancil (Algarve) groups. She is a lawyer at RSA since 2011. She registered in the Portuguese Bar Association in 2001. She worked as a trainee lawyer at Gonçalves Pereira, Castelo Branco e Associados (Cuatrecasas) from 1998 to 2001, working in the Mozambique office during 2000. She graduated in Law from the Universidade Católica Portuguesa.
Pedro Gonçalves Paes is RSA partner and coordinator of the Portugal, Angola and Mozambique and International Operations area since 2019. That same year he was appointed as legal consultant of AV&Associados (Angola) and CFA (Mozambique). From 2012 to 2018 he worked as senior associate lawyer and partner at MC&A. He worked as an associate lawyer at FCB&A, from 2004 to 2011, and as an associate foreign lawyer at Castro Barros Sobral, at Lisboa and Rio de Janeiro, from 2002 to 2004. He is registered in the Portuguese Bar Association since 2002 and the Brazilian one since 2012.
Cristina Bogado Menezes is co-coordinator of the Banking and Insurance Law Group of RSA since 2012, and a lawyer at the firm since 2006. She registered in the Portuguese Bar Association in 2007, and in the Brazilian one since 2003, the year when she began independent practice. She was a trainee of the Attorney-General of the National Treasury – Rio de Janeiro Section – Brazil 2001/2000. She has a Bachelor's Degree in Law from the Faculty of Law of Campos dos Goytacazes, Rio de Janeiro, and a Master's degree in Legal-Corporate Sciences from the Universidade de Lisboa.