Mas y Calvet allies with CEPYME to advise SMEs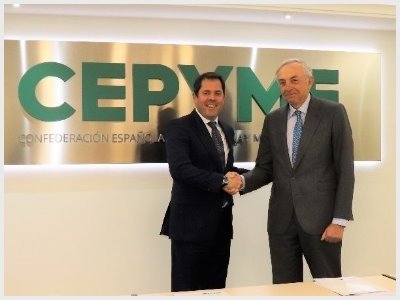 Bufete Mas y Calvet has established an alliance with the Spanish Confederation of Small and Medium Enterprises (CEPYME) to boost SMEs competitiveness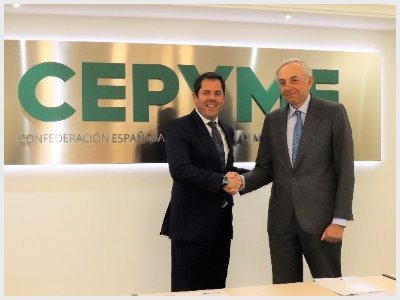 The Spanish Confederation of Small and Medium Enterprises (CEPYME) and Bufete Mas y Calvet law firm have reached a collaboration agreement to offer SMEs and self-employed workers comprehensive legal advice in all areas of business operation.
The agreement was signed by Gerardo Cuerva (pictured left), president of CEPYME and Manuel Cuchet (pictured right), managing partner of Bufete Mas y Calvet. By this agreement, CEPYME and Bufete Mas y Calvet will provide SMEs with information and legal advice in the areas of commercial, labour, tax, criminal, procedural, arbitration, data protection and cybersecurity law, including defence and legal representation services.
Gerardo Cuerva, president of CEPYME, has pointed out that with this agreement the Confederation takes another step forward in the strategy of implementing support services for SMEs in areas that are strategic for their competitiveness. "SMEs – has pointed out Gerardo Cuerva – are 99.8% of the business network. Support and legal advice is essential for these companies and helps to boost their competitiveness and development".
"SMEs will find in our team of lawyers true allies in the legal field, who will help them to comply with all their legal obligations, to solve any legal conflict in an advantageous way , with personalized and quality advice to help them consolidate the growth of their businesses", explained Manuel Cuchet, managing partner of Bufete Mas y Calvet law firm.