M&A and Private Equity annual report 2018: Hotting up
03/07/2018
299

15 minutes read
Investors are battling for the best assets in Iberia and this is generating plenty of work for lawyers, but such work is not always as profitable as law firms would like
At first glance, it appears that these should be happy times for M&A and private equity lawyers in Iberia. International investors are keen on Spanish and Portuguese assets, so much so that there are frequently multiple bidders trying to outdo each other and complete a deal. So plenty of work for law firms, correct? Not necessarily. Lawyers report that, with potential acquirers facing competition for assets, they are sometimes less than confident of completing deals and therefore only rely heavily on law firms in the latter stages of negotiations as they are reluctant to spend legal fees on a deal that may not go through. As a result, clients often request 'abort fees', which effectively means that law firms reduce their bill in the event a deal does not complete. Unfortunately for lawyers, abort fees can, according to some sources, result in their bills being reduced by up to 50 per cent.
On the issue of fees, partners also point out that there can be a vast discrepancy between what Iberian-based clients and what international clients are prepared to pay a law firm for completing an M&A transaction or a private equity deal, for example. One Madrid-based corporate partner says that law firms can earn anything from €60,000 to €1 million for advising on a deal depending on the client, with international clients more likely to pay higher fees.
Spain: Fierce competition for assets in 'sellers' market'
Private equity funds are struggling to invest all their capital and are anxious to complete deals quickly, but for international law firms, doubts remain about the viability of an office in Spain
Event: Iberian Lawyer M&A and Private Equity Madrid Roundtable
Host: Latham & Watkins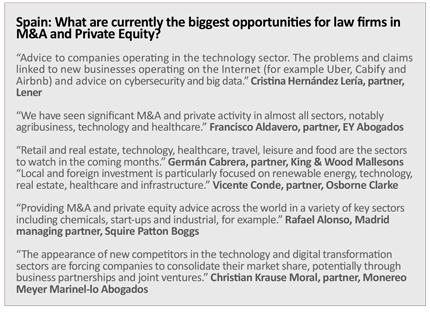 International investors are fighting to snap up Spanish assets, with the result that sellers have the advantage and are consequently able to demand high prices, according to attendees at the Iberian Lawyer M&A and Private Equity Madrid Roundtable. Lawyers say potential acquirers can find the best value in the €100 million to €200 million price range, with some of the most appealing industry sectors being health, tourism, energy, infrastructure and real estate.
Latham & Watkins partner Manuel Deó said that, with regard to Spanish assets, it is still a "sellers' market". He added: "There are not many attractive assets left in the market and this means there is upward pressure on prices, with record high multiples and fierce competition among buyers – sellers ask for deal certainty and very expedite deal processes, which requires doing due diligence in record time." Deó added that conducting the "right sort of diligence is more essential now than ever before". He continued: "We recently worked on a deal worth billions of euros and the client wanted the due diligence done in five weeks." Deó also said that private equity funds are struggling to put "all their capital to work and reducing the massive quantity of uncalled capital will require doing more and larger deals". He added: "In the next few years, we will see more pressure to create portfolio value from inside out and we will likely see more 'buy and build' transactions, which involves acquiring one company and then bolting on other companies to bolster revenue and take advantage of economies of scale."
Transactions with a value in the €100m to €200m bracket can offer good value at present as there is less competition for assets at this level of the market, said Garrigues partner José Maria Gil-Robles. He added that investors are especially targeting the health, hotels and care home sectors. Gil-Robles also said that, while some clients are acquiring reps and warranties insurance as a form of additional security when completing deals, private equity clients from Northern European countries are more reluctant to take such a precaution partly because they have the impression that claims made under such policies are rarely successful. He said he expects that there will be a good pipeline of deals for the next two years.


Private equity funds are currently under a lot of pressure to make investments, according to Allen & Overy partner Iñigo del Val. He added that in around 40 per cent of buyouts, clients are using reps and warranties insurance as a means of protection in the event problems emerge following completion of the deal. Del Val also said the production of certain parts of the legal documentation for private equity deals is becoming increasingly commoditised. He added that while some predict that there will be consolidation in the legal market in the coming years, it may not necessarily be viable for major US law firms, for example, to open offices in the Spanish market. Yet, firms in Spain would still face competition from firms without offices in the country that are advising on deals under any foreign law, which could mean that firms will "have to make decisions about how big their offices in Spain need to be in a global market".
There is a lot of finance currently available and while high yield bonds used to be a significant trend, there is now a noticeable increase in "alternative products such as term B loans", according to Ashurst partner Jorge Vazquez. However, he added that there was a slowdown in deal activity at the beginning of this year, partly due to the fact that some sellers are "uncertain what action to take, whether that be a stock market listing or a sale, for example, so dual-track processes are not uncommon".
As to opportunities for law firms in the coming year, Vazquez highlighted the infrastructure, energy and consumer sectors as having significant potential. He also said his firm had perceived an increase in the use of warranty and indemnity insurance, which could help "expedite sale processes".
Clients are increasingly asking their legal advisers to help them to identify deal opportunities, said Cuatrecasas partner Francisco J. M. Martínez. He added that, while deal flow slowed in the early part of this year, activity is expected to "continue in good shape in the coming year, particularly in the real estate sector which is currently booming".
In some cases, there are so many private equity funds bidding for the same assets in Spain that some funds are deciding not to enter auction processes and some sellers are setting limits for the number of bidders involved on each sale, said Pérez-Llorca partner Javier Carvajal. He added that the impact of the political situation in Catalonia has been limited and that, while the last year was a good year for law firms, 2018 and 2019 are expected to be even better. Carvajal said he expects significant acti vity in the energy and renewables sector.
Corporate investors are very active in Spain and there are many types of transactions taking place, including debt and equity deals, said Clifford Chance partner Javier Amantegui. He added that clients are often in a hurry to get deals done and consequently are not relying as much on lawyers as they would have in the past when completing transactions. However, Amantegui said that due diligence can be a lucrative area for law firms if it involves the provision of high level regulatory expertise, for example. He also said that, while smaller transactions are not necessarily easier from a legal perspective than larger deals, fees for legal services are increasing again.
With regard to due diligence, clients do not require a simple list of issues but rather, the "precise advice" that traditional law firms provide, according to Herbert Smith Freehills partner Alberto Frasquet. He added that, in the Spanish market, large transactions are taking place in the infrastructure and energy sectors, though there are also significant opportunities in other "mid-market sectors". Frasquet also said that there is considerable competition for assets, given the "high level of liquidity, the renewed access to leverage finance and the extraordinary dry powder of financial buyers". With regard to the outlook for the coming year, Frasquet said expectations remain quite high, despite global uncertainties such as Brexit.
There has been an increase in the number of consortiums being formed to acquire assets in Spain, said Linklaters partner Lara Hemzaoui. She added that it is also becoming more common for private equity funds to partner with industrial companies on deals.
Baker McKenzie partner Luis Casals said there will be consolidation in the Spanish legal market with many US firms looking for worldwide capability. He added that there will be a lot of transactional activity in the clean energy sector and "health and wellbeing" industries in future.
There will be notable deals activity in the consumer and healthcare sectors, according to Jones Day of counsel Beatriz Píriz Gómez. She also said that clients are keen to complete acquisitions quickly, while the use of reps and warranties insurance in transactions is increasing.
Portugal: Private equity funds targeting healthcare and highways
Though new private equity funds are entering the market, some are less reliant on lawyers at the outset due to uncertainty about the prospects of completing a deal
Event: Iberian Lawyer M&A and Private Equity Lisbon Roundtable
Host: MLGTS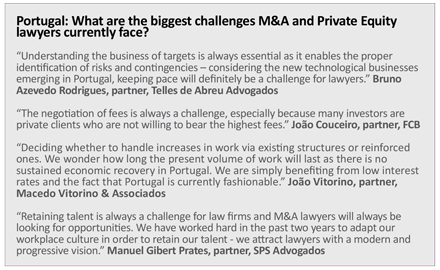 M&A activity is on the rise in Portugal with clients competing with each other to complete deals for the most attractive assets, said participants in the Iberian Lawyer Lisbon M&A and Private Equity Roundtable. Private equity funds, in particular, have a strong appetite for deals in Portugal, while there are also many companies that are anxious to restructure their balance sheets.
There was an increase in M&A deals in Portugal in 2017, said MLGTS partner Ricardo Andrade Amaro. He added that there were a lot of new private equity funds entering the Portuguese market, with considerable interest in the healthcare and highways sectors, in particular. Andrade Amaro also said that law firms representing sellers in the current market may be handling four or five bids at the same time. Given that there is competition for Portuguese assets, clients involved in bidding processes tend to rely less on lawyers and generally get them involved at a later stage in the process as there is uncertainty as to whether their bid will be successful. Andrade Amaro also said that there is now less restructuring work in Portugal and more traditional M&A and private equity deals.
Private equity funds based in Portugal are very active at present, according to PLMJ partner Duarte Schmidt Lino. He added that this is partly because the capacity of private equity funds to raise funds has increased. Schmidt Lino also said that it is becoming increasingly common to see a new type of private equity fund in the market that targets small and medium-sized enterprises for investment. He added that Portugal's highly leveraged corporate sector means there are many companies that need to restructure their balance sheets. With regard to opportunities for law firms in the coming year, Schmidt Lino highlighted corporate refinancing, real estate, infrastructure and the SME sector as key drivers of growth.
While there is a cash surplus globally, there is a scarcity of good assets available, said Vieira de Almeida partner Claudia Cruz Almeida. However, she added that there is still considerable transactional activity in Portugal – infrastructure funds are targeting roads and energy assets, while pension funds are also looking for deals. Cruz Almeida said there has been a boom in the Portuguese private equity market, while the banks' need to sell non-performing loans is also generating a lot of work for law firms. There will also be a significant number of deals in the construction and real estate sectors, as well as in the health and technology sectors.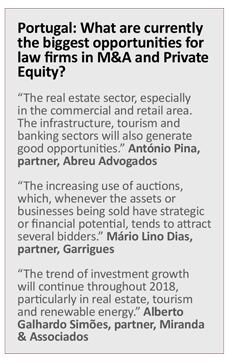 There are two distinct categories of M&A deals currently taking place in Portugal, said Campos Ferreira, Sá Carneiro & Associados partner Bernardo Abreu Mota. "Firstly, there is M&A related to real estate, tourism and non-performing loans which is in good shape, then there is the other type of M&A, which remains less abundant and consists mostly of small and medium-sized deals done by companies that are growing in a context where banks are still reluctant to finance M&A," he explained. Abreu Mota added that there is still a shortage of bank financing available for deals, consequently M&A is being financed with equity and, for larger deals, debt funds are playing a role and are often providing finance.
The current trend for banks and insurance companies in Portugal to restructure and divest non-core assets is creating significant work for law firms, said Cuatrecasas partner João Mattamouros Resende. He added that there had been an increase in activity in the first part of 2018, with a number of deals related to energy, real estate, tourism and leisure, in addition to the finance sector. "Foreign private equity houses are also playing a more important role in the market," Mattamouros Resende said.
The "investment cycle" means that, while three or four years ago law firms in Portugal were advising clients on acquisitions, they are now advising the same clients on the respective divestments, said SRS Advogados partner Nuno Prata. He added that investors are becoming less risk-sensitive and consequently the decision making process of investors is quicker than before. "We noticed an increase in deal flow across all sectors in the last year – Portugal is on the radar of investors," Prata said.
Linklaters counsel Diogo Plantier Santos said that investors in Spain often also target the Portuguese market. "We have acted for clients who invested in Spain that want to come to Portugal as well, for example some are targeting real estate assets in both Spain and Portugal," he explained. Diogo added that clients are under pressure to complete deals quickly given the current market and want due diligence conducted in a very short time frame.
Private equity firms often have the same teams dealing with the Spanish and Portuguese markets so lawyers are often dealing with the same people when advising on deals in both countries, said Uría Menéndez – Proença de Carvalho partner Catarina Tavares Loureiro. She added there are bidders competing for most assets, and that clients are consequently "asking for abort fees and exclusivity". Tavares Loureiro said that there would be a considerable number of deals in the energy, real estate, telecoms and media sectors.
CMS Rui Pena & Arnaut partner Margarida Vila Franca said Portugal is currently a "seller-friendly market", while also observing an increase in the use of reps and warranties insurance in deals. She added that while artificial intelligence can help to speed up the due diligence process, it is not easy for law firms to introduce such technology into the way they work.
The issue of artificial intelligence can be challenging for law firms because "given the state of the art legal technology solutions, it is difficult to anticipate which ones will prevail, and be adopted by the market, and which ones will not be adopted either because they are flawed or they are launched too soon", said CCA Ontier managing partner Domingos Cruz. He added that if firms are able to successfully address this issue, "I'm sure the return on investment will be huge".