Lisbon Report 2009: All change – a market on the move
30/12/2009
68

22 minutes read
The re-election of the Socialist government in Portugal appears to have given the green light for the major public infrastructure programmes that many believe will help revitalise the Portuguese economy. But the start of the new decade will inevitably see an increasingly competitive legal arena as Lisbon's law firms look to adapt to a changing economy, reposition themselves for a potential wave of projects work, and prepare to face new arrivals in the market – as significant breakaway firms are launched.
Today many of Lisbon's lawyers have their eyes cautiously fixed to the south east of the city, notably across the River Tagus to Alcochete. Currently the site of a military training facility, if all goes to plan, it will by 2017, be the site of Lisbon's new €3.3bn international airport. Connecting to it will be a new, third bridge, across the Tagus as well as an extension of the country's emerging fast-rail network that will continue on to the border with Spain.
For some, the short-to-medium term success of the Portuguese economy may be dramatically affected by the Government's ability to follow through on its commitment to develop such projects, which remain surrounded by doubt.
El reportaje anual sobre el mercado legal de Lisboa, sugiere que se continúa sufriendo los efectos de la crisis financiera pero los abogados son moderadamente optimistas y afirman que lo peor de la recesión ya ha pasado y que los proyectos planeados por el gobierno pueden ayudar a restaurar la economía del país. Ha sido notable asimismo, la continua estratificación del mercado legal con movimientos de abogados, fusiones y aperturas de despachos.
"On a macroeconomic scale, some suggest that Portugal cannot now afford these projects, others believe that we can no longer afford to put them off," says Luís Sáragga Leal, Managing Partner at Portugal's largest firm PLMJ.
But scale brings inevitable investor interest, although some lawyers question how favourable the Portuguese government will be to international concession or construction companies over domestic bidders.
"The question is one of dimension. For the major project elements we may see groups of companies combining, in order to present viable bids able to compete with the major international – particularly Spanish – construction groups," says Diogo Leónidas Rocha, partner with Garrigues in Lisbon.
Three groups led by Brisa and Mota- Engil of Portugal and one of Spain's largest construction groups FCC have lodged bids to build the second stretch of the fast rail line. The Elos consortium, led by Portugal's largest motorway operator Brisa bid €2.31bn, the Altavia consortium led by builder Mota-Engil and including French firm Vinci, bid €2.2bn, while FCC which leads the Tavetejo consortium bid €1.87 billion.
The Government has also launched a new Airport Economic Regulatory Framework (AERF) clarifying many of the operational issues surrounding ANA – Aeroportos de Portugal ahead of its planned partial privatisation.
"There has been some concern about the degree of commitment among the bidders and the relative merits of the project to domestic companies, but whoever wins it will mean significant levels of new investment, employment and ultimately tax revenues for the government," says Duarte Garin, Managing Partner of Uría Menéndez in Portugal.
Nonetheless, some continue to take a more cautious view of such developments. "Arguably these projects, even if they get the full go-ahead, will come too late to make an immediate revitalising impact on the economy – work on the airport or the connecting third bridge across the River Tagus is not expected to start until at least the end of 2010," says Pedro Pais de Almeida, partner with Abreu Advogados. "We cannot expect miracles."
The here and now
For the time being therefore Lisbon's lawyers will have to continue to survive on what opportunities the current environment brings. The Portuguese economy may not have crashed as spectacularly as its Iberian neighbour, but it continues to lag behind much of the rest of Europe in terms of GDP and growth potential.
"There is a sense among many that the Portuguese economy has bottomed out but one clear outcome of the crisis already is that many established business norms have already been opened up to question – we are seeing changes in company structures, ownership and alliances.
Nothing is now being taken for granted," says João Vieira de Almeida, Managing Partner of Lisbonbased Vieira de Almeida.
Portugal has suffered a number of credit downgrades in recent months with public debt and the budget deficit forecast to reach 74.5 per cent and 5.9 per cent of gross domestic product (GDP), and external debt projected to exceed GDP. There may be talk of economic 'green shoots' internationally, but many believe that we are far from seeing them in locally.
"Over the past decade, the Portuguese economy has shown low levels of growth, below the euro area average, says Gabriela Rodrigues Martins of AAA. "The impact of the international crisis was very harsh and persisting economic structural problems do not give rise to expectations in the short term. This is not a pessimists' approach, but rather a realist one. Unfortunately, there are no 'green shoots' in sight for Portugal,"
But this is not to say that all of the Lisbon legal market will be equally effected, believes Pedro Guimarães, corporate partner at F. Castelo Branco (FCB&A). "Those firms usually involved in international work are likely to see a brighter light at the end of tunnel than those that are fully reliant on local work – the green shoots from abroad are likely to bring work to Portugal as well."
In an attempt to hedge an uncertain domestic market, many leading Portuguese law firms continue to look to Africa, particularly Angola and Mozambique for new opportunities. The major firms all now have strong regional affiliations: PLMJ, FCB&A and Abreu Advogados, while Cuatrecasas Gonçalves Pereira, Vieira de Almeida and Raposo Bernardo have offices in Maputo in Mozambique.
Sociedade Rebelo de Sousa & Advogados (SRS Advogados) has also recently established ties to both Luanda and Maputo.
Others though are placing greater emphasis elsewhere. "I firmly believe that Brazil, rather than Africa, will be the great internationalisation opportunity for Portuguese law firms in the medium and long term," says Carlos Aguiar of Carlos Aguiar Ferreira de Lima & Associados.
Indeed, firms such as Morais Leitão, Galvão Teles, Soares da Silva & Associados (MLGTS) and SRS Advogados are already focused on Brazil, while Linklaters remains the only UK firm to have both a Lisbon and São Paulo presence.
Volatility
But optimism is also evident in domestic areas such as M&A and financing where an upturn in activity is being sensed, say lawyers. Additionally, in line with the government's commitment to public investment projects, many predict an equal upturn in public law issues, while inevitably firms also see continuing demand for restructuring, employment and litigation expertise.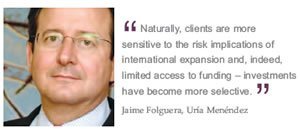 "The banks continue to clean up their loan portfolios, and an inevitable response is that without alternative access to finance, companies will continue to struggle. Many are already taking the crisis as an opportunity to restructure and we are seeing changes at senior management level as well through collective dismissals," says Pedro Rebelo de Sousa, Managing Partner of SRS Advogados.
But lawyers also predict work in the finance arena.
The government's rescue last year of Banco Português de Negócios (BPN), which had accumulated losses of €700m, has proved more costly than anticipated and the belief is that it will look for a purchaser in the first half of 2010 to recoup some of the money invested.
The past year has in any event seen many major banks make debt offerings as they look to boost their capital position. There may have also been an upturn in the performance of the stock markets but volatility remains.
Next year may see the beginning of the end of the banking crisis for Portugal but the challenge remains how to encourage business growth, says Paulo Câmara of Sérvulo & Associados. "There have been a number of debt offerings, which are always considered the first signs of a recovery, but successful share and rights issues demand stability."
In any event, the coming months are likely to see further regulatory changes and new frameworks which mean increased client concerns and the need to be more creative to help financial institutions repackage products within the new legislative environments, say lawyers.
"Practices that may see continuing demand include areas such as energy – because it is on everyone's 'menu', from politicians to operators – and benefits from financial incentives, but also financial derivatives because more than ever, credit enhancement and risk mitigation is the order of the day," says Pedro Cardigos, Managing Partner at Cardigos.
Portugal has recently seen the launch of its first domestic derivatives Master Agreements, with a Working Group led by Sofia Santos Machado, finance partner at Abreu Advogados, comprising most of Portugal's leading banks.
Law firm impact
Lawyers disagree as to what the prevailing economic environment means for their law firms, with significant and high profile defections from some leading firms, but most acknowledge that clients are clearly now much more price sensitive, and willing to shop around for legal services.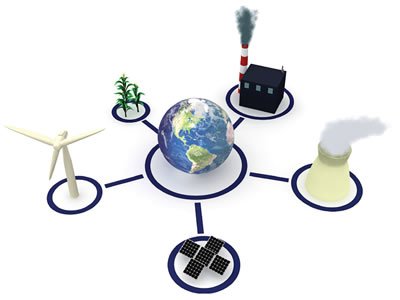 The most successful firms over the coming years will be either very specialist, or full-service – but for the latter to differentiate themselves they must have well-defined internal structures, believes Rebelo de Sousa at SRS Advogados: "Firms have to have belief in their strategy and to act accordingly – you cannot be half-pregnant."
Having recently split from Simmons & Simmons – where Rebelo de Sousa sat on the Executive Committee – his own firm has gone through a significant rethinking exercise, he explains. "We benefited enormously from Simmons' internal procedural and know how systems, but struggled to assert our local way of doing things. We have looked at how the legal markets are changing, current, past and prospective clients' changing needs and the changing economy," he says.
The result is that the firm is now able to react more quickly to local demand, he insists, which includes an ability to determine its own pricing structures. Cost is an issue that many lawyers now regard as being at the forefront of clients' minds.
"The shifts in the relationship between firms and clients are here to stay. Although I believe the pressure on prices will relent, there is only so much firms can take without an impact on quality. Client awareness has changed and will not ease to prior levels, but I think this is good for everyone," says João Vieira de Almeida.
Some firms may be accused of unsustainable price dumping, but most lawyers believe that client pressure means that alternative fee arrangements are here to stay and they must therefore adapt. Clients want to look beyond the hourly bill, and for their law firms to share the risks and rewards of transactions, with success fees and price caps.
"I believe the pressures from clients in respect of value for money are a definitive issue, and the stabilisation of the economy will not affect such movement. It will be up to firms to be proactive and react quickly, be flexible and innovative in such respect, anticipating client's pressures and dumping the initiatives of competitors," says Pedro Pinto, Managing Partner of Pedro Pinto Reis & Associados.
The challenge therefore is for law firms to differentiate between the nature of the services they offer and not to accept indistinct hourly rates, believes José Alves Pereira of Alves Pereira & Teixeira De Sousa. "Clients are definitely more demanding with regard to fee levels, in particular for less specialised legal work. In prime strategic advice, however, clients continue to recognise the value for money equation and to accept higher fee levels."
The sentiment is particularly strong among the capital's smaller firms. "The trend of clients being more selective in terms of "value for money" will continue but it will stabilise once it becomes clear that for 'less money you get less value'. The only reply is to be selective towards clients. More work does not necessarily mean more income," says António Andresen Guimarães of Haag Advogados.
João Espanha partner at Espanha e Associados agrees: "Prior closed budgeting, capping and fee segmentation according to lawyer seniority or work complexity are some developments that are now becoming standard. Managing fixed costs is also a challenge, but mostly for the bigger law firms, with heavy structures who may well prove outdated in times like these".

But clients are also looking for more loyalty from their advisers, believe some. For Dulce Franco, partner with AAA, her firm's strategy of working for just one major player in each industrial sector may not be common among law firms but it is appreciated, she says. "Our clients know that whatever the issue we are their lawyers. Each deal we do we get to know their business that much better, and there are never any concerns over issues of conflict."
Market tremors
What is also necessary in the current difficult environment is to continue to motivate law firms' own teams, to help them react and adapt to the market conditions, especially as inner tensions are perhaps heightened by outside pressures. Clearly significant in this regard have been the moves out of some of Lisbon's leading firms, say many.
Among the most high profile, has been the departure of Uría Menéndez's former Managing Partner, Francisco Sá Carneiro, along with fellow finance partner Duarte Brito de Goes and corporate partner Bernardo Abreu Mota. The trio having left to establish a new 25-lawyer firm with PLMJ's former Managing Partner Fernando Campos Ferreira, and fellow high profile Co-Head of Corporate Maria Castelos, alongside new partner Martim Morgado.
"Our intention is to build a high-end internationally-focused finance and corporate lowleveraged practice to establish and maintain at all times a close relationship with clients," says Campos Ferreira, now of Campos Ferreira Sá Carneiro.
For Sáragga Leal at PLMJ the departures are inevitably disappointing: "I am obviously not happy about their decision to leave, but as an institution PLMJ is not affected by these changes. We have to focus on our own future based on a bright new generation of partners." He points to the integration of a new team in Oporto as indicative of the firm's continuing momentum.
But the market tremors do not end there. Name partners Jorge Santiago Neves and Albano Sarmento have likewise departed Barrocas Sarmento Neves (BSN) to join Gómez-Acebo & Pombo, Spain's fourth largest firm, and launch its Portuguese practice. The firm's desire to open in Lisbon was an open secret, having long ago announced an intention to establish an Iberian practice, wich has finally now launched with offices on Avenida da Liberdade.
Manuel Barrocas at BSN likewise takes a bullish attitude to the departures. "We see the future as being dominated by corporate and commercial issues and for a firm such as ours – which has a predominantly international focus – we can adapt."
For some in the market however, such departures are not merely a reflection of pressures coming from the financial crisis, but indicative of more deep-seated structural issues within some law firms.

"There is a readjustment to the economic situation but also underlying issues that come up more sharply in hard times. The fact is that the major Portuguese firms grew in a totally different market environment, where it was possible to accommodate very significant and ever increasing fixed and variable costs – which is no longer the case," says Franco at AAA, a product of an earlier split from PLMJ.
Managing Partners may be adamant that the financial pain being experienced should be absorbed by partners alone, but a challenge remains how to address the ambitions of junior lawyers as economic pressures impact on career progression opportunities, say many.
The splitting of firms is driven by specific issues at each law firm, says Francisco Xavier de Almeida, partner at Rui Pena, Arnaut & Associados – one of three senior associates that joined the firm from Linklaters in 2008.
"In some cases it is the result of mergers that were not successfully consolidated, originating a clash of cultures and disbelief in the project. In other cases firms are facing issues with partners' fee-earning models, the retirement of founding partners and the rise of a new generation of younger lawyers."
Antonio Mendonça Raimundo of Albuquerque & Associados agrees."The main splitting or consolidation movements are not a direct result of the recession, but correspond to strategies which often had been designed before the recession started. Such as the arrival, for instance, of Gómez-Acebo & Pombo."
Building institutions
Vieira de Almeida may have also lost the Head of its Porto Office, Tiago Amorim, to launch his own practice, but it is not all bad news for Lisbon firms.
Sérvulo has notably opened new offices in Porto and the Azores, following the addition of environmental specialist Carlos Pinto Lopes, and the integration of his Porto-based firm CPL & Associados.
For PLMJ, the past year has also seen a continuation of its 'proximity' strategy –through its own three national offices, and those of its associate law firms in Viseu, Coimbra, Guimarães and The Azores as well as in Brazil, Angola, Mozambique and other Portuguese-speaking countries. "As a firm we have a dual personality, we are inevitably involved in the major transactions and projects, but we are also a firm believer in the 'one-stop shop'," says Sáragga Leal.

While some may question the viability of such mega-firms in the Portuguese legal market, Abreu Advogados likewise continues to grow, this past year having absorbed Madeira's largest firm, SMS Law Firm. The move helped bring total lawyers to 170 and to boost the firm's revenues by 25% on the previous year.
"The moves I have seen in 2009 seem to me to be readjustments. As Portuguese firms grow, it is normal that these occur. But I don't think that such moves affect the large firms that much," says Managing Partner, Miguel Teixeira de Abreu. "The arrival of the Spanish firms is also natural since they are larger and have more resources than Portuguese firms. It is also part of a strategy to incorporate Portugal into Iberia and lead clients to think that Portugal and Spain are the same (legal) reality."
For others, there has already been a sufficient turnaround in the economy to dispel fears they might once have had that the Portuguese market might not be able to support large multipractice firms going forward.
"I am adamant that the excesses we saw over the previous decade will not return, but 2010 will likely be less difficult than 2009.
All the signs are that the worst of the recession is over. The clients have started to come back to their law firms," says Manuel Castelo Branco, co- Managing Partner of Cuatrecasas Gonçalves Pereira – which this year formalised its Iberian integration with the adoption of a common name.
Changing gear The firms that will prosper in the current difficult times will be those that banked sufficient capital – financial and client – in the prosperous years to ride out the current challenges, say some.
Opportunities clearly now exist for big and small firms alike, say lawyers, but firms that fall in the middle may have to give up any international ambitions they may have, believe some. In any event, big organisations require consistent levels of work and profitability to maintain cohesion.
"I believe there are structural issues in the Portuguese legal market that need to be addressed: there are too many firms, high dependence of state or parasital clients, and low productivity. These problems will only get worse with the economic stagnation that seems to lie ahead in the Portuguese economy," says Agostinho Pereira Miranda, founding partner at Miranda Correia Amendoeira.
The same is also true of firms' hiring expectations, believes Leónidas Rocha at Garrigues. "Law firms have become more conservative in inviting new lawyers to join them. The uncertainty of the economic recovery will remain over the coming year, which means that the management challenge is to retain the best lawyers and optimise the current teams so as to maintain costs at the right level."

A balancing act is therefore required between the measures that will alleviate head count costs – decreased recruitment, static remuneration levels and layoffs – and the ability of firms to still prepare for the upturn whenever it arrives. "The longer the individual partners will be able to "hold their breath"
by cutting deeper on their remunerations, the better for the law firm as a whole," says Pedro Cardigos.
Despite claiming only cautious optimism, João Vieira de Almeida nonetheless continues to see opportunities still arising out of the recession. Like others, the firm has continued to make structural investment (in continuing education, IT systems and social responsibility) which he sees as vital for the firm's long-term sustainability.
"The main issue for law firms – indeed for all professional services firms, who run on growthbased models – is to ensure that the right financial equation remains in place: work volume vs price vs.
costs vs. margin to keep the right balance between all stakeholders. This is not new it just became more obvious, and a bit more difficult, in a crisis scenario".
Clearly there are interesting times ahead, with talk of further movement and mergers if not any more international openings. Nonetheless, a final decision on the airport, fast-rail and Lisbon's new bridge cannot come quick enough for some.