Lisbon Annual Report 2011: Opportunity and strategy
Portugal's law firms are experiencing challenging times. The downturn is forcing many to adjust their strategy, to align to a changed economy and client demand. But it is prompting new opportunities, notably derived from the Government's privatisation and legislative reform programmes.
Los despachos portugueses tienen que reaccionar rápidamente a los cambios en la economía, adaptando sus áreas de práctica y buscando las nuevas oportunidades que surgen de la crisis, de las reformas y privatizaciones del Gobierno. Además, a medida que las empresas portuguesas exploran nuevos mercados, los despachos intentan desarrollar sus redes internacionales a la vez que responder al interés que levante Portugal para el cliente internacional. El reto para muchos despachos es alinear su estrategia habitual con las nuevas oportunidades del mercado.
The announcement in May that Portugal was to receive a three-year €78bn financial assistance package from the "Troika" of the European Union, European Central Bank and International Monetary Fund was met with resignation by many in Lisbon. While not desired, it nonetheless offered more economic certainty than that which prevailed.
"What was already apparent was that the solution for Portugal's problems lay no longer in our own hands," says João Vieira de Almeida, Managing Partner of one of Portugal's leading firms, Vieira de Almeida.
Mandates
Under the terms of the package, the Portuguese Government is committed to the sale of its stakes in leading domestic companies including Galp, EdP, the electricity network REN, and Portugal Telecom. But it is also looking to raise capital elsewhere, including through the sale of airports operator ANA and the national airline TAP.
The downturn may be deeply affecting firms' work flows but the privatisation programme presents much-needed deals. Lawyers suggest however that a major challenge is that the Government is selling in a buyers' market yet hopes to raise €5.5bn by 2013.
The sales may be generating considerable interest but to date only one transaction has been completed. Nationalised Banco Português de Negócios was sold to the local arm of Angolan Banco BIC, with Cuatrecasas Gonçalves Pereira advising the Government and PLMJ advising BIC.
Firms across the capital are engaged in exploring the viability of deals although the Government has so far announced a preferred law firm in only one privatisation. Morais Leitão Galvão Teles Soares da Silva (MLGTS) has the mandate for the sale of domestic utility EdP.
Many of the legislative reforms being introduced are also welcomed by lawyers. "It would be unrealistic to expect recovery in the near future. It requires reform across wide areas including justice, the public administration, employment and tax. All of which are long overdue," says Dulce Franco, Partner with AAA Advogados.
Changes impacting Portugal's tax regimes have already been announced with others expected. "These will have a huge impact on business. The continued uncertainty in which companies are living will however make many think twice before entering into new commitments," says Jorge Santiago Neves, Partner with Gómez-Acebo & Pombo which opened in Lisbon last year.
There is an acceptance however that as well as Portugal can put its own house in order a true recovery requires an upturn across the entire eurozone.


The downturn is particularly affecting those companies that rely on the public sector as the Administration reduces its budgets. "A large part of the economy has historically been quite dependent on the Government, and it is now clear that a new economy and a new public administration will emerge out of the crisis," says Manuel Barrocas, Founder of seven-partner Barrocas Advogados.
The impact of the crisis is being felt more deeply every day, say some. "It is not the best of times and we have to adapt. There is still work out there but we expect things to get worse," says Pedro Furtado Martins, Managing Partner of 20-partner Sérvulo.
His firm has a history of prominence in public law issues but is now seeking to expand its full-service capabilities. In June it announced the hire of a finance team from Cuatrecasas Gonçalves Pereira, including the co-Head of Banking Manuel Magalhães. "We have had to adapt to the new reality. We do still do work for the Government but it has always been less than people think," says Furtado Martins.
Chain reaction
Individual firms' ability to react to the changing economy undoubtedly depends on their practice and sector focus, and their clients' ability to weather the economic storms. But businesses are stalling new investment plans either out of commercial prudence or the difficulties in securing finance, say lawyers.
Many are keen to emphasise however that the challenge facing Portugal is not systematic failure but competitiveness. "The economy is suffering a lot of pain, but I think that there is broad awareness that the situation here is very different to that seen in Greece and Ireland," says Pedro Cardigos, Principal of Lisbon finance and tax boutique CARDIGOS.
The Government is actually going beyond what is expected under the terms of the financial assistance package. "The Troika has been pleased with the progress already made and we are confident that by the end of the financial adjustment programme Portugal will return to the markets. There is light at the end of the tunnel," says Diogo Perestrelo, co-Managing Partner of Cuatrecasas in Lisbon.
The outlook for many businesses, in the short-term, remains though difficult. "Companies' sales and incomes are declining and this brings two consequences: inefficient or over-exposed businesses will struggle to survive; while those with more sound accounts need to increase efficiency which usually implies cutting costs and new investment," says Benjamim Mendes, Partner at seven-partner ABBC.
With Portugal's financial package due to run until 2014 any talk of economic recovery before then may be overly optimistic, say some. "We will all have to get used to working in a difficult and very different economic environment. The challenge for many firms will be how to adapt structures that grew fat in the boom years to these much leaner times," says Claudia Santos Cruz, Managing Partner of the Portuguese offices of AVM Advogados.
Management challenge
There is no doubt that the voracity of the downturn has forced managing partners to rethink areas of their firm's operations.
"We have had to put in place new ways of communication to draw the attention of fee earners to the need to be involved more with the invoicing and collection as part of their duties to the firm," says Manuel Santos Vitor, co-Managing Partner of Portugal's largest law firm PLMJ. 
As work levels have decreased and fee sensitivity has increased, firms have inevitably sought to cut their own costs and raise efficiencies. "A more competitive market requires closer control of resources. Price is now a crucial issue and business margins are shrinking," says Miguel Castro Pereira, Managing Partner of one of Portugal's largest firms Abreu Advogados.
"Firms need to stay continuously focused on cost control, with attention on new opportunities and investing in the generation of new business," agrees Antonio Mendonça Raimundo, Managing Partner of ten-lawyer firm Alburquerque & Associados
Opinion is inevitably divided as to who will most feel the pain of the downturn: the biggest firms with the largest overheads or smaller firms, whose client base is increasingly targeted by the major players. Cash flow is a recurring issue as clients delay payments, while cost-savings mean that there is less to investment in tools that might improve efficiency.
"This prompts the question whether deficit reduction leads to economic recovery or simply prolongs the downturn," says Pedro Guimarães, Partner with F. Castelo Branco & Associados. "We have implemented a number of measures related to stricter spending control. We have also reconsidered our recruitment policy, and reassessed the adequacy of premises and equipment to our own and client demands."
Others are more dramatic about the challenges faced. "In most cases we are no longer speaking about improvement but of survival," says José Alves Pereira, Managing Partner at Alves Pereira & Teixeira de Sousa
One element of the market that many feel may prove less vulnerable are the smallest and niche firms. "Less lawyer better lawyer is certainly in vogue and people are again looking more to the traditional high-profile lawyer and less to the ´legal brand´, which offers a good opportunity for firms like ours," says Martim Anahory, with nine-partner Serra Lopes Cortes Martins & Associados.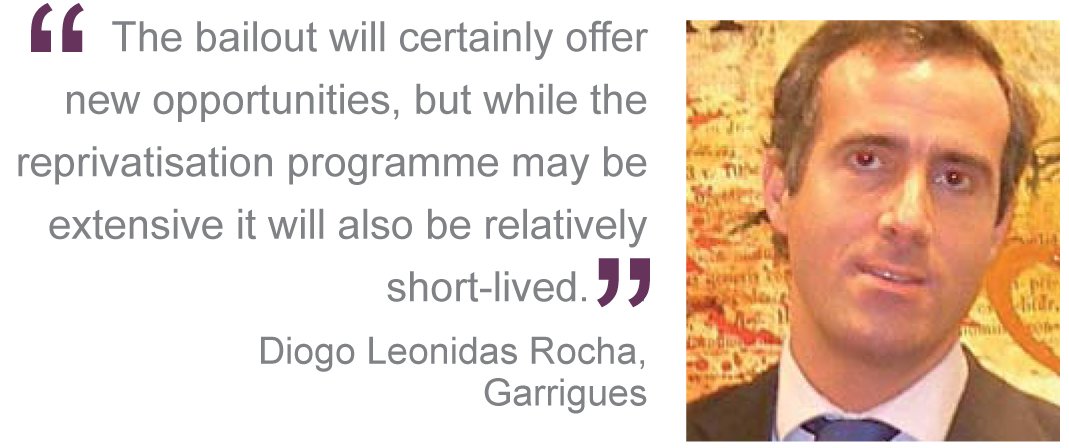 Nonetheless such firms are not immune. "Growing in an adverse economic scenario is more difficult and takes more time which means firms must have realistic perspectives. Businesses are facing new challenges which mean that innovative legal solutions are crucial to remain competitive," says José Luís Esquível, Founding Partner of public law boutique Esquível Advogados.
Whether the downturn will result in more friction within firms has yet to be fully seen, but significant moves have already occurred, including the creation of new firms such as Esquível and CARDIGOS.
Late last year, Linklaters made six Associates redundant albeit reportedly on very good terms. Leading IP Partner Cesar Bessa Monteiro and his team left ABBC for pbbr. A new firm, Pares Advogados, launched over the summer led by three former Abreu Advogados partners, while Abreu has also seen IP Partner Leonor Chastre depart for Gómez-Acebo & Pombo, and competition Partner Miguel Mendes Pereira leave for Vieira de Almeida.
Also significant was the banking team move from Cuatrecasas to Sérvulo, following the shock departure earlier in the year of the firm's Managing Partner Manuel Castelo Branco.
The prevailing environment may not be a time for adventures but some do see continuing opportunities for those able to offer an alternative. CS Associados, launched by six partners including former PLMJ Managing Partner Fernando Campos Ferreria and Uría Menéndez Managing Partner Francisco Sá Carneiro, has already established itself as a top tier banking and corporate firm. "We may have a very different structure and considerably lower leverage than many of the large firms but we still face the same issues – around pricing structures and fee sensitivity," says Partner Antonio Rocha Mendes.
International spread
With a downturn in the domestic economy, reduced transactional activity and a Government moratorium on new projects, law firms have inevitably had to look outside Portugal for growth; particularly the rapidly expanding economies of Angola, Mozambique and Brazil, where a number of firms have looked to build their own capability or forge closer local alliances.
"The economy will only recover through an increase in exports. Our clients are all searching to expand and looking for opportunities mainly in Brazil and Africa where the economic reality is quite opposite to Europe," says Pedro Rebelo de Sousa, Managing Partner at SRS Advogados.
Miranda remains perhaps the best known Portuguese law firm outside the country, specifically for the depth of its ties to Africa where it has expanded into Gabon and Congo over the past year.
"Five years ago we assessed whether to try and expand our domestic practice and compete with the largest firms, but ultimately it came down to the fact that in many expanding markets we were uniquely placed. When you are the only shop in town you are more able to stand your ground," says Managing Partner, Rui Amendoeira.
It is not however only the Portuguese that are looking to Africa and Brazil, with increasing international law firm interest in the ability of Lisbon firms to facilitate investment. Notable has been ABBC's alliance with DLA Piper, while mid-size firm Rui Pena Arnaut & Associados is now an associate member of the CMS network, led by London's Cameron McKenna.
But while some firms have had a long focus towards internationalisation others admit that their thinking, and thus strategy has only recently changed. "We have been latecomers to the idea of developing our own international network, but you have to seize opportunities where you find them. It has though perhaps given us more time to reflect on what models have and have not worked for other firms," says Vieira de Almeida.
The past 12 months has seen his firm launch its VdAtlas network in Angola and Mozambique. But a recurring theme in these countries is the difficulty of establishing local capability and ensuring quality of service. "We may all prefer to earn our money within Portugal but that is not the reality we face anymore, we have to follow our clients, and this means adapting to new markets," says Santos Vítor at PLMJ; which has recently relaunched its own Luanda and Maputo offices.
Given the relative similarity of the lusophone countries' legal systems and the expense of operating teams locally, many firms prefer a small local permanent presence and to cover day-to-day issues from Lisbon. Even the most experienced say that it is not easy to manage international growth. "Opening a new office requires an investment of time and money but you also have to send your best people," says Amendoeira at Miranda.
Among Lisbon's leading firms, Garrigues and Uría Menéndez now stand out for their lack of presence in southern Africa albeit have longstanding Latin American links. "We nonetheless continue to analyse the merits of individual markets," says Isabel Martínez de Salas, Managing Partner of Garrigues' Portuguese practice.
Some suggest that clients need any way to look beyond glossy brochures and websites to analyse firms' true local expertise. "As in all businesses, many talk, only some do," says João Espanha at Espanha Avogados.
Inbound connections
The downturn may have reduced investors' appetite for Portuguese investments but the scale of the Government's privatisation programme has generated renewed international interest, notably from Brazil. The challenge is how to capitalise on this and to connect this to firms' established strategies.
Most leading firms have long-established connections to Brazil but there is a sense that some are looking to strengthen such bonds. Vieira de Almeida has strong ties with leading firm Pinheiro Neto. PLMJ has close relations with TozziniFrere, MLGTS with Mattos Filho, and SRS Advogados to Veirano Advogados. Garrigues has opened its own São Paulo office, where Cuatrecasas is also now growing its presence.
Despite the importance of the market few predict any formal mergers between Portuguese and Brazilian firms. Despite rumours to the contrary, reports of the imminent arrival in Portugal of one leading Brazilian firm seem premature. "We have no desire to open in Lisbon. We have a desire to grow in Brazil but not elsewhere," says Antonio Corrêa Meyer, Managing Partner of Machado Meyer Sendacz e Opice. The firm ended its longstanding alliance with Cuatrecasas in 2010 and now maintains ties with Miranda among others.
Some Portuguese firms are though increasingly looking to develop more regional expertise. Miranda's African network is an example, but PLMJ and MLGTS have developed ties to China dedicated to the flow of investment to the lusophone world, while Uría Menéndez is similarly targetting Latin America.
Creativity
Such thinking reflects the creativity emerging within firms but any international thinking has always to complement domestic structures and demand. "The market offers continuing opportunities for those that can adjust to the changing needs," says Nelson Raposo, Managing Partner of Raposo Bernardo. 
Despite the potential of the Portuguese Government's privatisation programme and businesses requirements to revise structures in line with new legislation, challenges still lie ahead for the legal market. "This year will not be the most glamorous of our own nor our clients' lives and most certainly neither will 2012," asserts Pedro Pinto at pbbr.
No firms yet talk publicly about the possibility of layoffs – promoting natural attrition and reducing recruitment is still preferred – but it is clear that many are exploring all the options in light of a potentially worsening economic situation.
"We have cut costs and focused our investment towards developing our international presence. We have changed the information available internally so that our lawyers are more cost sensitive but also more concerned with invoicing, collecting and hunting for clients. They now have a lot more management information," says Vítor at PLMJ.
Few believe that international growth is the panacea for domestic difficulties and it is in Portugal where the biggest adjustments still need to be made. But this may not come easy to all, suggest some.
"The majority of mid-size Portuguese law firms are not used to a more professional management, striving for the old days, and with few financial indicators. Thinking around lockup, utilisation and work in progress valuation are still unknown for the majority," says Rebelo de Sousa at SRS Advogados.
No firm may be building their strategy around the privatisation process but the restructuring of the economy does offer significant potential. The increased sensitivity of risk management has impacted on the role of external lawyers as well as General Counsel – they have become more significant to the businesses they advise.
While Lisbon's lawyers can do little to help resolve the bigger eurozone crisis bearing, they will however do what they can to meet the need of clients, to help reshape the economy, and in doing so likely restructure their own firms.
"The bailout will certainly offer new opportunities, but while the reprivatisation programme may be extensive it will also be relatively short-lived. One single deal may end up involving several law firms but prices will be more competitive and firms will need to continue to be more aggressive in cost savings and conservative in growth," says Diogo Leonidas, Partner with Garrigues.