KPMG promotes three new partners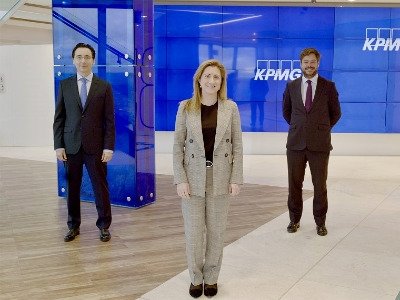 KPMG Abogados has promoted Borja Carvajal, Pilar Galán and Julián García-Chazarra to partner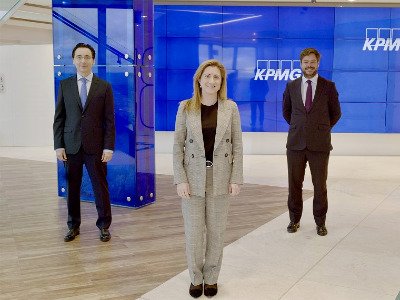 KPMG Abogados has announced the appointment of three new partners: Borja Carvajal, Pilar Galán and Julián García-Chazarra, who will strengthen the Tax and Legal areas in the Madrid office. This promotion responds to KPMG's objective of promoting the careers of extraordinary professionals.
Borja Carvajal (pictured right), who has 15 years of experience in the sector, has been appointed partner of the Regulatory, Administrative and Competition area. Borja's expertise is particularly focused on advising private clients in their relations with the Public Administration, including various regulated sectors (Infrastructure, Energy, Environment, Urban Planning, Telecommunications, etc.) and areas of specialisation (Public Procurement, Administrative and Contentious proceedings, subsidies and public aid, etc.). Carvajal is a columnist, regular speaker and lecturer in various Master's degrees in access to the legal profession.
Pilar Galán (pictured centre), a Law and Business Administration graduate, has extensive experience in Financial Regulation, specifically in matters related to the Banking, Payment Services, Capital Markets and Insurance sectors. The new partner joined KPMG in 2015 and is currently leading the Financial Regulation implementation projects. She has participated in some of the most important financial institutions in our country, some of which had a great impact on their business model, and she is recognised as a reference in all of them, standing out for her knowledge of the business and her ability to create trust through careful relationship management and the excellence of her work. In addition, she has extensive experience in Legal and Regulatory advice on financial entities Restructuring processes, including Mergers, the creation of new entities or the processing of regulated licences.
The firm has also strengthened the Corporate Tax area with the appointment of Julián García-Chazarra (pictured left), who has extensive experience in providing recurrent Tax advice to national and international groups, as well as in national Tax planning, Corporate Restructuring, Mergers & Acquisitions, Tax consolidation regime and assistance in Tax inspections. Due to his capacity for innovation and knowledge of the needs of clients, Julián is responsible for the transformation of the Company Tax function, from the Corporate Tax Services department to which he belongs.