It´s not necessarily about size – Serra Lopes, Cortes Martins
27/06/2012
80

10 minutes read
Take a mid-sized firm with a solid track record, add a high profile privatisation and a pinch of visibility, and you have the recipe for defying the odds when it comes to size.
La firma Serra Lopes, Cortes Martíns es un despacho convencido de que un mayor tamaño de despacho no significa una mejor calidad de trabajo. Con siete socios y un equipo de 35 abogados, ha conseguido salir en las portadas de los periódicos recientemente por su trabajo en la privatización de la operadora líder del sector energético EdP en Portugal, siguiendo los requisitos establecidos en el rescate europeo a este país. Lo más destacable es el papel del despacho representando a la empresa China Three Gorges (CTG) que ha adquirido el 21 por ciento de la operadora.
Serra Lopes, Cortes Martíns & Associados is not a firm that believes that 'bigger' means 'better'. Quite the opposite, in fact.
Established in Lisbon in 1961 by António and Maria de Jesus Serra Lopes, this seven-partner 35-lawyer firm led by Managing Partner Luís Cortes Martins has made headlines over the past year for its involvement in Portugal's privatisation of leading domestic utility EdP – Energias de Portugal – under the terms of its bailout agreement.
The deal was high profile not only because of its part in a far-reaching privatisation programme, but also because it was the first instance of a mainland Chinese business buying a stake in an Iberian company, which many believe could open the door to a wave of Chinese investment.
From a law firm perspective, what was surprising was how this mid-sized firm ended up by representing the winning bidder, China Three Gorges (CTG) for the €2.7bn, 21.35 percent stake.
"Put simply, we backed the right horse," says Rafael Lucas Pires, Partner at Serra Lopes who worked closely on the deal with Luís Cortes Martins. It wasn't as surprising to them, they say, as it was to the outside world because of where the firm has positioned itself. M&A is their core business and competing for these kinds of deals is part of what they do, they say.
But to bet on that horse you need to be in the race – it´s not only a question of luck.
A little help from your friends
The story begins with a working relationship with Skadden Arps, the US firm based in New York with offices worldwide, and, as luck would have it, Counsel to CTG. Serra Lopes has worked on some deals with Skaddens over the years, usually taking the role of Portuguese Counsel for Portuguese clients, says Pires, and they developed strong relationships with some of the Partners.
The current climate has reinforced the trend in the Portuguese market of establishing relationships with international firms so as to be on their radar when work takes them to Portugal. And it was this already established relationship that led Skaddens to refer CTG to Serra Lopes.
Not that they didn´t face stiff competition. But while a few big firms were out of the race from the start due to conflicts of interest, so narrowing the market, others focused on jurisdictions they thought would stand a better chance of winning due to their political ties with Portugal – for example Germany's E.ON, advised by Linklaters, and Brazil's Electrobras, advised by PLMJ – all of whom made it to the final round.
As for CTG, the Portuguese Government was more concerned about getting the best deal for Portugal and a better strategic development project for EdP, says Pires; "And that´s why CTG won."
The power of 'visibility'
The small to mid-sized market in Portugal has gained some visibility recently, with more and more being involved in the big deals, he adds. This has challenged the perception that smaller firms don´t stand a chance against their larger full-service competitors, such as PLMJ and Morais Leitão, Galvão Teles, Soares da Silva & Associados.
A similar example, they say, is the one of Linklaters in Lisbon, for example, which recently advised the State Grid International of China in the €600m privatisation of 40 percent of Portugal´s REN – Redes Energeticas Nacionais (who were advised by PLMJ). Here, a 25 percent share went to State Grid while 15 percent went to Oman Oil Company, advised by Gómez-Acebo & Pombo.
With further Portuguese privatisations on the cards, including Galp Energia, TAP and ANA – Aeroportos de Portugal, whether this is the start of a trend, or just clever leveraging of established network relationships remains to be seen.
For Serra Lopes, the attention given to the CTG deal brought the firm into the spotlight and raised its visibility to a whole different level. "It put us on the radar of third parties with no knowledge of the Portuguese market," says Pires, "and that will prove invaluable for future deals as they see your work first hand".
From a marketing perspective, this is huge, he confides. Smaller firms have to narrow the distance between their work and the knowledge that people have of their work, and while big firms have large marketing departments to do that for them, for smaller firms, getting the message out is a challenge.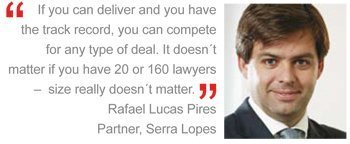 Sticking to what you know
Clients coming from different jurisdictions that aren´t familiar with the Portuguese market could be blinded by 'bigger is better', says Pires, and look at the legal directories and go with dimension, which is not necessarily an indicator of quality. It doesn't take into account a firm's 'track record', which is what allows firms to compete, he adds, and it's the best form of networking.
In terms of competing for the international deals, proof of past experience is essential, Pires says. "It is your credentials to impress any potential acquirers of legal services."
They are seeing lots of firms doing 'opportunistic' positioning, says Pires, going where they see the trend even when it goes outside their areas of specialisation. "With a smaller firm, you really have to stick to what you know. Our core business is, and always has been, M&A and litigation."
And for this core area of business, Serra Lopes has a track record of its own with clients ranging from industrial Portuguese companies to multinational conglomerates, in sectors as diverse as engineering, media, financial services, food and beverages, oil & gas, energy, sports, private equity and real estate.
Sticking to these areas has, however, proved to be something of a blessing in disguise. Given the number of businesses in distress, insolvency is high on the agenda. Having a strong M&A and litigation practice gave their clients the confidence that they were able to develop a very strong insolvency practice, they say. This was not a conscious move on the firm´s part given the crisis, but because that was their core business from the start.
From a market perspective, their competitors contacted by Iberian Lawyer have nothing but praise for the quality of their services in the corporate sector, and their position at the 'big player' table in that area is validated. The criticism, if any, is that the firm is still too centralised around the strong leadership of its Managing Partner, Cortes Martins.
With such difficult market conditions, of course, many law firms are reviewing internal processes and seeking better efficiencies. Serra Lopes has, however, won a huge deal that has boosted their market reputation no end. Whether they can rely on further such deals, time will tell.
The current storm
Given the crisis, having a strong client base is a must-have for any law firm, in particular if you´re small. "One of the problems of this crisis is the uncertainty," says Pires, "so every firm has to look at their clients to know where they´re going. If your client is financially sound then you can rest a little easier."
But that doesn´t mean that the firm can just sit back and relax. "No one in our market can get comfortable, we are in a storm and we need to be very cautious," says Pires.
One of the effects of the crisis is that the delay in payments is growing, he adds, and firms are being far more careful in terms of credit analysis of their clients´ situation.
The pressure on fees also shows no sign of abating. "But if you reduce your fees," says Pires, "it´s a one way street – you can't go back when things pick up." Of course, any firm wants to be in a position where a client chooses them over another firm based on quality not fees, but whether that is realistic in the current market, however, is debatable as bigger firms would almost certainly have more competitive rates because of the size of their structures.
The size debate
With the current climate making it very difficult to do business, small firms do sometimes question whether what they are doing is enough or if they are positioning themselves correctly, says Pires.
For Serra Lopes, the CTG deal was confirmation that they are, and helped to settle any doubts brought on by the crisis. Whether we will see further confirmation in terms of other high profile deals remains to be seen. But with CTG having further Portuguese projects in the pipeline, including the construction of a wind turbine manufacturing plant sometime this year, the potential is there.
The CTG and REN deals have gone some way to eliminating doubts regarding size being critical when it comes to participating in big international transactions, and if there is a story behind those deals, it's that the smaller or mid-sized law firms are as capable as any other. "If you can deliver and you have the track record, you can compete for any type of deal," says Pires. "It doesn´t matter if you have 20 or 160 lawyers – size really doesn´t matter."