February issue of Iberian Lawyer now available
03/02/2020
56

3 minutes read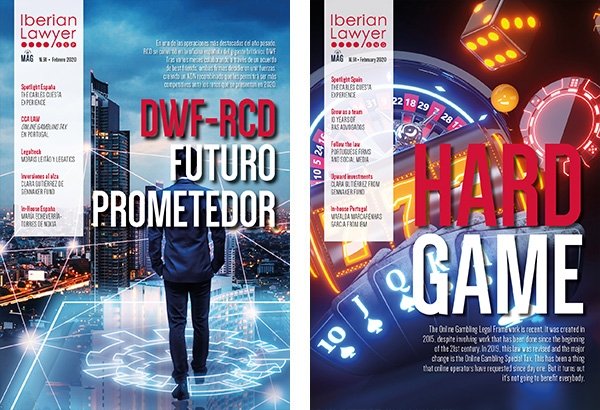 The February issue of Iberian Lawyer is now available to download for free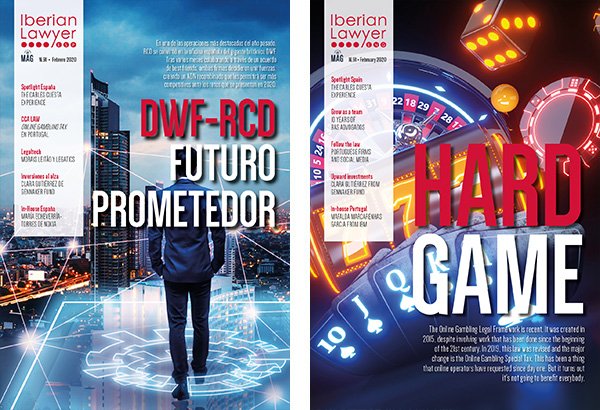 The latest issue includes a close view of one of the last year´s highlights, in which RCD became the Spanish office of British giant DWF. Adolf Rousaoud and Ignasi Costas, founders of RCD and co-managing partners, offer their insights into this new recombined DNA.
This edition also features an analysis of Portuguese Online Gambling Legal Framework by expert lawyers Filipe Mayer and Tânia Ferreira de Almeida from CCA Advogados, focusing on the tax regimes of online gambling.
Also, in this issue, we speak with José Carles and Carlos Cuesta, founders of Carles Cuesta, about what´s behind the #CarlesCuestaExperience, a fresh new law firm model that combines rigor and agility with flexibility and innovation.
Other features include:
– Cláudia Castanheira dos Santos and Mariana Solá de Albuquerque, consultant and associate of Morais Leitão, talk about the use of online platform Legatics.
– Clara Gutiérrez, managing partner of Gennaker Fund points out that the number of investors targeting the Iberian market in search of startups continues to grow.
– Interview with Portuguese law firm´s communications managers about the use of Social Media as an important channel for clients and lawyers.
– Portuguese law firm BAS Advogados´ founding partners Dália Cardadeiro and Pedro Madeira de Brito proudly remember their beginnings and what they have achieved in 10 years.
– Legal and Compliance Director at Nokia, María Echeverría-Torres explains how the in-house lawyer must be recognized in the company as a true "business partner".
– Portuguese IBM´s head of legal Mafalda Marcarenhas Garcia highlights how in-house legal teams are expected to be.
The magazine is now available in English and Spanish. To download your free copy (issue number 91) click here.