East meets West – King & Wood Mallesons SJ Berwin
12/12/2013
76

9 minutes read
In an incredibly competitive market, the key is differentiating yourself from the competition. As clients are internationalising more and more, law firms are following suit and trying to offer something over and above their rivals. Such is the example of the recent launch of King & Wood Mallesons SJ Berwin, the first global law firm headquartered in Asia.
With over 2,700 lawyers in 30 locations worldwide, the network is based on the three pillars of Australia, China and Europe, a combination that has not yet been seen at this level. "If you are going to do something different," says Carlos Pazos, Managing Partner Spain at King & Wood Mallesons SJ Berwin, "then do something truly unique."
The beginnings
The Spanish side of the story began in 1999 with the setting up of the Madrid office of UK firm SJ Berwin by Pazos and Roberto Pomares.
Pazos began his career at B Cremades & Asociados, after studying at the College of Europe and London School of Economics in the UK. He was very lucky, he says, as within three years he was made partner, and a year later became an equity partner. He specialised straight away in M&A and corporate matters, which he has pursued with a passion to this day.
Pazos says he had a very clear vision of what a 21st Century law firm would look like, and he knew that this was the path he wanted to take. Following various discussions with top firms, it was his conversations with Jonathan Blake, a Partner at SJ Berwin with whom he a long standing working relationship, that moved him forwards.
While SJ Berwin, at the time, had no immediate plans to open in Madrid, one conversation led to another and before he knew it, Pazos was opening the Firm's Madrid office with Pomares.
Setting up shop
SJ Berwin's management model was a very decentralised one, explains Pazos, and there was no question of sending a London partner to supervise the Madrid office.
"I led the office at a local level, and was given autonomy in decision-making and management, within reason of course, and this was something I found very attractive," he says. "No one knows the needs of the law firm or the market better than those on the ground, and it is very difficult to form an appropriate strategy from a distance."
At the time SJ Berwin was known in the market primarily as a private equity boutique, but with Pazos's M&A and corporate background he wanted to expand the practice. And he also wanted to ensure he didn't create a 'one-man firm' but rather a self-sufficient truly collective practice.
Over the years the Madrid office has advised clients from the first 3i European Fund when the private equity house went international, the Hidrocantábrico takeover by EDP Electricidade de Portugal, and EDP Renováveis' IPO and listing of its Spanish renewable energy subsidiary.
They currently advise on matters for industrial clients, utilities and infrastructure players. They currently have mandates with 14 funds in Spain, says Pazos, and have been recently been appointed advisers to FOND-ICO Global, a public concourse, and representing Spain in the legal and tax committee of EVCA (European Venture Capital Association).
The office has grown organically, and now houses more than 40 lawyers. But some in the market question why the Firm hasn't grown in the same way as its Anglo-Saxon counterparts. Pazos admits that they are smaller than their peers, but says that their growth corresponds with the size of the network. "The bigger your network the more capacity you have, and with the recent merger we anticipate that this will become apparent."
The marriage
The conversations with King &Wood Mallesons began around two years ago. For a while SJ Berwin had been looking westwards to the US, but this about turn was something that really excited Pazos. After several private trips to China he was fascinated and knew he had to be there. "I had it clear, that the future was there but it took some pursuing my partners as it's quite a challenging integration. But for me it was a no-brainer."
He says that this was something he was seeing from clients as well. "This integration has all been client driven – Asia-Pacific is where the money is, where inbound and outbound investment is flowing, and where we had to go too."
Pazos has heard that some top US firms are undertaking huge instructions in the region for free. "That is quite impressive as it has never happened before and shows a desperation to squeeze into the market. But it's very dangerous to show them what it feels like to get top lawyers for free." But rather than seeing it as a threat Pazos see it as an indication they are in the right place.
According to his King & Wood colleagues, their Chinese clients' interests are on Germany, Italy and Spain as their targets in Europe. "There are an incredible amount of Chinese clients interested in every sector and the list of Chinese companies with interests in Spain or vice versa is huge."
The new Firm takes a Swiss Verein structure with the three arms of King & Wood, Mallesons and SJ Berwin, the three of which own the Hong Kong headquarters. And while led by their Asian headquarters, Pazos says they maintained a decentralised approach. Whether this will change remains to be seen, but Pazos says that the move to a centralised approach with homogeneous practices and policies, and tight financial control, is necessary if you are truly global.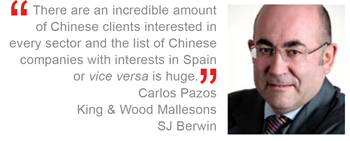 Asia-Pacific advantages
For Pazos, it's a marriage made in heaven. "There's no one else in the market that can offer a presence in Asia-Pacific with a full licence to operate in China." And he sees that beyond the dark recession clouds over Europe and the US, Asia's skies are shining brightly.
"Recent reforms by the Chinese Government aimed at boosting internal demand are extremely clever," he explains. "And while their GDP is not yet, in absolute terms, bigger than the US, they are the true world leaders, with some predicting that this could happen as close as 2019 – which is around the corner!"
Since joining forces with King & Wood Mallesons, Pazos has already noticed a difference. Clients that didn't take notice before are doing so now. As an example, the Spanish construction sector, is a world leader and companies are very active in Australia, conveniently all clients of Mallesons. So Pazos is working to capitalise on that.
But, as he puts it, the real work starts now. "When we took this challenge we took it because we deeply believed that we had to go global, and while we have made a huge step, we are not fully 'global' yet."
The next stage for the Firm is to consolidate their presence in Asia-Pacific, and South Korea, Singapore and Taiwan are on the radar. After Dubai, they are opening their second Middle East office in Saudi Arabia in the first quarter of 2014, after which they are looking to further expand their presence.
"Africa is a place where we certainly want to be," he explains, "and then Canada, Latin America and, of course, the US, are the logical objectives."
The Madrid office is of course the natural hub for approaching Latin America, and Pazos is already feeling the pressure to move quickly on that."We already have close relationships with many top firms on the region, as well as other contacts that we are cultivating across Brazil, Chile, Colombia, Mexico and Peru," he says. "Our mission is to capitalise on that and see what further opportunities the region generates."
Sticking to their vows
In these times of crisis, to have a clear direction is very important, and Pazos feels they have a strong rudder heading full throttle eastwards. "And with wind in our sails!"
A year from now, Pazos wants to be in the position to say – 'it's working'. The hope is that he can add that it will have been better than expected.
Pazos is both excited and optimistic about the future. "Europe still has a unique position in the occidental world and the big pillars of our future economy, and therefore of the legal profession, are going to be Asia, Europe and the Middle East."
He has no doubt that others will follow in their footsteps and that there will be further mergers between East and West. But he doesn't feel the pressure. "It will happen, but the thing is that we got the best bride," he says with a smile.