Chinese investment Special focus 2017: Boom time
02/09/2017
65

8 minutes read
Chinese investment in Spain quadrupled last year, to the benefit of sectors such as tech, tourism and entertainment – however, Iberian neighbour Portugal has been more successful in attracting Chinese investors, though advising such clients can pose problems for law firms
"Spain's time has finally come." These are the words of Uría Menéndez partner Francisco Martínez Boluda when asked about the recent levels of Chinese investment in Spanish assets. He adds: "There has been a more than significant increase in interest in Spain among Chinese investors," he adds. Martínez Boluda, who is based in Uría Menéndez's Beijing office, says this is partly because of the number of large transactions taking place involving Chinese investors – such as the €2 billion purchase of Urbaser by Chinese-owned Firion Investments, and the takeover of Spanish-listed company Clínica Baviera by China's Aier Eye Hospital Group – and partly because of the shift taking place in China towards a more "service-oriented, or consumption-oriented economy".
When serving a Chinese client investing in Spain, a law firm's work goes far beyond providing technical legal advice related to the Spanish market, Martínez Boluda adds. "You have to make the differences smaller, and give them confidence," he says. "You must reduce the cultural gap with further explanations and details." Martínez Boluda adds that having an office in China helps Spanish law firms to bridge that gap as they are able to offer Spanish legal advice during China's working hours.
Layers of bureaucracy
Chinese investment in Spain is a new phenomenon that has grown dramatically in recent years. Data shows that, in 2016, total Chinese investment in Spain stood at €1.7 billion – this amounted to a quadrupling of the total for the previous year. This trend is generating a lot of opportunities for law firms and many professional services firms are going to considerable lengths to capitalise on such opportunities. For example, Ignacio Legido, managing partner of BDO Abogados highlights the fact that BDO has opened 33 offices across China. However, he also notes that there are significant barriers to Chinese investment in Spain, particularly the multiple layers of bureaucracy and the country's regulatory framework.
 Omar Puertas, managing partner of Cuatrecasas' Shanghai office says his firm's objective is to "accompany our Chinese clients in their international expansion". He adds that his firm wants to advise such clients "not only on their investments in Spain, but in all the jurisdictions in which we are present", and highlights Chinese investors' interest in Brazil, Colombia and Mexico, as well as Angola and Mozambique. Puertas adds that Chinese clients are also interested in assets in Germany, Italy and France. The latter three jurisdictions are particularly significant given that Chinese investment volumes in those European countries are higher than in Spain, lawyers say.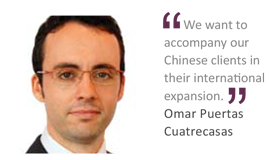 Chinese offices 'essential'
Meanwhile, Cuatrecasas partner Conchi Bargalló says that Chinese investors in Spain tend to be large companies with a significant capacity for investment. In particular, they are targeting the chemical and tech industries, as well as the food and fisheries, logistics, hotel and entertainment sectors. Businesses in these sectors are available at competitive prices, according to Bargalló.
Law firms working with Chinese investors need to have specialised knowledge, both in legal and cultural terms, in order to help them understand differences and achieve their targets more efficiently, Bargalló says. "Having offices in China is essential to develop a relationship of trust with those investors, it demonstrates total commitment to the country and its industrial and institutional make-up," she adds.
Cultural hurdles
However, though Chinese investment in Spain is booming, Portugal has proved to be much more successful than its neighbour in attracting investment from China. During the period 2000-2014, Portugal received €6.7 billion of investment from China, which made it Europe's fourth biggest recipient of Chinese investment (behind the United Kingdom, Germany and France). The sectors receiving the most Chinese investment in Portugal are banking and insurance, real estate and tourism, according to Rita Assis Ferreira, a managing associate from PLMJ's China desk. She says that, for the last six years, she has been advising Chinese state-owned enterprises (SEOs) on investing in Portugal, as well as in Brazil, Angola, Mozambique and Cape Vert. "In Brazil, Chinese investment is focused on energy and oil and gas, while in the African nations, energy, infrastructure and natural resources are the sectors that are targeted," Assis Ferreira says. However, she adds that Chinese clients investing in such jurisdictions face a number of challenges, which, in addition to legal and regulatory obstacles, include linguistic and cultural hurdles.
The type of investors coming from China is changing, according to Assis Ferreira, who says that she has observed a shift from SEOs to very large private companies. She adds that such entities often have the same sources of financing, namely state-owned banks and development funds. "However, there has also been a shift of investor focus from more traditional sectors such as energy and banking, to industries ranging from pharmaceuticals and aviation to technology and services," Assis Ferreira says.
Taking flight
Investment opportunities for Chinese companies in Portugal have been enhanced in recent years as a result of several agreements involving the two countries, according to Assis Ferreira. She adds that the first direct Portugal-China flight will take off in July, while Macau, which she describes as "much more open and market-oriented" than mainland China, has served as a strategic platform for investment in Portugal.
Assis Ferreira warns Chinese investors looking to make investments in the Iberian Peninsula that they need to be aware that they have to consider the EU's comprehensive regulatory framework, while also ensuring compliance with competition laws as well as local regulations. She continues "There are no special restrictions on Chinese investors, who are welcome in Portugal, and that makes the country a very interesting gateway to Europe, Africa and South America. And the impact of Chinese investment has led other countries, such as Japan, Malaysia, Singapore and Thailand, to also eye the Iberian Peninsula."
'Friendly place'
Fellow Lisbon firm Abreu Advogados is another Portuguese firm that has taken the step of setting up a China desk, with the result that the firm has a Portuguese lawyer settled permanently in Macau to assist Chinese clients. Abreu Advogados partner Paulo de Tarso Domingues – who says the firm has recently advised on the setting up of a wind energy joint venture involving companies from Portugal and China – attributes Chinese investors' interest in Iberia over the last year partly to the slowdown in China's economic growth, and partly to Iberia's strong economic recovery and the diversification of Chinese investors' portfolios. However, Tarso Domingues sees the complexity of the Iberian market, as well as EU and country-specific regulations – particularly in what are nascent areas of law in China, such as competition law and intellectual property – as the biggest barriers to Chinese investment. He adds that Chinese investment in Iberia has had little impact on how law firms generally operate, but that lawyers must clearly understand Chinese investors' concerns and offer examples of other similar situations from the past in order to provide effective advice.
"Ding Tian, deputy secretary general of Forum Macau, said recently that Chinese investment in Portuguese-speaking countries totals $50 billion, while the value of contracts signed exceeds $90 billion, with trade between China and all Lusophone countries totalling nearly $100 billion in 2016," says Tarso Domingues. He adds that this clearly demonstrates Chinese investors' continued interest in Lusophone Africa, and says that Macau has become a platform for such investment, with the result that Macau-based law firms have taken steps to adapt to this role.
While investment in Portuguese property, in accordance with the country's 'golden visa' programme, has slowed, Chinese investment in Portugal in general looks set to hold up, according to lawyers. "China has a lot of capital, and even the recent measures by the Chinese government to curb investment abroad will not have a significant long-term impact on investment," according to João Caiado Guerreiro, partner at Caiado Guerreiro, a Lisbon-headquartered firm that also has an office in Beijing. "As Chinese companies become more acquisitive everywhere, they are also seeing Portugal and Spain, and particularly Portugal due to its historical ties with China through Macau, as a friendly place to invest."