Changing direction
04/10/2018
89

14 minutes read
China-related business is a key focus of many law firms in Iberia, but efforts to form alliances with US firms are proving fruitless
Winning China-related business is now a major priority for a number of leading law firms in Iberia. The high level of outbound investment from the Far East means that law firms are now planning how best to meet the demands of Chinese clients. While one leading firm in Iberia is, at the time of writing, expected to announce the opening of a China office imminently, others, while recognising the importance of having a presence in the republic, are encountering difficulties in finding the right people to staff a Chinese operation.For Spanish firms, and increasingly for some firms in Portugal, Latin America is a market offering significant potential. Meanwhile, some firms in Europe are looking to merge with a US firm, but there is an acknowledgement that the incentives for US firms of forming such alliances is limited.
View from Spain:
China and India driving demand
Latin America also remains a key focus for law firms, but achieving a tie-up with a US firm is fraught with difficulty
Event: Iberian Lawyer Global Roundtable
Host: Uría Menéndez, Madrid
Latin America is still the primary focus of most law firms in Spain when it comes to seeking international opportunities, but China and India are also becoming major sources of legal work, attendees at the Iberian Lawyer Global Roundtable said. Some lawyers argue that the role of legal advisers is changing when it comes to handling cross-border matters and that a firm's focus should be on assuming the role of "foreign general counsel". Meanwhile, while a number of European firms are seeking link-ups with US firms, finalising such an alliance is hugely problematic due to the massive discrepancy in earnings between US firms and firms in Europe.
Latin America remains a key focus for Iberian law firms, said Uría Menéndez partner Fernando Calbacho Losada. Both major corporations and small and medium-sized enterprises are investing in the region, he added. Having initially relied on 'best friends' relationships with firms in Latin America, in 2016 Uría Menéndez took a stake in Philippi, Prietocarrizosa, Ferrero DU & Uría (PPU) – the firm was created as a result of the merger between Philippi Abogados (Chile), Prietocarrizosa (Colombia), and Estudio Ferrero Abogados and Delmar Ugarte (both Peru). Calbacho Losada added that, in the longer term, the intention is to expand PPU to another Latin American jurisdiction. Meanwhile, Calbacho Losada said that Chinese investment is also a significant source of legal work.
Deloitte Legal partner Sharon Izaguirre argued that law firms need to be established in the jurisdictions where their clients are operating. "Global markets are a clear opportunity to continue growing, the main destination for investment is emerging economies like Latin America, China and India," she said. "There is significant transactional activity in Colombia, Peru, Chile and Mexico, which, in addition to generating M&A work, is also driving demand for other services, such as transfer-pricing, corporate reorganisation and global employment services, for example." Meanwhile, the Middle East is another region that offers considerable potential for law firms. Izaguirre continued: "We are seeing some strategic investment in new economies, while regulatory work and compliance is also an opportunity."
Advising health, technology and energy clients on projects in foreign jurisdictions is currently a major source of legal work, according to Eversheds Sutherland Jacobo Martínez Pérez de Espinosa. He added that the changing demands of clients mean that there is a greater need for centralised billing processes at a global level as well as better use of technology as a "reporting tool". Pérez de Espinosa said that, in order to better serve clients, Eversheds Sutherland is creating specialised teams of paralegals to do "less complex" legal work. He added that there are considerable opportunities for law firms in Peru, Chile, Mexico, Brazil and Colombia, while there is also significant demand for construction-related legal services in Dubai and Qatar.
China is becoming the world's leading economy and, as a result, there is significant outbound investment from China, which means there is high demand for legal advice, said Allen & Overy partner Juan Hormaechea. He added that it is becoming increasingly important for leading international law firms to have a presence in China, though it can be "difficult to find the right people". Meanwhile, with regard to the US market, Hormaechea said it is difficult to compete with "white shoe" firms, and this is also the case in Latin America where a lot of project finance is subject to US law. He also said that, while firms want offices in many jurisdictions, it is not an easy strategy to follow. He added that it can be frustrating for international clients to find the "right quality of standards in legal services" in some jurisdictions. Hormaechea said that the US market is currently a "substantial challenge for even the strongest of non-US law firms, given the very different approach of this market to legal services and the very substantial advantage in terms of profit per partner that top US law firms enjoy, which makes it difficult to either hire top partners locally or find a suitable US law firm partner".
Gómez-Acebo & Pombo partner Fernando de las Cuevas said his firm is Iberian, rather than global, and that consequently Latin America is the region that offers the most significant source of foreign work. He highlighted Mexico, Colombia, Peru, Chile and Brazil as the key jurisdictions at the moment, adding that, in response to client demand, his firm is strengthening relationships with 'best friends' in the region. De las Cuevas also said there were opportunities in Africa in infrastructure, but said making progress in the Chinese market is "extremely difficult".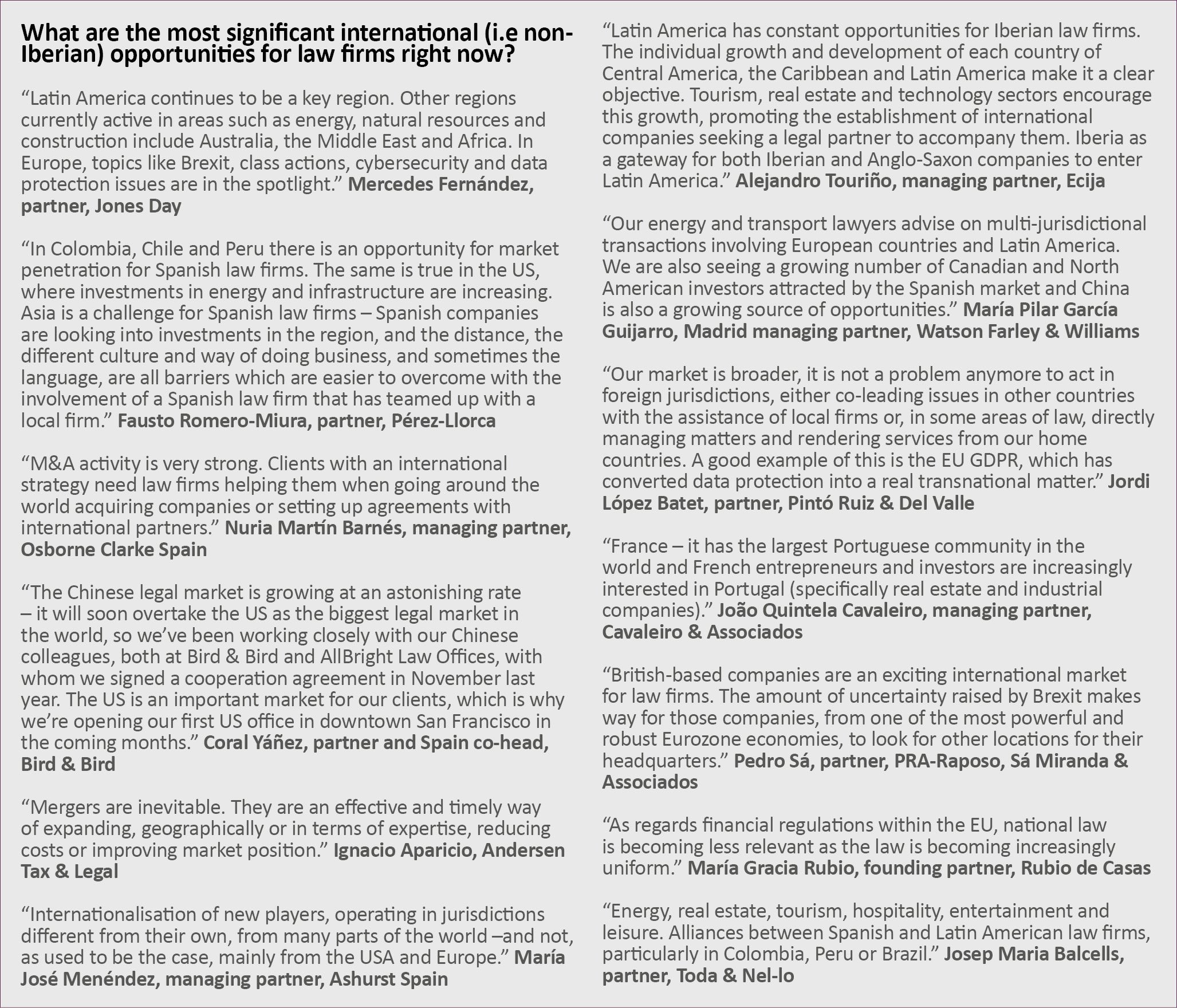 There are significant opportunities for law firms that grasp the "international legal counsel" role, said Herbert Smith Freehills partner Ignacio Paz. He added: "Following clients internationally as a sort of foreign general counsel means that firms can be better able to negotiate fees – more and more Spanish clients are asking law firms to do the same type of deal in different jurisdictions." Paz said it is important for law firms to be "on top of the pipeline of opportunities in core jurisdictions". He also said law firms need to be able to talk about business as, in some jurisdictions, clients are not aware of the opportunities that exist. With regard to UK law firms expanding their reach in the US, Paz added that while certain UK firms would like to expand their business in the US, some of the US firms may not want to merge due to the fact that they are significantly more profitable than their UK counterparts.
Cuatrecasas partner Alfonso Iglesia said one of the key targets of his firm was to become a "Latin American firm". He added: "The Spanish market is very mature and there are fewer and fewer referrals, you can't wait for another law firm to send you work." Cuatrecasas has offices in Brazil, Colombia and Mexico, and is "planning its next movement in the region in Peru", according to Iglesia. Iglesia said he anticipates significant M&A and finance opportunities in Latin America as well as a significant amount of international arbitration work. He continued: "We don´t intend to cover all areas of practice in Latin America at the initial stage, but instead focus on corporate M&A, finance, international arbitration and tax". Iglesia added that clients demand "one single point of contact" and the goal for law firms should be to "provide the best possible service".
There has been a substantial increase in work abroad, said Uría Menéndez partner Jaime Folguera, who highlighted international investigations as a significant growth area. He added that Uría Menéndez has built "solid 'best friend' relationships" with law firms in Europe, America and Asia. Folguera also said that Japan and South Korea, in addition to China, were also generating significant opportunities for law firms with clients targeting investment in the finance, infrastructure and energy sectors.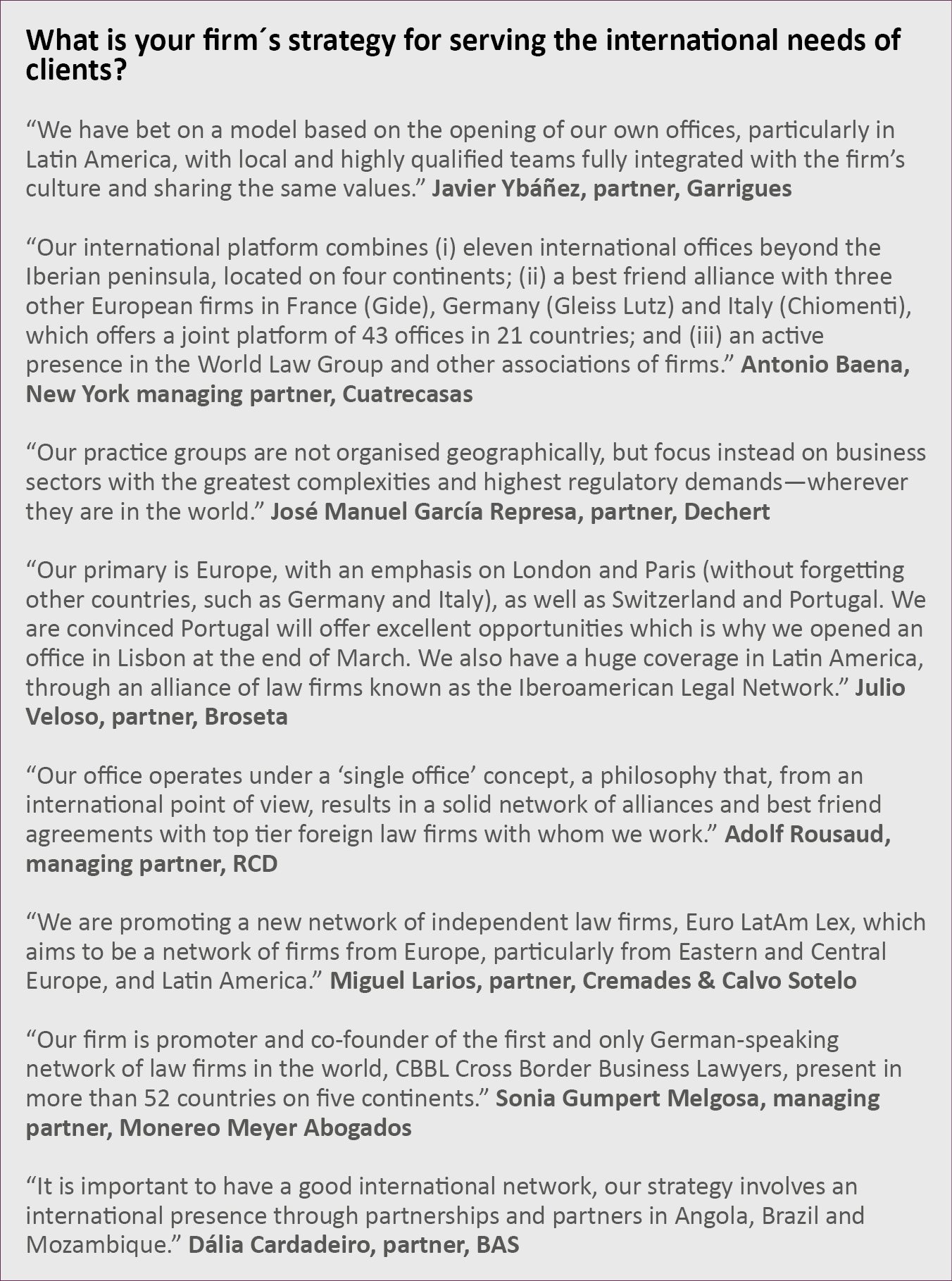 View from Portugal:
Lisbon firms eye Latin American and Indian markets
Lawyers looking beyond the traditional target markets of Lusophone Africa, with opportunities emerging in London – due to Brexit – as well as New York, Israel and Singapore
Lusophone Africa remains one of the key foreign markets for Portuguese firms, while Francophone Africa, Latin America and Spain are other regions offering significant opportunities. In addition, the traditional global financial centres – including London and New York – are sources of substantial work. However, some Portuguese firms are venturing further afield and targeting India, Israel, Malta and Singapore.
The most significant international opportunities are related to Portuguese-speaking countries and their "respective areas of influence", says MLGTS managing partner Nuno Galvão Teles. "Macau is an open door for business opportunities in the Asian market, and while the African continent is obviously not as developed in terms of business areas and industries, it will prove to be a good investment for early birds". Galvão Teles adds that Mozambique is a country with interesting connections which are "not well known", such as the Indian subcontinent. He also says that work for international clients is expected to generate a more significant proportion of the firm's revenue in future. MLGTS has plans to open new representative offices in China in the "very near future", Galvão Teles says.
João Vieira de Almeida, managing partner of Vieira de Almeida (VdA), says cross-border work is a key source of revenue, particularly that which originates in "bigger European and north American markets". He adds that the Lusophone Africa and Francophone Africa teams are "very busy". He notes that VdA is now present in 13 jurisdictions, via the VdA Legal Partners network, and they are the "major focus" for the firm in terms of international growth. "On top of that, we will continue to foster close relationships with top firms across the world, both on a direct basis and via a number of loose club-like arrangements," Vieira de Almeida says.
Portuguese companies looking to expand their businesses abroad are increasingly targeting Lusophone Africa, Latin America and Spain, according to Ricardo Oliveira, partner at PLMJ. With regard to opportunities in Africa, Oliveira says that, given economic conditions are improving in Angola, investors are interested in assets in the energy and natural resources sectors.
Major opportunities for law firms exist in the world's biggest financial centres – such as Beijing, Frankfurt, New York and London – says Uría Menéndez-Proença de Carvalho partner Carlos Costa Andrade. He adds that Latin America has incredible potential given there are "financial giants all over the continent" as well as big companies that are acting with "increasing confidence on the international stage".
Angola, Brazil, Mozambique, Timor and Macao are markets where the Portuguese language "facilitates market entry and the establishment of connections", as well as being countries with legal systems that are based on the Portuguese legal system," says Linklaters Portugal managing partner António Soares. "These markets continue to be the main source of international work for firms with a presence in Portugal," he adds. Linklaters has 30 offices in 20 countries across Europe, Asia and the Americas. In addition, the firm has an alliance with Allens in Australia and Webber Wentzel in South-Africa. Soares says the link with Allens "grants coverage of Southeast Asia" while the Webber Wentzel link provides access to the African market. Soares continues: "In the countries that are not covered as such, where we do not have an office or formal alliance, we have 'best friends' partnerships or local firms that we work with depending on the matter at hand."
Foreign direct investment in Portugal has resulted in an increase in transactional work for law firms, as well as greater demand for legal advice related to data protection, employment, intellectual property, M&A and real estate, says SRS Advogados managing partner Pedro Rebelo de Sousa. In addition to targeting the Portuguese-speaking world – specifically Angola, Brazil, Cape Verde, Macau and Mozambique – SRS has also identified significant opportunities in India, Israel, Malta and Singapore, adds Rebelo de Sousa. The firm has offices in Malta, as well as Singapore which "serves as a platform for the whole Asian region including Australia and India," according to Rebelo de Sousa. "This move is providing significant opportunities in the context of Brexit with Portugal positioning itself as the 'go to' European platform." The firm has also established relationships with law firms in India and Israel in order to advise clients on investments.
Nuno Oliveira Garcia, partner at Andersen Tax & Legal Portugal, says one of the biggest opportunities for law firms is providing "best-in-class services in a seamless fashion across the globe as clients nowadays require global presence". He adds that in order to become an effective "global player", law firms need professionals that share a "common background and vision". Oliveira Garcia continues: "There are opportunities to grow, but growth should be a by-product of the outstanding client service delivered."