Bridging the gap – Jausas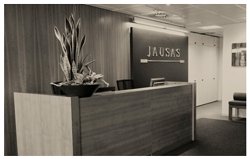 Barcelona-headquartered law firm Jausas says it is Spanish, not Catalan, as it begins a new push into the Madrid market following its recent merger with GMQ
Though most of Jausas' business is done in Barcelona, the firm's priority now is to establish a firm foothold in the Madrid market. "Spain is a tale of two cities, you must be in Barcelona and Madrid," says the firm's managing partner Agustín Bou. "Madrid and Barcelona are very different markets and it's almost impossible to cover Madrid from Barcelona – 80 per cent of our business is done in Barcelona, but we want to grow our tax, real estate and public law practice in Madrid."
It was this desire to make an impact in the Spanish capital that was the driving force behind Jausas' merger with Madrid firm GMQ Abogados earlier this year. When announcing the merger in January, Jausas said that it had taken the step in order to "strengthen its presence in Madrid by incorporating a team of professionals that will strengthen the commercial, M&A, restructuring and insolvency, litigation, taxation, employment and administrative practices".
We're not Catalan
Indeed, GMQ had been successful in building a relatively strong brand in Madrid, but Bou says it was important that the newly-merged entity was united under the Jausas brand. "We wanted to have one single name and be one single firm – we started in Barcelona, but we have had a presence in Madrid since the 1980s, though the number of lawyers we have had there has gone up and down in that time," says Bou. For example, Jausas employment partner Ignacio Sampere and his team of 12 lawyers left Jausas for BDO's Madrid office in 2015. "We want to grow in Madrid, we consider ourselves a Spanish firm and not a Catalan firm – some Madrid journalists seem to love putting the word 'Catalan' before our name," says Bou.
As a result of the merger, GMQ partners Rodrigo Martos and Andrés de la Quadra-Salcedo became partners at Jausas. Bou says one of the reasons for the link-up with GMQ was the fact that the two firms share "major synergies" in their national and international client portfolios. He adds: "They [GMQ] have a good knowledge of the Madrid market, they are strong in public law, M&A, litigation and real estate and we have the same type of clients." Bou says that Jausas explored a number of potential merger options before making the decision to merge with GMQ. Prior to the merger, Jausas had three lawyers in Madrid, all of whom moved into GMQ's office overlooking Madrid's Retiro Park.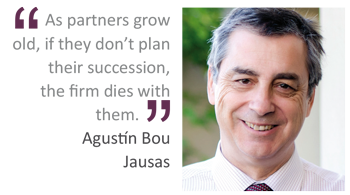 Recruitment drive
The incorporation of the GMQ team will be followed by further lateral hires in Madrid, according to Bou. "We're currently working on recruiting people and we will expect to recruit two partners in Madrid this year," he adds. The areas that Jausas is particularly looking to strengthen in Madrid are real estate, competition and tax.
The reported revenue figures for Jausas indicate that the firm has been growing steadily in recent years. Total billing stood at €8.5 million in 2017, an increase of 2.4 per cent on the previous year's total of €8.3 million. In 2016, billing totalled €7.9 million. Bou says M&A advice has been the main driver of such growth and he predicts that the firm's revenue will grow again this year. "We expect 2018 to be better than 2017," he adds.
Investors don't care
Given that four-fifths of Jausas' business is in Barcelona, has the political crisis in Catalonia – which has reportedly resulted in at least 2,700 companies moving their headquarters out of the region – had a negative effect on Jausas' business? Not according to Bou. "The political uncertainty in Catalonia has not impacted on our business," he insists. "Investors in Barcelona are either local entrepreneurs or multinational businesses that don't care about the political situation." Bou also highlights Amazon's announcement that it will open a new research centre and a seller support centre in Barcelona, as evidence of investors being at ease with the political developments in Catalonia. "There is stability in Barcelona, it's a small geographical question, the situation has not worsened [due to the political crisis]," says Bou. He adds that, given that Catalonia contributes around 20 per cent of Spain's gross domestic product (GDP), if investors lost interest in Catalonia, it would be the whole of Spain that suffers rather than only the region itself.
With regard to the biggest opportunities that currently exist for Jausas, Bou highlights public law, real estate and M&A as the key practice areas. With regard to public law, Bou says a key driver of demand for legal services is litigation against municipal authorities concerning developments in cities. Meanwhile, in the area of real estate, residential property development in Barcelona is booming.
Don´t let the firm die
Bou says one of the big challenges the firm faces is consolidating its growth. For example, he highlights how integrating with other firms can be problematic. "There are normally personnel issues, at smaller firms you often have stronger personalities – in Spain, we don't have the Anglo-Saxon culture where we consider a law firm a business, we consider it as something that is ours," explains Bou. However, despite this tendency to think of a firm as being owned by its partners, Bou says "renewing the firm" is one of Jausas' main priorities. He says: "As partners grow old, if they don't plan their succession, the firm dies with them. So, with regard to lateral hires, we´re focusing on lawyers in the 35 to 45 age range."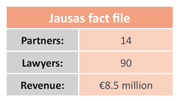 Regarding what sets Jausas apart from its competitors, Bou argues that the partners' high level of engagement with clients is one of the firm's distinguishing features. "We have a close relationship with the client that you don´t get from a larger firm," he says. "We are all working partners who are heavily involved in the practice – we could never compete with big firms in terms of the number of people we put on a transaction, but we [the partners] are always at the front." Indeed, hard work will be required from all of Jausas' partners in the coming months as the firm tries to fully integrate following its recent merger, as well as make inroads into the fiercely competitive Madrid legal market.