And the winners are…
26/09/2007
241

56 minutes read
As the Jury of the Iberian Lawyer 40 under Forty Awards we are pleased to announce the 2007  Awards winners, presented below, and which were recognised formally at a ceremony in Madrid on 26 September. 
The Awards recognise the achievement of the new generation helping to shape the future of the Iberian legal profession. They are open to lawyers from any jurisdiction working on Iberian related matters either within Spain or Portugal or anywhere around the world – still under the age of 40 before the end of 2007 – working within business, law firms, education or public service.
We are very grateful to all of the lawyers who participated – there were over 250 in total – including the clients and colleagues who nominated candidates and the managing partners and law firm business professionals who assisted their submissions.
Quality has been the sole criteria for judging candidates, however, the aim has been to recognise more than just legal excellence. Many of the winners are already playing a significant leadership role in their organisation and making a useful contribution to the wider society in which we live.
As you will see from the lawyers' profiles, all 40 winners have already achieved exceptional results and we look forward to hearing about their continued success in the future.
A dual-qualified Spanish and US lawyer, Alejandro Payá was one of the youngest ever partners appointed at Cuatrecasas, aged 34. He was a Fulbright Scholar at Stanford University, has a Master of International Business Law from the Instituto de Empresa and previously worked at the New York office of White & Case. Recently, Alejandro has advised the owners of Barcelona's Hotel Arts (including Deutsche Bank) on the sale of this emblematic building and assisted Metrovacesa in the acquisition of the London headquarters of HSBC for $2 billion – the UK's largest ever real estate transaction. He is a visiting professor at ESADE where he teaches on their MBA course.
---
Antonio Morales Plaza is a partner at Latham & Watkins specialising in administrative and public law, with an emphasis on regulated industries including energy. He was appointed as a State Attorney (abogado del estado) in 1997, becoming the Secretary General of the Spanish Nuclear Security Council, where he was responsible for regulatory issues, enforcement, drafting rules and legal affairs in 2002. Prior to Latham & Watkins he led the administrative law practice group at Lovells.
---
Antonio Villacampa joined Uría Menéndez in 1995. He was seconded to the New York office of Cravath, Swaine & Moore in 2001/2002 and has been based at Uría Menéndez's Lisbon office since August 2002 – where he became a partner in 2005. A corporate lawyer, he also lectures on the Instituto de Empresa's M&A courses.
---
Since the start of his career, Antonio García Martínez has actively contributed to the development of Spanish regulations from his first role in a well known telecommunications specialist to his current role as director of Legal and Regulation at COLT Telecom. He gained one of the first licences that were awarded in Spain after the liberalisation of telecommunications and negotiated interconnection contracts that made it possible for multiple operators to perform in the Spanish market. In fact, his professional path has been recently recognized in the first Global Counsel Awards 2007 for a Regulatory (Non Financial Services). Antonio currently belongs to the Association of Board of Directors (ASTEL), where he has been the Treasurer in recent years.
---
Winner: Public Lawyer Award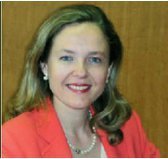 An inclusive approach
Nadia Calviño Deputy Director-General of the Directorate-General for Competition in charge of mergers, European Commission
Nadia Calviño, the Winner of the Forty under Forty Public Lawyer Award, has spent almost her professional career working in the public sector, first in Spain and now in Brussels.
Her career in government began in 1996, when she became Técnico Comercial y Economista del Estado, a prestigious title within the Spanish administration. She has had several posts in the areas of macroeconomic analysis and forecast and foreign trade but has developed the main part of her career in the area of competition policy.
After having worked for two years as senior case handler in the field of antitrust, she was appointed Deputy Director-General for Legal Affairs and Institutional Relations in 2000, then Deputy Director-General for Mergers in 2001 and finally Director General for Competition in 2004.
In this latter position she was responsible for the enforcement of Spanish competition law, and articles 81 and 82 of the EC Treaty, as well as the strategic design and management of competition policy in Spain, which resulted into a fully-fledged reform of the competition act.
In an unprecedented development, throughout the reform process Nadia encouraged broad public consultation whereby all parties involved participated in discussions – her team's initial discussion paper was widely acclaimed by all stakeholders.
This was the first time such an approach had been used in Spain and there was uniform praise for both the way she developed consensus for change as well as the final outcome of the reforms.
Since September 2006, she had been Deputy Director-General of the Directorate-General for Competition at the European Commission, in charge of mergers, where she has been responsible for managing all merger cases and developing and formulating EU/Commission policies in this field. Her responsibilities were further enlarged in September 2007, when she was appointed Deputy Director-General for mergers and antitrust. 
Nadia Calviño enjoys a strong reputation among competition practitioners both for her technical experience and competence – although lawyers say this does not stop her being straightforward in her statements and a tough negotiator.
---
Carlota Castrejana joined the Sports Law department at Gómez-Acebo & Pombo in 2006. A professional athlete for the past 19 years, she achieved a gold medal earlier this year for Spain at the European Indoor Games in Birmingham. She is currently preparing for the 2008 Olympic games which will be her fourth Olympics. In her spare time, Carlotta is a member of the Executive Committee of the Spanish Royal Sports Federation and is actively involved in the development and promotion of sports throughout Spain.
---
A Chilean lawyer, Christian Conejero was an award-winning student at Colombia University, NY, and practised in Chile with Claro & Cía then Shearman & Sterling LLP in New York. For the last four years, he has been the secretary of the Iberoamericano Group of the International Chamber of Commerce's International Court of Arbitration with responsibility for managing cases relating to Spain and Portugal. This role involves working closely with Iberian law firms in the active promotion of arbitration and he is a regular speaker and writer on arbitration matters.
---
David Arias, who leads the disputes team at Pérez- Llorca, is recognised as one of the new generation promoting Spanish arbitration around the world. He is a founding member and the Secretary of the Club Español del Arbitraje and is a regular speaker at seminars and conferences. David lectures at Francisco de Vitoria University and the Carolina Foundation. For a number of years he has been Director of the Centre of Studies and Research of the Madrid Bar.
---
Claudia Santos Cruz practised law in the City of London for 10 years with DLA Piper and then Watson Farley & Williams. In 2005 she returned to Portugal joining Barrocas Sarmento Neves in Lisbon where she is a partner in the banking and finance team. While in England she advised on many major cross border insolvencies and restructurings including those of the BCCI, Enron and Parmalat Groups. Since returning to Lisbon she has advised on the MG Rover administration in connection with the Groups operations in Portugal. Claudia is jointly responsible for overseeing her firm's international business development and coordinating graduate recruitment.
---

The story of success
Cristina Calvo Ortega, Ashurst
To become a partner at an international law firm is impressive, to make it at the age of 35 is remarkable – the sort of career trajectory a fiction writer might dream up.
Yet despite harbouring ambitions to become a writer, this is precisely what Cristina Calvo has achieved, at Ashurst. Her success is a direct reflection of the rapid growth of the firm's Madridbased real estate practice, which she has led since 2003.
Calvo's practice also extends to construction, corporate, M&A, joint ventures and corporate reorganisations. However her greatest professional achievement to date she describes as: "Having grown a successful real estate practice from scratch in only three years, and which is now recognised amongst the best in Spain – alongside others that have been around much longer."
In the same period her team has grown from just one, herself, to ten lawyers, and which now counts as clients a large number of international real estate players, including the US developer Hines, and as a result the giant US pensions group CalPERs (Californian Public Employees' Retirement System), which she advised in relation to the structuring, constitution and financing of the US$1 billion (720 million) Hines/Calpers Sunbelt Fund, focusing on vacation developments along the Spanish coast.
Youngest
Cristina's career began with Barcelona's Bufete Aguilar Canosa, subsequently spending eight years with Baker & McKenzie before joining Ashurst in Madrid in 2002 – where she became the office's youngest partner, in 2004.
Along the way, the most dramatic career milestones she highlights as "The change from simply doing my work well to running a business and bringing income and growth to the firm; the move from Barcelona to Madrid; and the change from a US law firm to a UK one."
But the keys to success as a lawyer she believes are relatively simple: "a combination of hard work, adopting a commercial approach (knowing your client's business), and making each client feel as if they are the only client." Also important for her, she adds, has been the support of her spouse – having three young daughters – and being able to offer her expertise beyond merely commercial practice.
She remains keen therefore to maintain the flexibility to take on pro bono work, and to continue to teach real estate law by participating on a masters programme at the University Pompeu Fabra in Barcelona and in other Real Estate Seminars. Some stories you just couldn't make up.
---
Evelyn Telleria La Rosa is the head of legal Al-Pi Telecommunications (France Telecom Group) dealing primarily with regulation and legal relationships with operators. She started working in the telecoms sector prior to its liberalisation a decade ago, participating within the association of telecom and IT law. In 2000 she advised on legal aspects of the integration of the Al-Pi telecommunications group with the France Telecom business in Catalunya, consolidating the legal group, implementing new regulation across the business and obtaining operating licenses. Evelyn has a Masters in European Corporate Law from the University of Amsterdam and an MBA from ESADE. She was responsible for organising the highly successful first and second conferences in telecommunications law.
---
A dual-qualified Portuguese / English lawyer, Filipe Lowndes Marques graduated at Lisbon's Catholic University before gaining a Magister Juris at the University of Oxford.
Joining Morais Leitão, Galvão Teles, Soares da Silva in 2001 he has been involved in many high profile financings – including the first ever internationally syndicated project finance documented in Portuguese and subject to Portuguese law and more recently the award winning refinancing of the Enersis windfarm and hydro portfolios. Filipe has additionally been recognised for his work in securitisation and investment funds. He is a Director of the British Portuguese Chamber of Commerce and the President of the Duke of Edinburgh's award in Portugal.
---
Francisco Soler coordinated the opening of the Garrigues office in Shanghai, of which he now the Director, leading a team of 14 Spanish and Chinese professionals. He regularly advises Iberian businesses on their Asian business investments. Francisco studied at the Universidad Complutense in Madrid, the Sorbonne in Paris and has a doctorate in business law from the University of Valencia. He is a regular speaker on Chinese matters and teaches on the MBA-update programme of the Instituto de Empresa.
---
Héctor Jausàs leads the widely respected Life Sciences department of the law firm Jausas in Barcelona. He advises international clients in the pharma, cosmetics and food sectors and is particularly renowned for representing private companies in their negotiations with the public administrations.
In his spare time, he teaches on the Instituto de Empresa's advanced programme on the regulation of medicine, of which his firm is the academic sponsor.
---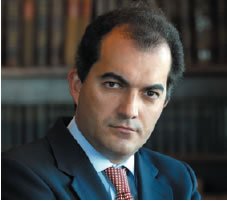 Going to plan
Diogo Perestrelo, Gonçalves Pereira Castelo Branco
"It may not sound exciting but I always wanted to be a lawyer, and with luck, my career so far seems to have turned out as well as I could have hoped," says Diogo Perestrelo, partner at Gonçalves Pereira Castelo Branco (GPCB).
Since joining GPCB from the Universidade Católica de Lisboa in 1992, becoming a partner in 1999, his corporate and finance practice has successfully reflected the changing face of Portugal's economy – encompassing project finance, M&A transactions and most recently private equity.
Among the most memorable professional achievements he highlights however, is an early project finance deal. "It was Portugal's first motorway concession, and involved a consortium of 11 different companies," he explains.
"It proved to be considerably complex, and demanding on our team of three lawyers at the time. But its success led to our involvement in a large amount of concessions work throughout Portugal, and by exporting the deal structure and contracts we were able to act for clients throughout Europe."
Last year he was among the team of partners at GPCB advising on the 1.6 billion IPO of state energy company GALP – "It was a big deal, and successful for everyone involved," he says.
Evolution
Diogo notes however, that in the decade between the two deals legal practice in Portugal has changed considerably. "The legal market has evolved, there may still be only a handful of very large domestic law firms but there are now around 15 firms doing very good work."
But such a competitive environment places increased pressures on lawyers. Key he says therefore is, "A strong legal knowledge, with specific expertise in one or two areas, to have confidence in your abilities, and to be a problem solver. You must not be afraid to lead clients, and to be hands-on, and respectful – even to those that are less-prepared than yourself."
He also emphasises however a strong focus on life outside of practice, and the importance and support of his family. "It is important to work hard, but it is not necessary to live to work."
---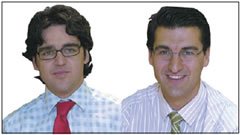 A healthy balance
Hugo Écija and Alvaro Écija, Écija Abogados
At an age when many law graduates were contemplating finding their first legal job, Hugo and Alvaro Écija were founding their own law firm.
Ten years on, Écija Abogados counts over 150 professionals and an international reputation, notably for technology, media and telecoms issues.
"Without a doubt, our most memorable achievement, and the one which we are most proud of, is founding our own law firm," says Hugo. "This was a dream we both shared."
Among their most notable professional achievements of recent years, Alvaro highlights: "The work we undertook in the creation of the television channel La Sexta, being lead counsel in the 900 million merger of Globomedia and Mediapro – the largest media merger in Spain – as well as playing a leading successful role in the 'Guerra del Fútbol' – the bidding for the exclusive rights to broadcast the 2006 Germany World Cup games."
Confidence
Perhaps indicative of their relative youth, but also the confidence of their firm, is a willingness to embrace new technologies and concepts.
"The rapid modernisation of the legal profession and seeing how law firms are evolving to becoming service providers, is the most significant development in legal practice in Spain," says Hugo. It is a development that Ejica is embracing, and in many respects leading. The firm has sought to expand beyond merely legal expertise and to develop innovative compliance and consulting services.
"Most definitely, hard work, believing in yourself and in the abilities of your team while always keeping the client's best interests in mind, are the keys to success as a lawyer," says Alvaro. Teamwork is a concept which is valued by both brothers – Alvaro is a former professional basketball player for Real Madrid while Hugo will be representing Spain in both the European and World Triathlon Championships.
"Above all, it is important to maintain a healthy balance between your work and personal life. This has been essential for us and is something we strongly believe in," he says.
---
As the General Counsel of Gamesa Corporación Tecnolólgica, Iñigo Cisneros leads a team of 23 lawyers, mostly in Spain, but also across Italy, Germany and the US. Iñigo has advised on the sale of Gamesa Energía Servicios to 3i for €180 million and the sale of the ecological park Allegheny, in Pennsylvannia USA, to Babcock & Brown for $150 million. Previously, Cisneros was a partner with KPMG Abogados in Barcelona.
---
At the age of 34, Javier Fernández-Samaniego, who is a specialist within IT/TMT law, was hired by UK law firm Bird & Bird to launch their Madrid office. Formerly, he led the IT and communications team at Linklaters. Javier was one of the first lawyers to represent a private sector data controller during an inspection and subsequent proceedings by the Data Protection Agency when it was first established in Spain. More recently he assisted NHI Industries in their €1.2 billion sale of helicopters to the Spanish Ministry of Defence. He lectures on technology law at a number of universities.
---
Jesús Moreno Vivas is the Company Secretary and Head of Legal for the Spanish Post Office (Correos y Telégrafos SA) and the courier service Chronoexpres. Reporting to the President of the Board he is also responsible for Social Corporate Responsibility and internal auditing. A graduate of law and then business at CEU in Madrid, Jesús is a State Lawyer (Abogado del Estado) with senior and wide governmental experience. At Correos y Telégrafos he has managed the transfer of the business from a public to private entity dealing with difficult labour relations as well as leading cases before the Competition Tribunal on market liberalisation. He regularly lectures on public law issues.
---
Joan Roca, a corporate partner at Roca Junyent, has advised on a number of recent high profile M&A transactions. He advised the owners of Applus Servicios Tecnologicos on their €1.4 billion sale to The Carlyle Group. Joan is also closely involved in the day-to-day management of the firm, including the merger last year with a Spanish law firm in China and, most recently, their membership of Terralex – the second largest law firm network worldwide.
---
José Guardo is a leading expert within banking and securities market law including structured financing and securitizations. He advised on the hugely complex and novel financing of the high-speed train link between Perpignan in France and Figueres in northern Spain. As an innovator within PPP / PFI, he has advised on Barcelona's Judicial City as well as a number of high profile infrastructure projects. José now leads a team of over 40 finance lawyers. He teaches at the Madrid Complutense University and the Universidad San Pablo CEU Madrid.
---
Juan Carlos Machuca was one of the youngest partners ever appointed at Uría Menéndez. He has worked out of their London office since 2000 and now manages that office. Juan Carlos advises some of the leading international investment banks on setting up products for and making deals in the Spanish market. He is also directly involved in private equity and M&A cross-border transactions.
---
Since 2004 Lorena Boix Alonso has been the member of the Cabinet of European Commissioner for Competition, led by Neelie Kroes, responsible for anti-trust and mergers. This has placed her at the heart of Europe's major competition cases. She is a former administrator at DG Competition and the Deputy Director and Legal Coordinator of the IPR-Helpdesk Project. Previously, Lorena practiced at the law firm Van Bael & Bellis in Brussels and assisted Judge R. García-Valdecasas at the Court of First Instance of the European Communities.
After graduating in law from the University of Valencia Lorena gained a Masters in Law from Harvard University as a Fullbright Scholar then a postgraduate in EU Law from the Université Libre de Bruxelles where she graduated first in the class. She is a regular commentator and conference speaker on EU legal matters.
Lorena enjoys music, including jazz, playing the violin in an amateur quartet, and is a regular volunteer with a number of charities.
---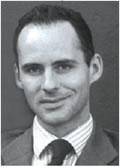 Steering a different path
Iñigo Sagardoy de Simón, Sagardoy Abogados
Over the past decade, Sagardoy Abogados has emerged as one of Spain's leading employment boutiques, and leading it for the last three years – during which time it has restructured and expanded to 52 lawyers – has been Iñigo Sagardoy de Simón.
"The firm was previously a very traditional, family-owned, one, but it was important for it to open up, to develop as a true professional services firm, and to offer all its lawyers a professional career. I may have seemed young to manage a firm, but I don't feel so young now," he says.
Sagardoy joined the firm having spent time in London and New York, and has subsequently developed his practice to focus notably on employee benefits and executive compensation issues.
Among his clients he counts a large number of the IBEX-35, for which he and the firm have helped establish a number of novel remuneration, stock option and contractual models.
Satisfaction
Among Iñigo's most satisfying professional achievements he says however, has been the development of the ius laboris network of employment law firms, which comprises 36 members across 34 countries.
"I initially contacted a number of firms with which we had worked closely, and invited them to Toledo for discussion, they proved fruitful and the result was ius laboris," he explains.
Professional success has not however, lessened his interest in promoting a wider understanding of labour issues, at home and abroad. He is Vice- President of Fundación Sagardoy, which studies employment issues, and supports students and young lawyers interested in the field. Additionally, he is the founder of the Spanish Forum of Labour Lawyers (Forelab), a Professor of Employment Law at University Francisco de Vitoria, and he sits on the Executive Committee of the European Employment Lawyers Association (EELA).
Likewise, his position he hopes also enables him to help promote social responsibility and development issues – as a member of the Advisory Council of the Randstad Foundation and through his involvement with ONG Nantik Lum, a microfinance bank active in Latin America – and ultimately to demonstrate the impact of positive labour and employment strategies.
---
Magda Cocco founded and developed Vieira de Almeida's innovative privacy and data protection practice. She has conducted several data protection compliance audits, defined compliance strategies and has provided counselling in national and cross border transactions that include the transfer of personal data. Additionally, she is active within the firm's information technology group and is advising PT in the implementation of the IPTV and Triple Play Projects.
---
Miguel Griñó Tomás is head of Agbar's corporate operations legal team, with responsibility for many of their major recent transactions. He recently worked on the 1.5 billion sale of Applus Servicios Tecnologicos to The Carlyle Group. Miguel is currently leading a number of high profile arbitrations against the Argentinean state (with ICSID) in Washington. He is also develping a new course on international arbitration at ESADE while completing a PhD course at the University of Barcelona on International Law.
---
Miguel Lorán is a tax partner in Freshfields Bruckhaus Deringer's Barcelona office. He has a law degree from the Barcelona University and a masters degree in taxation from ESADE. He is a member of the Asociación Española de Asesores Fiscales and the International Fiscal Association.
Miguel is currently advising on the IPO by "la Caixa"of certain business interests – the largest operation of this type ever undertaken in Spain. His wide M&A and private equity experience includes advising Agbar on the takeover of UK listed utility Bristol Water.

---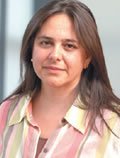 A design for life
Maria Castelos, PLMJ
Although she may have once aspired to be an architect, Maria Castelos joined PLMJ direct from Universidade Católica de Lisboa in 1991 and has subsequently built a very successful career.
Completing an LLM in Banking and Finance from the University of London in 1995 led her to the firm's Banking and Finance Department where she was made a partner, aged 31.
It is an achievement she emphasises that came about with the considerable support of her family and friends. "They continue to bear with me and to love me, I hope, despite failing on them so many times because of my work."
Rewards
Maria insists however that her role brings constant rewards – her clients praise her easy nature, charm and ability to keep calm in the heat of a deal.
"It's nice to feel a client's satisfaction for having done my job well, to love and to have fun doing it, while also enjoying the opportunity to interact with so many different and interesting people."
Over the past year she led the 500 million acquisition by Babcock & Brown of a 10% stake in Brisa – Autoestradas de Portugal; as well as a number of significant project finance and concession deals, among them the Grande Lisboa Concession, Santa Maria da Feira Water Concession, North Road Concession and Penamacor Wind Farm.
Previously, she also led the team advising the originators on Europe's first concession securitisation – Project Eiffel, in 2005 – relating to construction credits in four major Portuguese road concessions; and advised on Portugal's first Shari'a law compliant real estate investment.
Maria's position and client emphasis may have changed as her career has progressed, but she has also had an impact on the nature of legal practice in Portugal.
She was previously General Counsel of the Portuguese Bar Association and was closely involved in the introduction of the recent Specialist Lawyer regime, while at PLMJ she plays an active role on the Ethics Committee, Board of Directors and Executive Committee, and is one of the partners responsible for recruitment and training.
"The legal market has become increasingly competitive, and it now requires more from a lawyer to stay on top and succeed. In addition to being technically skilled and creative, a successful lawyer needs to be trustworthy, wise and fully dedicated to their clients," she says.
---

More than just the law
José Eduardo Martins, Abreu Advogados
José Eduardo Martins, a partner in public and environmental law at Lisbon's Abreu Advogados, is clearly a man who enjoys his work.
He suggests a number of events as worthy achievements during his career to date, among them the installation of strategically important electricity production centres against some very improbable odds, and the creation of The Portuguese Carbon Fund. But he places most emphasis on "The small achievements that are repeated everyday in the life of those fortunate as myself to work in the environmental field."
His success as a lawyer he puts down to having "A pragmatic, solutionorientated, response to client needs, a deep knowledge of one's field of expertise and a lot of patience and self esteem."
He notes that during his years of practice there has been an increasing amount and complexity of laws and regulations, which he says, "Require a daily update and understanding of sciences far beyond 'just' the law."
But he also notes that while technological advances have enabled lawyers to work faster they have also created in clients' minds the expectancy of a very fast response. "Unfortunately, mobile devices don't think, they just deliver messages quicker," he says.
Significant
But José is clearly also a man for whom environmental issues are more than a day job.
As a Deputy Member of the Portuguese Parliament, and former senior politician, he led the Portuguese Delegation to the 2002 Earth Summit in Johannesburg, and has played a significant role in policy-making on such sensitive processes as the National Action Plan (NAP) on Climate Change, its National Waste Strategy, and the first NAP following the implementation of the EU Emissions Trading Scheme.
He also contributes actively to a number of non-governmental organisations (NGOs), including the environmental and heritage NGO, URBE – Núcleos Urbanos de Pesquisa e Intervenção – of which he is a founding member.
Indeed, if he hadn't become a lawyer he would have liked to have been "A multi-millionaire philanthropist with an addiction to "slow food" and avid reading."
---

Looking to new horizons
Manuel Broseta Dupré, Broseta Abogados
One of the challenges and rewards of the role of managing partner, says Manuel Broseta of Valencia-based Broseta Abogados, is the need to take difficult decisions in difficult times.
His decision to leave a promising career at Uría Menéndez and take over the leadership of the firm may have been prompted by the sad death of his father – the firm's founder – but in the years since he assumed the role Broseta Abogados has grown from two to 50 professionals, with offices now in Valencia and Madrid and an enviable array of domestic and international clients.
"We had the vision to transform a traditional and highly-personal law firm into a multidisciplinary one. First the aim was to be a leader regionally, and now we aim to widen the practice on a national level," he says.
Common sense and legal skills The fundamentals for a commercial lawyer's success he says, are a good academic background but also legal skills, especially common sense.
Additionally experience he says gives you the tools to take better decisions and to better understand the client position and needs.
"But it is also clearly important to be client-orientated, and to provide both technical and commercial solutions. It is also essential to surround yourself with people from who you can learn and to be willing to take on projects that you can identify with, and to have a global view."
In particular, a business lawyer has to understand how business works, he believes, and be able to evaluate the circumstances, interests and persons involved in the case in order to better defend the interests of its clients.
On a more personal level he cites the importance of his family, and the community in which he lives. "I learned from my father the importance of society, and I hope that through my work and involvement with organisations like the Fundación Broseta and the University of Valencia, I am making a positive impact."
One of the benefits of living in Valencia may be the Mediterranean, but currently he admits to having little time to enjoy it. "One day when I am not consumed by my work as a lawyer, maybe I will be able to achieve my dream to sail around the world."
---
Winner: Law Firm Award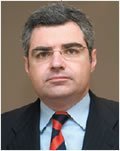 The logic behind the man
Pedro Pérez-Llorca
The decision by Pedro Pérez-Llorca to leave Uría Menéndez, where he had trained and, at the age of 29, join his father's family firm was not an easy one, he admits.
"There was nothing to push me", says the Law Firm Winner of the Forty under Forty 2007 Awards. "I was extremely happy with the development of my career at Uría. It was purely a personal decision and not one I could justify professionally."
It turned out not to be a completely wrong decision, he believes. During his time as managing partner the firm has grown from seven lawyers to over 70, and is now recognised as one of most dynamic and successful law firms in Iberia.
"I tried to get the best out of joining my father's firm, so I took all I had already learnt: commit to the client, be careful about your quality of work, and do not think too much about the money," he says.
Such a philosophy has seen him involved in many of the headline transactions of the decade – among them Banco Santander's acquisition of UK-based Abbey National and Autogrill's acquisition of Aldeasa – although the deal that has propelled him most firmly into the international spotlight, has been his representation of E.ON throughout its proposed acquisition of Endesa, and for which he and the firm continue to act.
Commitment
Among the keys to success as a lawyer, Pedro Pérez-Llorca cites a strong commitment to clients and to be surrounded by the right people.
"We define our core business as not only giving the best service to our clients, but also the recruitment, training and retention of the best people. One of the things I am most happy about is that the firm's younger partners are as committed and as brilliant as the older partners, my age."
Nonetheless he recognises that the practise of law has changed even in his time. "What I can say now is that the father to son succession model is finished. Additionally, mobile phones, e-mail and virtual data rooms have made lawyers more productive and reliable, and materially improved the quality of your personal life."
In what spare time he has, beyond work, lecturing and his young family, he is reading a Degree in Mathematics, which he says, he would like to follow with a research degree in science – clearly there is logic at the heart of all his decision-making.
---

A very modern approach
José Antonio Sanchez-Dafos, DLA Piper
José Antonio Sanchez-Dafos' legal career reflects the changing face of Spain's legal market over the past decade.
Having begun his career with Clifford Chance, he worked in-house at Terra Lycos and then joined Allen & Overy, José Antonio has worked solely at international firms, including now DLA Piper where he is head of the firm's corporate department.
"I feel very satisfied about how my career has developed to date, and I take a lot of pride in my recent appointment. The corporate department is growing rapidly and it is a position that presents many challenges and a great deal of responsibility," he says. "-I now have to manage a department of over 30 lawyers."
Successful lawyers, he believes, need to be focused and to have a very specific set of non-technical skills alongside an obvious knowledge of the law.
"In particular, transactional lawyers need to have a commercial approach. Our main driver should be 'how to make the transaction happen' and not to just stand out from the crowd."
Competition
José Antonio highlights as significant the tremendous change in the composition of Spain's legal market during his years of practice.
"Ten years ago transactional law firms in Spain were a scarce commodity, and worked flowed with little marketing effort or fee pressure," he says. "Over the last few years there has been an incredible increase in competition between firms."
Two resulting issues he suggest has been the rise in pressure to keep fee levels under control, although internal pressures in firms to improve profitability have remained constant, and the growth in transactional ambition among the international arrival – a challenge for all firms has been to retain talent.
"The M&A and banking markets have flourished and the demand for lawyers has increased – prompting many to quit the legal profession, for a career for example in investment banking – while also putting pressure on law firms to pay more but require less dedication of their lawyers."
Quality of life is now much more of a priority, he says, and he himself places importance on making time for his young family, as well as improving his racing time in marathons.
"A challenge that anyone involved in professional services has to face is how to handle your workload, manage clients' expectations, and still being able to enjoy a healthy family life."
---
Paul Hitchings is a dual-qualified English and Spanish partner with Cuatrecasas advising on dispute resolution, regulatory and competition law matters, principally in the telecommunications sector. He has a BA and MA in law from Cambridge University and an LLM from the College of Europe, Bruges.
Paul has previously worked with major UK firm Norton Rose where he was seconded to DGXIII (telecommunications) of the EU Commission. Paul achieved the first favourable ruling in Spain in relation to a claim for damages for infringement of competition rules.
---
Silvia Peternain joined Freshfields in 1998 becoming a partner in 2005. She specialises in corporate cross-border transactions, focusing on the tax structuring of structured finance and tax leveraged products, including stock lending and derivatives. Her major clients include Goldman Sachs, Barclays Capital, Grupo Mahou San Miguel, Merrill Lynch, Deutsche Bank and Azora, the leading real estate private equity fund in Spain, which has 1.5 billion of property investments in Spain and Europe. Silvia advised Ferrovial on its takeover of BAA and Inmocaral on its takeover of Colonial and SFL.

---
Pedro Calloll is a dual-qualified Spanish / English lawyer specialising in competition and trade regulation. He originally worked in US firm Arnold & Porter in Washington DC and London before joining Allen & Overy in 2002, where he was promoted to Of Counsel in 2006. He has recently been involved in high profile transactions such as the offers for Altadis by Imperial Tobacco or the offer for Scottish Power by Iberdrola.
He is a visiting professor at Universidad Carlos III and Universidad San Pablo, participates in the Spanish Fulbright Alumni Association and is an active member of the Chicago Graduate School of Business Alumni in Spain.
---
Winner: In-House Lawyer Award
Sponsored by CMS Albiñana Suárez de Lezo

The importance of the team
María Segimón de Manzanos, Ferrovial
Despite an early interest in medicine, the winner of the Forty under Forty In- House Lawyer Award 2007, María Segimón de Manzanos says she was always destined to be a lawyer. "My great-grandfather, grandfather and father were all lawyers, so I didn't seem to have too much choice."
On graduating university, Segimón's legal career began as lawyer number 15 in the newly opened Madrid office of Clifford Chance. After a secondment to the London banking group, and a period in the Madrid finance department, her practice ultimately focused on corporate and M&A, having become one of their youngest partners.
"There is no secret to success as a lawyer that does not apply to any other profession," she says. "It comes down to hard work and perseverance, and assuming your clients problems as your own."
Despite enjoying private practice, the challenge of developing the central corporate function at Ferrovial led her to leave Clifford Chance in 2003.
Subsequently she has built a dedicated five-member team, with a remit to support the transactional activities of the parent company and channel the activities of the business units when necessary.
More complicated
Though the responsibilities have remained the same, each day the work becomes more complicated, more specialised and the remit more international, says Segimón.
In her few years with Ferrovial, she has nonetheless worked in a number of major cross-border transactions, including the acquisition of Amey, Swissport and BAA – the latter one of the largest overseas acquisitions ever undertaken by a Spanish company, and about which she says, "It was a lot of fun and a fantastic experience. It was like the old days at Clifford Chance, buying a publicly listed UK company."
Additionally she has helped taken care of Ferrovial's interests in the IPO of Cintra, and led the sale of Ferrovial Inmobiliaria.
The key to the success of all these transactions, she believes, has been due to the strength of the teams involved. "Your failure is always your own, but your success is only ever a reflection of the teams' success. There are no good lawyers, only good teams of lawyers, and in my career I have been fortunate to work with excellent teams at both Clifford Chance and Ferrovial."
---

Creating a level playing field
Teresa Martín, Rodés & Sala
If Teresa Martín wasn't a lawyer already, she would still want to be a lawyer, she jokes.
She left Clifford Chance to help launch the Madrid office of Barcelonabased Rodés & Sala, which she joined as a partner in 2005 – at 35 one of the youngest in Spain – and where she now heads the firm's corporate department, although her practice extends to real estate and telecoms issues.
"I am very proud to be a founding partner of Rodés & Sala in Madrid and to have contributed in the development of this project for the last two years," she says.
A key indicator of the firm's success she believes, has been the decision of clients to follow partners to Rodés & Sala. "It is incredibly gratifying when former clients continue to knock on our door." Despite only being open a short time, the Madrid office has established itself as a serious corporate player, clients suggest, where Martín has built a team of seven lawyers, and the firm as a whole has increased revenue by 75% on the previous year.
Understanding
The keys to success as a lawyer, believes Teresa Martín, are a strong ethical and moral compass, hard work, reliability and a genuine interest in understanding and supporting your clients.
With a young family herself, she however places emphasis on ensuring that where possible the firm respects both its lawyers' professional and home lives. "As a woman, I would like to see more female partners in the larger law firms. I believe this is a question of time before our male colleagues recognise, like clients frequently do, the particular value that women add at work."
Beyond practice, she is a Professor on postgraduate law programmes at the Instituto de Empresa – where she has twice been nominated for the 'Best Professor Award'.
"I am particularly proud to be able to combine my professional practice with my position as a professor on the Masters," she says, "I find teaching both challenging and rewarding. I believe it is the perfect complement for a law practitioner."
---
Until recently, Richard Munden served as Head of Legal at Vueling. His early career was spent at London media and finance firm Harbottle & Lewis, where he specialised in IP and aviation law and spent time on secondment to Virgin Atlantic Airways. On his return, he specialised in aircraft finance and leasing, subsequently joining the asset finance team at Freshfields Bruckhaus Deringer where he remained for five years. As Vueling's first Legal Director he founded and led the in-house legal team from shortly after the airlines' launch of operations in 2004 through to its IPO in 2006.
Richard has recently taken the role of Fleet Director for the airline reporting to the CEO and Chief Financial and Corporate Officer and leads the company's fleet acquisition activities including negotiations with the world's major commercial aircraft manufacturers.
---
Despite his young age, Tiago Marreiros is already recognised as a leading Iberian leading tax lawyer. Graduating from the Catholic University in Lisbon he completed a tax post-graduate at the Management Superior Institute before joining Price Waterhouse's tax group and later Arthur Andersen as a senior tax consultant.
He joined VdA to lead and develop their tax practice, subsequently advising Santander Totta on its 1.5 billion issuance of extendable notes to be offered in the US market and JPMorgan with its 280 million acquisition of a real estate investment fund.
Tiago is member of several national and international organizations and is presently the Vice-President of the International Association of Lawyers' Tax Commission.