ACC: gender pay gap has tuned in favor of women gc
18/10/2023

6 minutes read
Data from the ACC (Association of Corporate Counsel) Compensation Survey have suggested that the gender pay gap has shifted in favor of female general counsel
For the first time in history, racial and ethnic minority women reported a higher median total cash salary than their female counterparts, and non-minority women working in multi-lawyer departments reported the highest median salary of all groups, potential trends that ACC will continue to monitor.
The 2023 Legal Department Compensation Survey, released by the Association of Corporate Counsel (ACC) and Empsight International, LLC, showed for the first time indications that the gender pay gap among general counsel may be shifting in favor of minority and non-minority women. Data from the ACC Law Department's Self-Reported Compensation Survey, based on responses from 445 general counsels across the United States, showed that:
When sorted by gender, men and women reported the same median total cash compensation (see Figure #1).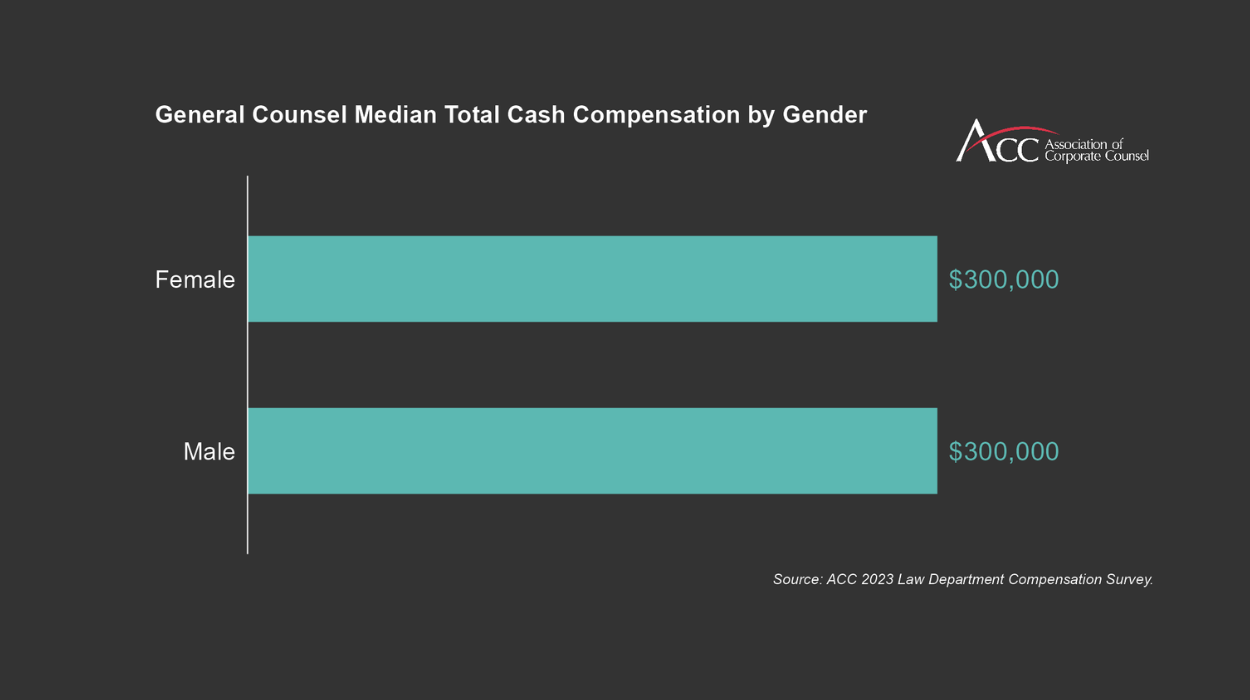 Among all general counsels, regardless of legal department size or setting, minority women reported median median total median cash compensation of $325,000, eight percent higher than their peers (see Figure No. 2).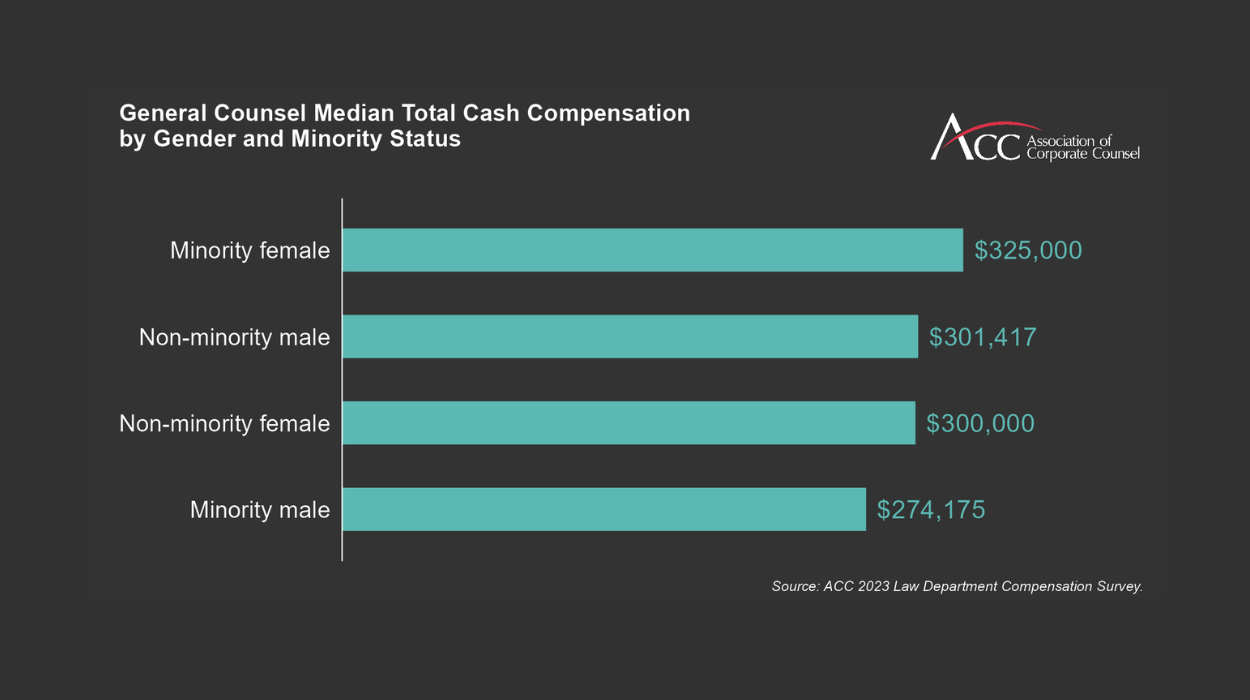 Women in multi-attorney departments reported earning 19.5 percent more than men and only 3 percent less than men in single-attorney departments (see Chart No. 3).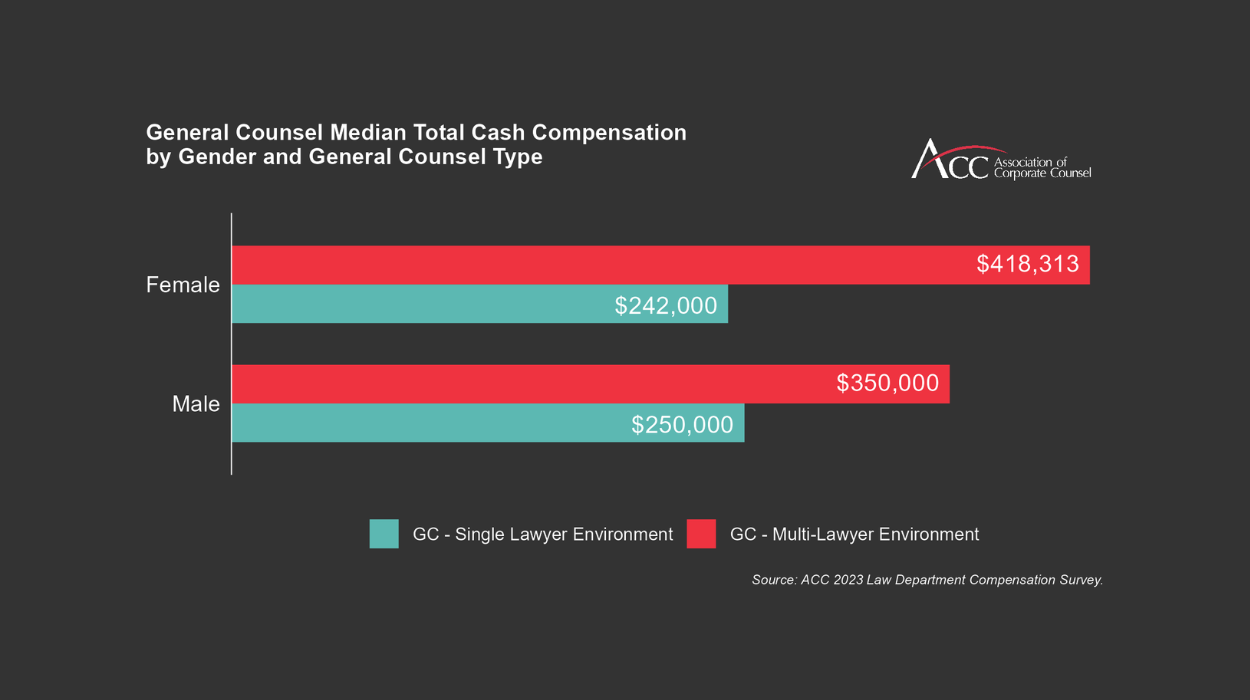 In departments with multiple attorneys, nonminority women reported earning 36 percent more than nonminority men and minority women, and more than 50 percent more than minority men (see Chart No. 4).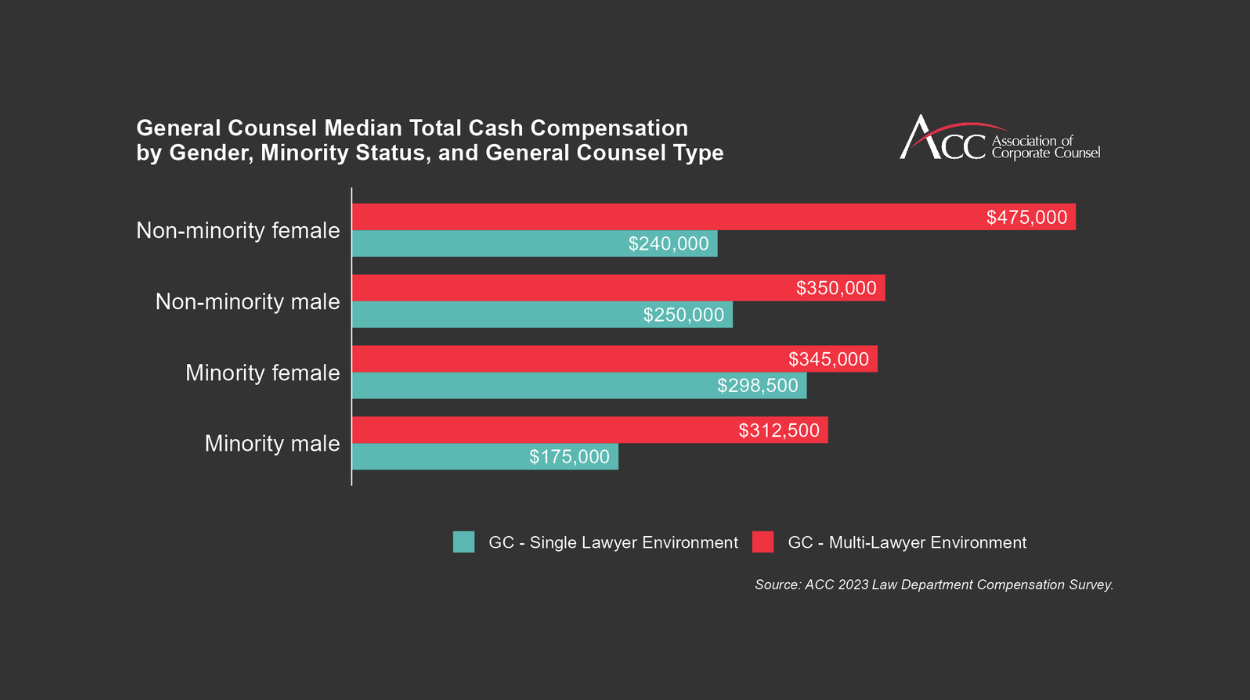 Minority women reported earning 19% more than non-minority men in single-person departments, and minority men lagged behind all others in single-person departments by more than 37%. Minority men did not fare much better in multi-attorney departments, where their average pay was more than 10% lower than everyone else's (see Figure No. 4).
"The ACC compensation survey represents a broad cross-section of U.S. companies and, for the first time, shows that non-minority women who attain the coveted CEO position in multi-lawyer departments are among the highest paid and that the salary levels of female CEOs of color exceed those of their female counterparts for the first time in the history of ACC compensation surveys," said Veta T. Richardson, president and CEO of the Association of Corporate Counsel. "These results suggest that progress is being made in addressing the longstanding gender pay gap. I applaud these women whose skill, leadership and awareness have enabled them to achieve the position of general counsel and negotiate higher pay. I am pleased to see that their salary levels are increasing to reflect the value they bring. But the devil is always in the details and one year's data cannot be interpreted to mean that the gender pay gap has been completely eliminated, especially in positions below the GC level and when the pay of minority male GCs is so significantly lower than everyone else. However, it is good news that we are seeing some progress and I look forward to the day when pay disparity debates are no longer necessary."
The 2023 Law Department Compensation Survey is one of the largest and most comprehensive data sets available on compensation for in-house legal professionals. The survey is based on responses from 1,963 in-house legal professionals across the United States.