Employment Report 2016: Starting to blossom
27/01/2017
291

8 minutes read
Though some companies in Iberia are still having to make job cuts, employment lawyers in Spain and Portugal are increasingly handling matters concerned with improving the life of employees through measures such as flexible working
Unemployment has continued to rise in Spain this year, with an eleventh consecutive monthly increase in November 2016 in all sectors, except construction, with 17.8 per cent of the population out of work compared with a 10 per cent unemployment average across the European Union. In Portugal however, the rate is falling, down to 10.5 per cent in November. However, though there is increasing joblessness in Spain, lawyers in Iberia say some companies are recovering with the result that law firms and their clients are now facing new challenges regarding labour issues, though restructuring and cost-cutting measures persist.
 "The labour market is starting to show positive signs," according to Juan Calvente, counsel at Clifford Chance and head of the firm's labour group in Spain. However, he adds that, in addition to seeking legal advice on upcoming changes to EU rules concerning indefinite and temporary work contracts, clients also want lawyers' input on plans to streamline and restructure, a trend that suggests there will be job losses. But Calvente says the quantity of work his law firm receives relating to layoffs has diminished, while work regarding contract negotiation and workforce expansion has increased.
 
Striking a balance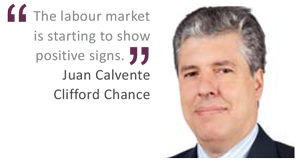 Spanish lawyers are increasingly engaged in advising clients on how to meet the growing regulatory and compliance demands facing large corporations, in addition to providing guidance on the relationship between such regulations and the management of controls and disciplinary procedures, Calvente says. Lawyers are also being instructed to help companies strike a balance between the implementation of measures providing workers with greater flexibility and the greater demands for control and compliance imposed by the courts and labour authorities. Another reason for companies wanting to reorganise and restructure is to become more efficient, says Calvente.
This streamlining, and more efficient management of human resources – including the drawing up of codes of ethics and collective contract negotiation – is a trend that has re-emerged over the last year, after ceasing to be a priority during the crisis, according to Sergio Ponce, a labour law partner at Uría Menéndez. He says that, as Spain recovers, the firm is engaged in fewer cases concerning company restructuring, and that such cases are no longer simply linked to belt-tightening or downsizing or sell-offs, but have become an activity related to companies' wish to adapt themselves to the changing economic environment.
According to Julio Menchaca Vite, a lawyer at AGM Abogados in Madrid, it is due to the growth of companies, rather than their downsizing or fragmentation, that they are required to develop new policies of good governance. New laws in Spain have increased the liability of board members in relation to their employees' corporate behaviour, while the globalisation of business has resulted in the need to hire employees from outside Spain, resulting in visa and tax issues, as well as broader labour relations issues within companies.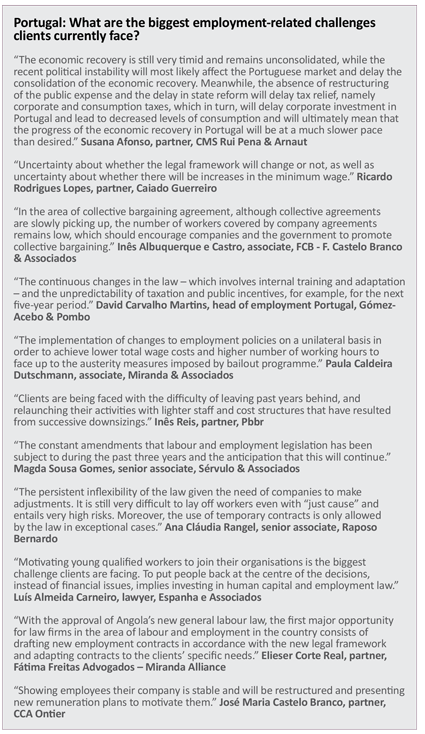 Working day limit?
There are no typical employment-related cases, according to Calvente, who says that his firm is regularly instructed on cases involving salary or rights and benefits-related matters, as well as dismissals and disputes involving trade unions or boards of directors. Looking ahead to the coming years, new legislation introduced by the incoming government could lead to a reduction in the differences between temporary and permanent contracts, Calvente says, while conflicts could arise between companies and their employees as they attempt to strike a balance between greater working flexibility and demands for greater workforce control and compliance.
Regarding future trends in the Spanish legal market, Lener partner Carmen Galán predicts that in the coming year, businesses will have to come to terms with new regulations aimed at achieving "more compact and flexible working hours". She adds: "This could imply for example, the establishment of a working day that would finish at 18:00h, the accumulation of working day reductions because of legal guardianship in particular periods of the year, or the implementation of teleworking for at least one day per week."
In Portugal, where the labour market has recovered more quickly, lawyers face a different set of challenges. While redundancies are still taking place, albeit to a lesser extent than before, lawyers' work is increasingly oriented towards M&A and due diligence, according to Marta Afonso Pereira, managing associate and head of employment at Linklaters in Portugal. She says that the Brexit referendum has led to clients seeking advice on how companies with investments in the UK can rearrange their expatriate workforce agreements as well as guidance on employment rules in other European countries. "Companies are still waiting expectantly to see what is going to happen, but many of our clients want to know the options in advance," Afonso Pereira says.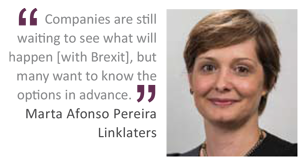 Minimum wage increase?
The Portuguese government's intervention in the banking sector has also generated work for labour lawyers and this has resulted in the need to apply a different employment framework, Afonso Pereira says. The government also introduced a number of changes to the country's employment legislation that apply to the public sector, and it is expected that similar changes will also be implemented in the private sector, which will result in more work for law firms as companies adapt to the new regulations as well as to the possible raising of the minimum wage, Afonso Pereira adds. Other employment issues concern the decisions by companies to replace their top-tier executives as they strive to be more profitable.
Pedro Pardal Goulão, partner at Morais Leitão, Galvão Teles, Soares da Silva & Associados in Lisbon, says that, while some companies are focusing on investment and strengthening human resources, others are still struggling to adapt, restructure and fully recover from the crisis. "Over the last year, the largest companies continued to invest a lot in hiring and training their in-house lawyers, and they are therefore able to internally deal with a fair amount of employment-related matters, only using external lawyers for the most complex and high-level matters, such as redundancy procedures, negotiation of collective bargaining agreements or labour litigation," he says. Pardal Goulão adds that companies increasingly look for employment lawyers that are truly business partners, rather than someone who can simply inform them about an applicable legal framework. "It is no longer sufficient to have legal technical skills, but also in-depth knowledge of clients' businesses and the sector in which they operate," he says, citing the fact that lawyers are often called on to play a significant role in the design of a company's human resources strategy and in the decision-making process regarding employment matters.
But with the economic recovery in Iberia being patchy, companies will remain obliged to adopt cost-cutting measures, which will include downsizing that will involve redundancies and the restructuring of benefit plans, according to Benjamim Mendes, a partner of ABBC in Lisbon. Meanwhile, he adds that an increasing number of M&A deals has resulted in rising demand for employment-related legal advice. "Cost efficiency will continue to be a major concern, as well as managing the workforce in a sustainable way and taking advantage of technology," he says. At the same time, Mendes adds that businesses will have to balance the "legal protection of employees with companies' need to remain cost efficient and competitive".